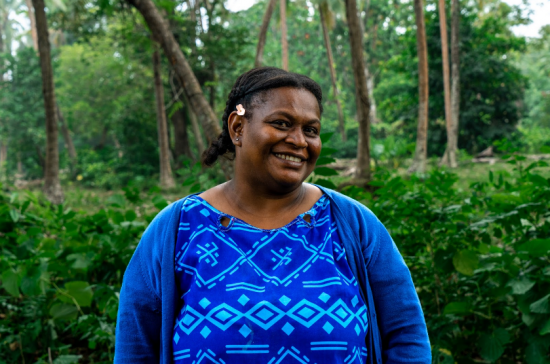 Marie from Santo, the owner of Little Bay Bungalow. Photo credits: Adam Moore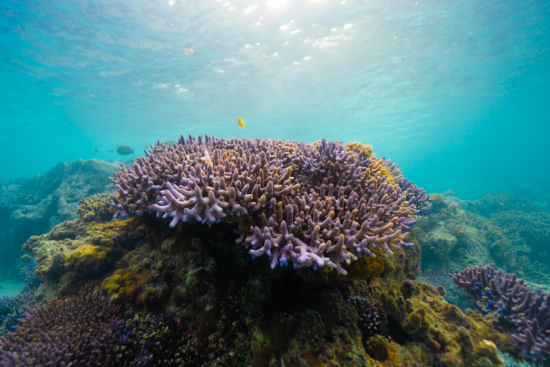 The first ever to dive the reef at Little Bay. Photo credits: Adam Moore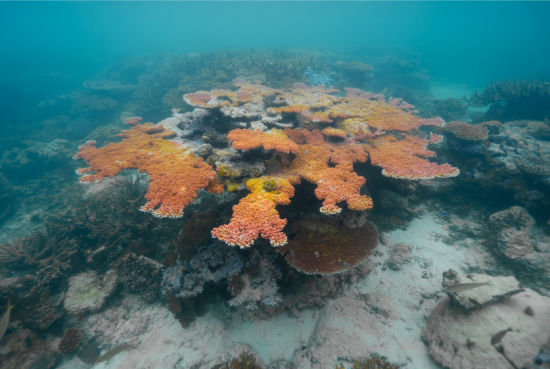 The first ever to dive the reef at Little Bay. Photo credits: Adam Moore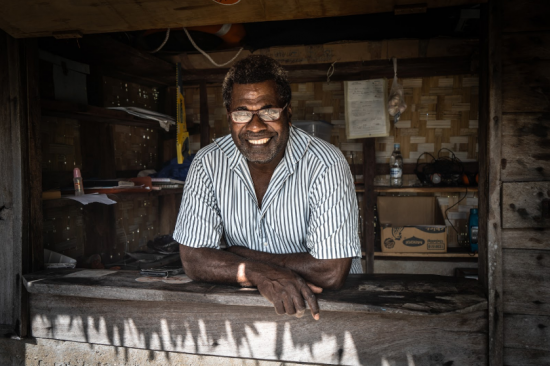 Sethric from Maskelyne Islands_the owner of Batis Bungalows. Photo credits: Marla Tomorug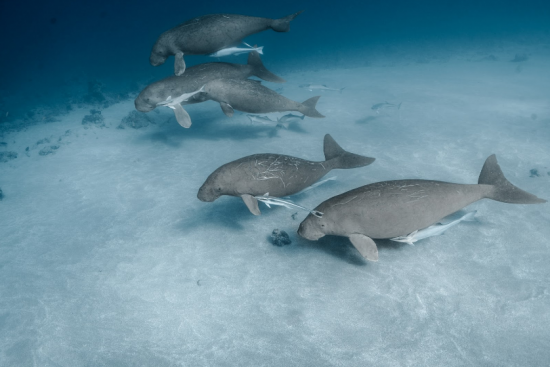 Herding dugongs in Vanuatu. Photo credits: Adam Moore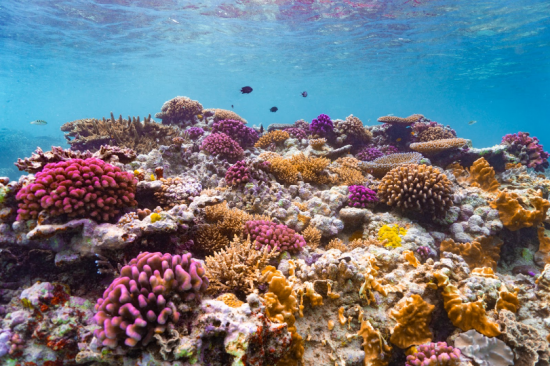 A flourishing reef system on Sethric's bungalow steps. Photo credits: Marla Tomorug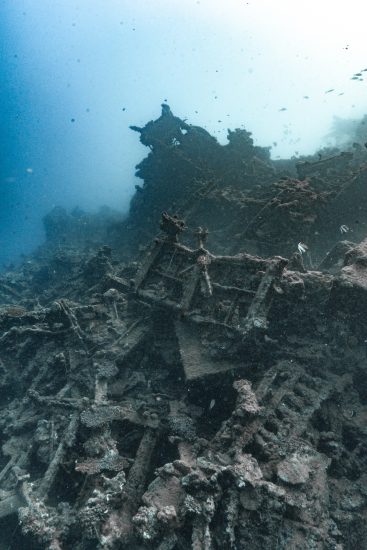 Diving at Santo Island.
Before moving from New York to Perth, Western Australia, I had never heard of Vanuatu. It was not until I became a diver that this island chain was frequently showing up in my dreams. Not only is this wild and raw country interesting topside, but it is one of those iconic locations for underwater World War II relics that is now thriving with marine life. 

Rich with culture and largely untouched, a place like Vanuatu has so much more to offer than what meets the eye. After six months of planning, we landed on two destinations—Espiritu Santo and the Maskelyne Islands. Both interesting in their own right, for completely different reasons. 

World War II Diving

The biggest island in Vanuatu, Espiritu Santo, is where you can dive the SS President Coolidge shipwreck and Million Dollar Point. These are two of the most famous sites, taking you back in time to when Vanuatu was a battleground between the United States and Japan. Because of this, these sites are filled with so much history above and below the waterline.

Surprisingly, both sites were easy-access shore dives. Walking out into 28°C (80°F) water during Vanuatu's winter, the conditions were flat and calm. Starting with the shipwreck, we navigated this deep dive at around 30 meters (100 feet) to find that it was largely intact—with the ship's chandelier still hanging in the first-class dining room, for example.

The SS President Coolidge was originally a luxury ocean liner before it was converted into a troopship. It sank in 1942 after hitting mines while entering the harbor in Espiritu Santo. What makes this wreck particularly special is its size and scale. 

As one of the largest accessible shipwrecks in the world, it stretches over 200 meters (650 feet) in length and lies in depths ranging from 20-70 meters (65-230 feet). And as legend goes, there is a secret stash of gold and other treasures within the ship, yet to be found!

After, we dove Million Dollar Point, which got its name because millions of dollars of military equipment were dumped into the ocean after the war. The United States military tried to sell the equipment to ally countries, but no one wanted it—so into the ocean it went. A common practice at the time when ocean conservation was hardly a topic of discussion.

Trucks, tankers, ships—you name it—you can find it down there. The amount of equipment piles was startling. So much so, that when I was at depth, I felt like I could hear the sounds from the war vehicles and machines ringing in my ears. Eerie.

Although impressive—especially given how much marine life was stemming from the wreckage—this was not the diving highlight in Vanuatu. What we discovered when we went off the trodden path was even more exciting.

The Unexplored Reef at Little Bay

Travel in general is a strain on the environment. That's why trying to find ways to do it as sustainably as possible is a big priority for us. When we think of sustainable travel, we often associate it with offsetting carbon.

However, there is a lot more that can help—such as using local currencies, wearing reef-safe sunscreen, or choosing homestays over resorts—so travel dollars go back to local communities.

Sustainable travel is just as important as getting the chance to learn from the people who have called these remote destinations "home" their entire lives. This is where Marie from Espiritu Santo and Sethric from Maskelyne Islands entered our lives. 

Marie is the owner of Little Bay Bungalow — a homestay about an hour away from Espiritu Santo's main city of Lunganville, and fully off any tourist path. Taking a long, mostly unpaved road up the east coast of the island, we made it to her secret slice of Vanuatu.

There, we came to learn that she and her family (or anyone for that matter) had never dove the exceptional bay sitting right at her doorstep that she worked hard to turn into a conservation zone.

As the first ever to don scuba gear and survey the reef, we were blown away by what we saw. Healthy and thriving are not good enough words to use to describe this location. The main bay—and when you swim past the reef wall moving into open ocean—is filled with countless schooling fish, macro species and an abundance of breath-taking corals.

We had truly stumbled onto an untouched divers paradise. We spent four days surveying in all kinds of conditions, from sunrise to sunset. We also helped Marie and her family put safety and sustainability guidelines in place for future divers that want to come explore this unique spot. 

The Magical Maskelyne Islands

When we thought it could not get better, we made our way from Santo to Malekula, another island that is known for its remote wilderness. Taking a 3.5 hour open-back truck ride on a road that was not paved at all, we then had an hour boat ride over treacherous seas to get to Batis Bungalows—on the nearby Maskelyne Islands—run by a man named Sethric. 

Sethric has spent his life on the sea, observing dugongs in their natural habitat. Dugongs are some of the most challenging animals to find in herds, as they often travel alone in search for their favorite food—seagrass. On the Maskelyne Islands, rumors said you could see them in dozens.

The catch: it was impossible to get scuba tanks, as there is hardly any infrastructure to begin with on these islands. Lucky, there was one other boat out there with us on this vast ocean. And they just so happened to be a group of "yachties"—or those living for months (or years) on a sailboat traversing earth—with a compressor onboard. It was one of those moments we were in the right place, at the right time, with the right people. 

Six of us strapped on tanks and descended into the crystal-clear shallow water, with half the team seeing dugongs while the others had less luck. Of course, I was in the group that saw none. What we all did get lucky enough to see, was yet again, a stretch of vibrant reef that was teeming with life. The reef went on for miles, and everywhere we turned, it was flawless.

After a day of diving the shallows, we traded our scuba tanks for freediving fins. For the next week, every single day, we had dugong encounters—swimming with anywhere between 3-30 of them. One of the only places in the world where this is possible. 

The Spirit of Exploration

If you decide to go off the map when traveling, you are almost always guaranteed experiences of a lifetime. But, stepping off the grid provides little comfort and stability, leaving you often wondering what might happen next. For many, that is not the preferred method for planning dive expeditions. 

However, we can say with full certainty that our time in the waters of Vanuatu would not have had the same depth and meaning if we did not stray from set-standard plans. Diving is not just about getting in the water. It is about the lead up, finding the right gear, getting to the destination, the setbacks, the marine animal search, and most importantly, the people.

Between our partners at the Tourism Office, our homestay hosts, and the people we met on their sailboats out at sea, Vanuatu moved up the list as one of our favorite dive destinations on earth.

If you are considering where to go next to see raw, wild and untouched nature, make sure this archipelago is right up there on your list.

From one diver to the next, be ready to sincerely embrace the concept of island time; make sure your gear bags all weigh under 25kg; get used to plan deviation; and traverse as many uncharted roads as possible. You never know what is around the corner when embracing the spirit of diving in Vanuatu.
Written by

Andi
Date

23rd October 2023