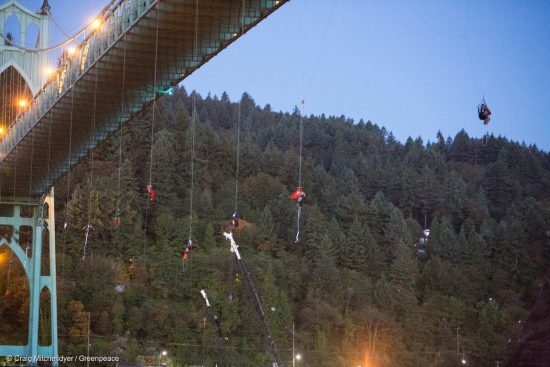 (c) Craig Mitchelldyer, Greenpeace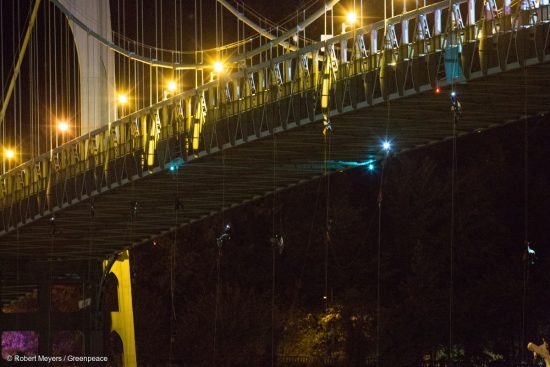 (c) Craig Mitchelldyer, Greenpeace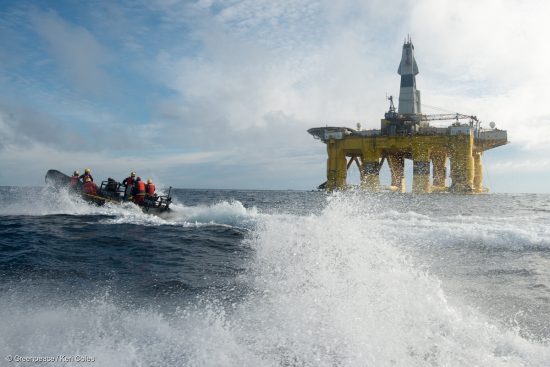 Platform Polar Pioneer and Greenpeace Activists (c) Keri Coles, Greenpeace
Shell's Icebreaker Cancels Plans To Leave Port

The Royal Dutch Shell icebreaker Fennica has cancelled its plans to
leave the dock, amidst protests from activists who dangled themselves
off the St Johns Bridge.

The ship had been docked at Portland for repairs since early July,
after sustaining a meter-long gash in its hull while on its way to the
Arctic for drilling operations.

Now that the Fennica has been repaired, a protest has started to
prevent the ship from leaving the dock. Thirteen Greenpeace protesters
dangled themselves off the St Johns Bridge, while 13 others remained on
the bridge to oversee the safety ropes. Those on the ropes have enough
food and water to last them a few days.

Other protesters kayaked in the Willamette River below, forming a human
barrier to prevent the ship's departure. Banners demanding that the
Arctic be protected could be seen.

The Fennica is part of Shell's drilling fleet. It had been scheduled to
go to the Arctic to support Shell's oil exploration there. Larissa
Beumer, an Arctic expert from Greenpeace, said in German that the US
government needs to finally put a stop to the drilling by Shell in the
Arctic.

She added that if Shell did manage to find oil in the Arctic, there was a 75% probability of at least one serious accident.

In recent days, the US government ruled that Shell could resume
drilling off the Alaskan coast when the 22-year-old Fennica reaches the
Arctic. Prior to the legislation, the company was only allowed to drill
superficial holes that did not penetrate into the oil-bearing layers.

In recent days, high-ranking US politicians from the Democratic Party
(including Hillary Clinton and Al Gore) and US senators have expressed
doubts about the safety of oil drilling in the Arctic. In fact, Oregon
Senator Jeff Merkley has proposed, together with five other senators, a
law against Arctic oil drilling.

Shell's Track Record In The Arctic
Since 2012, Shell's oil exploration in the Arctic has not been a smooth
journey, with several serious 'mishaps' off the Alaskan coast. These
include problems with the oil rig Kulluk that ran aground during a
storm, as well as the drillship Noble Discoverer. The company had to
suspend drilling for two consecutive years as a result.

"All these incidents show how irresponsible Shell in the Arctic is," said Beumer.

If there is an oil leakage, there is no effective way to remove the oil
from the ice-covered waters. The remoteness of the region and harsh
weather conditions would hamper clean-up operations. Add to that, the
emergency equipment Shell intends to use to tackle oil spills has never
been tested in Arctic conditions before.
Written by

Mares
Date

30th July 2015
Where

St. Johns Bridge, Northwest Bridge Avenue, Portland, Oregon, USA
Also by Mares