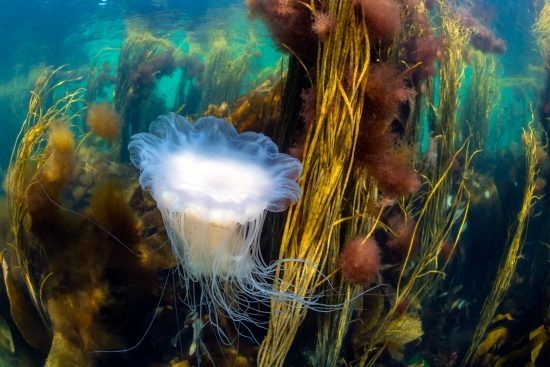 A blue lions mane jellyfish in seaweed garden.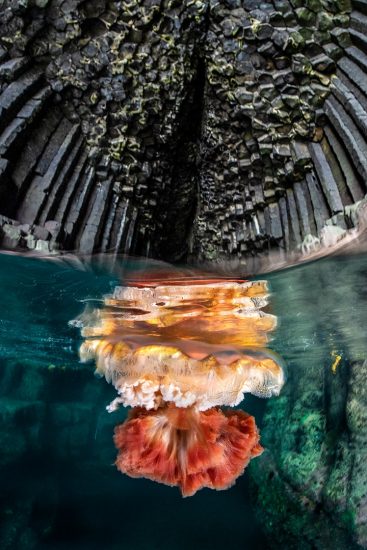 Red Lions Mane Jellyfish in Fingal's cave.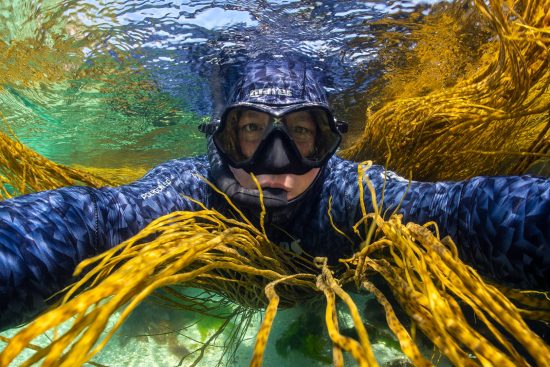 Back in black. Alex using Polygon Black 50 suit in Scotland.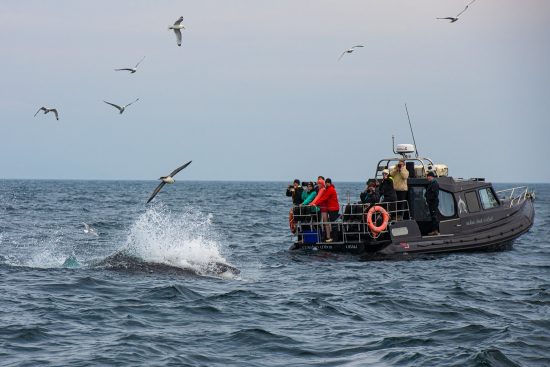 A minke whale scatters sandeels close to the boat.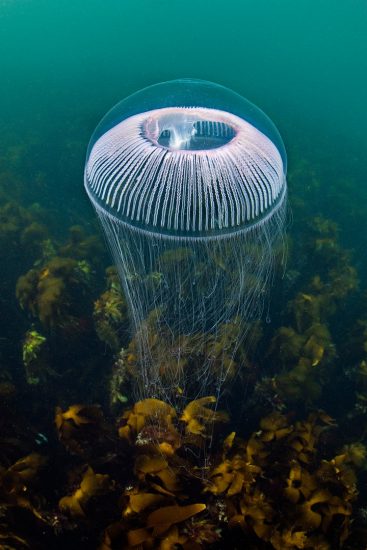 A crystal jellyfish over kelp forest.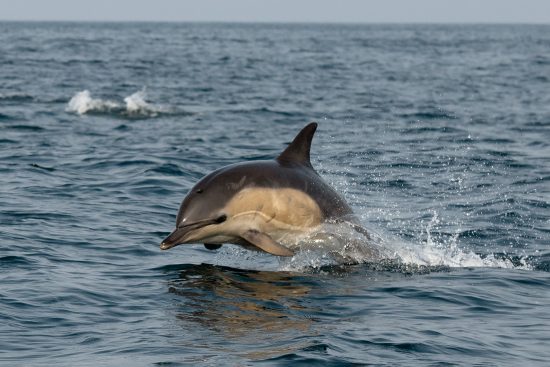 A common dolphin on the move.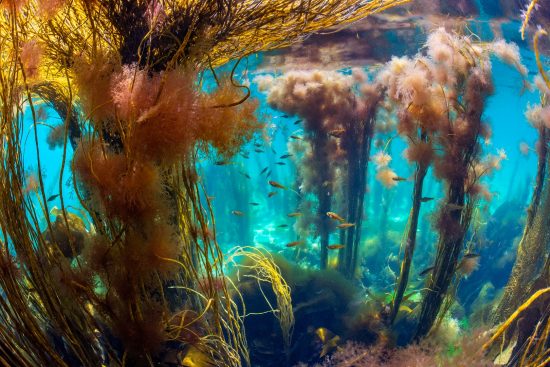 Young saithe fish amongst spaghetti weed.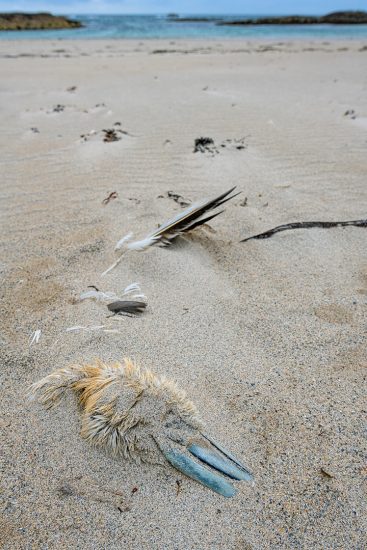 A dead gannet, most likely a victim of avian flu.
Last summer I headed to the tiny island of Coll, out in the Atlantic, off the west coast of Scotland. It is a beautiful place, and with a population of less than 200 you quickly make friends. But the aim of the trip wasn't sightseeing or socialising, we were on a mission to find the second biggest fish in the sea, and one of the hardest to find – the basking shark. Sadly, we didn't get any in 2021, last year was a very quiet season, so I decided to return again this summer. You can't have two poor years in a row, I thought. I was wrong. Another week out at sea searching for sharks without even a glimpse.
These giant plankton feeders can't be baited and they don't need to surface breathe like whales, so they are very tricky! The bad luck didn't end there. This year, I chose to go a few weeks earlier in the season to coincide with the peak number of puffins nesting on the island of Lunga. This year, however, seabirds around our coasts have been really struggling with bird flu, and the nesting colonies were closed to visitors to limit the spread of the virus. Thankfully we didn't see any puffins suffering, but we did see the bodies of several gannets washed up on the beaches. The virus is very deadly for the birds and it is really important to help limit its spread.
Despite all this, the trip was highly enjoyable and photographically productive. A week on and in the sea is better than a week pretty much anywhere else. The waters off the west coast of Scotland are chilly, but reasonably clear (for the UK) and rich with marine life. This year was particularly good for minke whales, and while UK laws do not allow us into the water with them, I did manage to snap one holding my camera over the side of the boat as we drifted. The minkes target schools of sandeels, and while they don't lunge through the surface like humpbacks, they sometimes scatter the little fish when feeding below the surface. The area is good for other cetaceans and we also saw lots of common dolphins and risso dolphins.
Fortunately, our hosts Basking Shark Scotland, aren't just the world's most experienced naturalists with the sharks, they also know loads of fabulous spots for scenic photography in these waters. The attractions were mainly seaweed gardens and jellyfish, but it would be a mistake to underestimate how beautiful these can be! When diving in the UK, I tend not to focus on the beauty in the shallows, and snorkelling definitely allows me to produce very different images.
I always like to list the gear I use on trips here, because I know it is useful to others who are planning trips to similar areas. Last year I used my Polygon 80/65 suit for this adventure and commented that it was really too warm for Scotland. This year I switched to the Polygon Black 50 suit, which proved plenty warm enough in these chilly waters. As I am not an athletic freediver, I tend to use my standard scuba diving mask and Dual Basic snorkel. For fins I used my Razor Matrix soft version which I really like, although I did look enviously at our guide's X-Wing Pro fins.
I've not given up on basking sharks and I am already planning a return to Coll in two years time. Third time lucky? I hope so.
Written by

Alex
Date

30th September 2022
Also by Alex