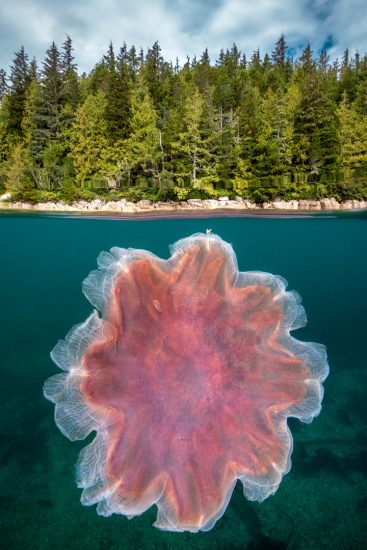 Lion's Mane Jellyfish and forest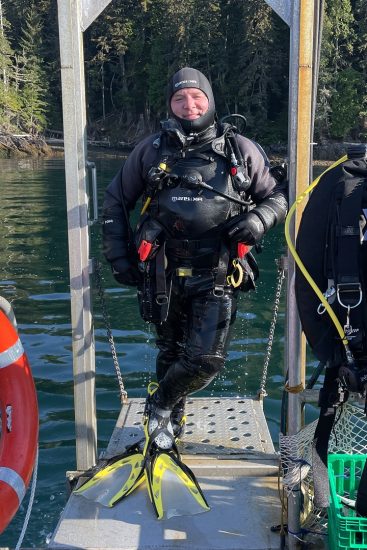 Alex enjoying life after a long, chilly dive.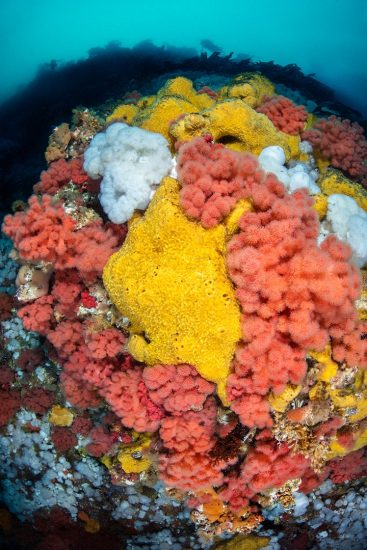 The water may be cold, but the colours are amazing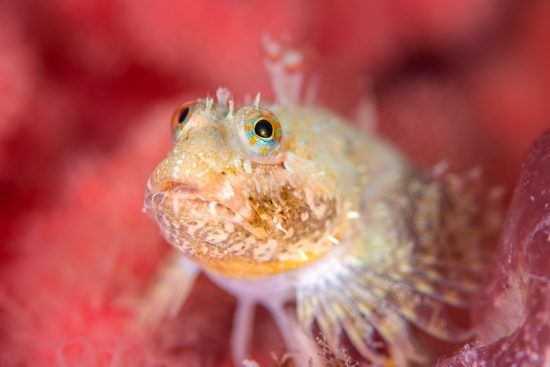 Scalyhead sculpin with red soft coral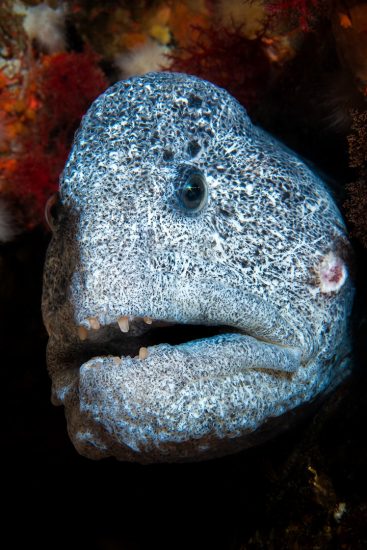 The ugly face of a male wolf-eel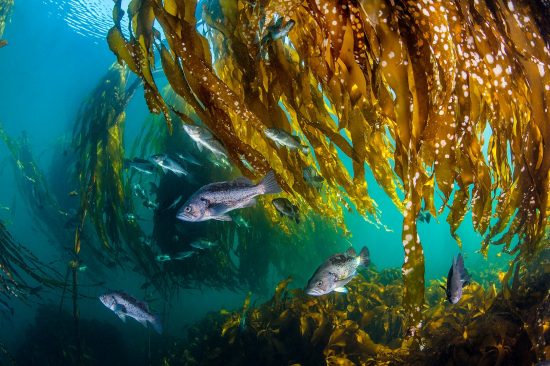 Black rockfish and golden kelp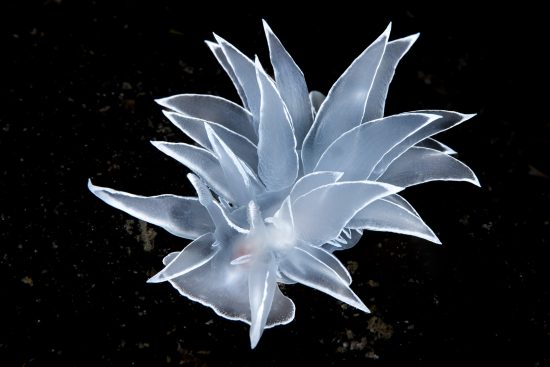 A frosted nudibranch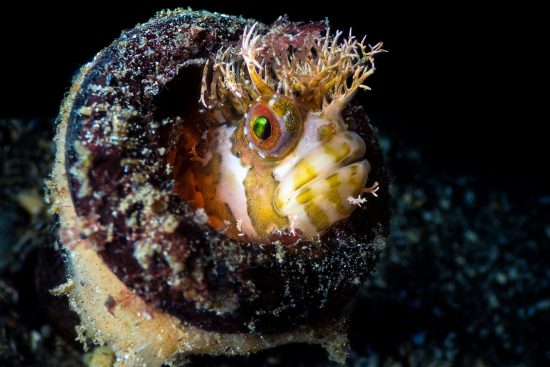 A decorated warbonnet in a bottle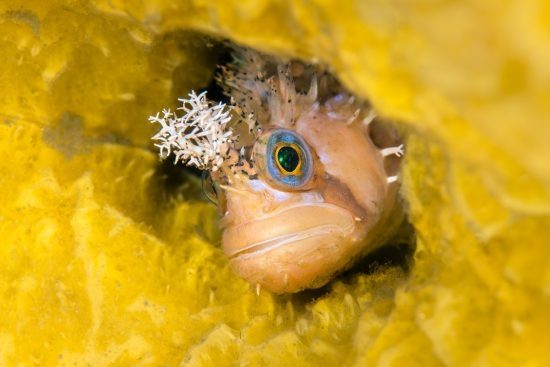 Decorated warbonnet in golden sponge
Sitting in Europe and dreaming of Pacific diving destinations, Canada won't instantly be at the top of most people's lists, but it should be! The coast of British Columbia doesn't just have some of the world's best cold water diving, it has some of the best diving to be done anywhere, at any temperature, period. Marine life? Yes. Colour? Oh, yes! Amazing dives? Definitely!! But where to go?
Canada is huge, and despite being just one province (and land locked on 3 and half sides), British Columbia's fjordic coastline is packed with islands and inlets, making it 5 times longer than the coast of France. There is a lot to choose from, and plenty of spots with excellent dives, but if you asked me to pick one area then the answer would be easy – Browning Pass. What makes this area special is that there are at least a dozen absolute Grade A dive sites here, as good as the very best one you will find in any other destination in the region. Sometimes they are laughably close together, yet still really diverse!
Browning Pass is a short strait just five km long and less than a kilometre wide, between the tiny islands of Nigei and Balaklava, off the northern end of Vancouver Island. The area is about 400km from the city of Vancouver. The strait is sheltered, but flushed by strong currents, created by the huge tidal range. It is the perfect recipe for marine life – a sparsely populated wilderness above water, with so much coast for life, with nutrient rich water pumped by the current. Species grow huge, colourful and pack onto every surface. Giant stalked anemones as long as your leg, purple starfish like dustbin lids and even bright orange nudibranchs the size of a shoe. 
The area is perhaps most commonly known by the name of the highly popular dive resort God's Pocket. The resort was actually named this way for the secluded, sheltered bay where the small resort nestles, but the whole area feels tucked away and divinely blessed, so the name is most appropriate. The waters are regularly glass calm, visibility is decent for temperate diving, and there is little sign of people. The forested coastlines come right to the water and wildlife abounds. Bald eagles watch us from the trees, and surface intervals are usually passed marvelling at humpback whales, playful sealions and adorable sea otters cracking molluscs on their chests.
But we're here for the diving. What I love about temperate diving is that you get at least two dives for one, and here it is often three. In temperate waters there is usually a seaweed or kelp layer above a more colourful invertebrate dominated layer. You start the dive deeper, hunting for iconic species like giant pacific octopus and wolf-eels that usually live below 20m at the base of the walls. Shallowing up, you hit the full colour boom of the walls, with pinky-red soft corals, sulphur yellow sponges and white anemones. This technicolour explosion is also packed with fish and invertebrates. To say it is 'subject rich', as a photographer, is an understatement! Then when you can't take any more marine life, you come up into the kelp forest. Larger schools of fish gather between the stems, thousands of ghost-like Melibe nudibranchs pack the plants and the sun beams dance through the blades, revealing their golden hues. And then you do it all again. 
The only downside is that the water is cold. My Genius computer, which I think feels the cold like a true Italian, is maybe a degree pessimistic, and read 7-8°C on most dives! Lots of us dive in waters that cold for the odd day here and there, but on this trip, as much as the temperature, it was the time that really challenged us. Nobody gets cold on dive one, or even day one. But we were doing 3-4 hour long dives a day, and I logged 33 over my stay. That challenges you and your gear. So I'll finish this first instalment with a run-down of what I used. 
I don't yet have my own Mares drysuit, but I have been borrowing an XR3 neoprene drysuit from Mares-UK. To be honest, I don't want to give it back! It is warm and the neoprene means it fits well. It is stretchy, comfortable and tough. This intensity of cold water diving pushes people's gear to the limit and I had no leaks, zero issues and comfy dives. Everyone else was in dry gloves, but I was fine using some 5mm Flexa gloves, and warm enough to usually be last out and do all the night dives! An undersuit was also necessary for this trip. 
With all the other gear requirements and the need to take a light aircraft flight up to Port Hardy, I chose to save weight and use my lightweight Magellan BC, which performed brilliantly throughout. I use my Dragon SLS for my UK diving, but I am definitely going to use the Magellan too now. For my regulators, I went for out and out quality and took the Epic Adj 82X, which, as always, is just a quality device. I also used my X-Stream fins, which are powerful, comfortable and manoeuvrable. I wish I had had the luggage allowance to take my Polygon freediving suit to have been able to go snorkelling. It would have been great for exploring the kelp canopies and for shooting jellyfish at the surface. Maybe next time, but only if I drive up from Vancouver and don't take the tiny plane! 
Written by

Alex
Date

7th November 2022