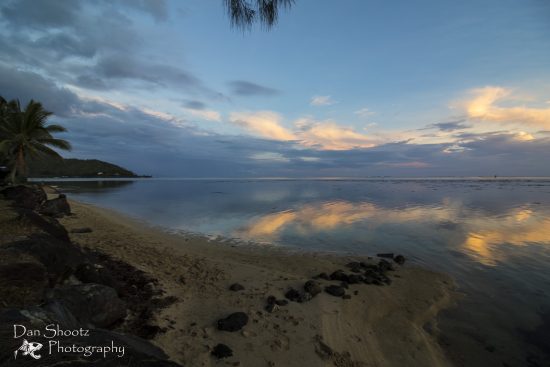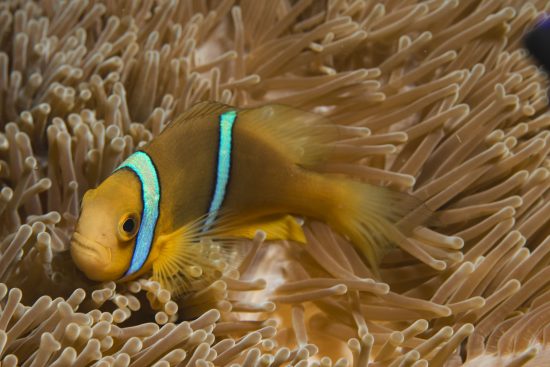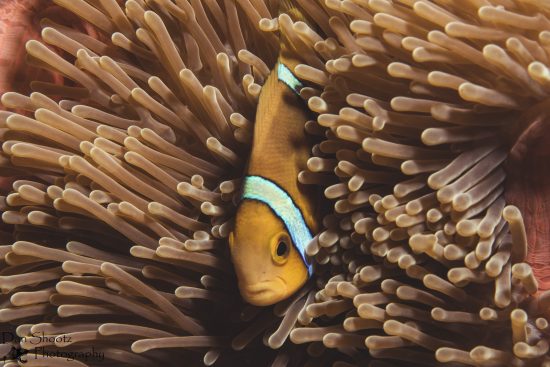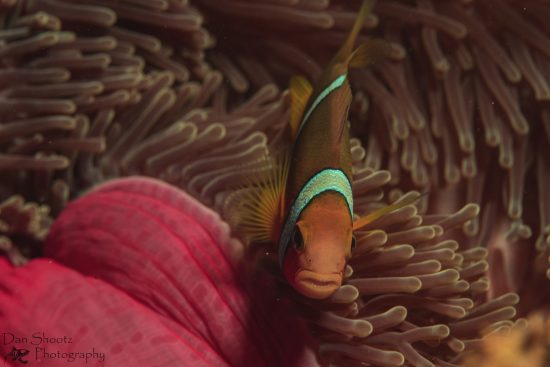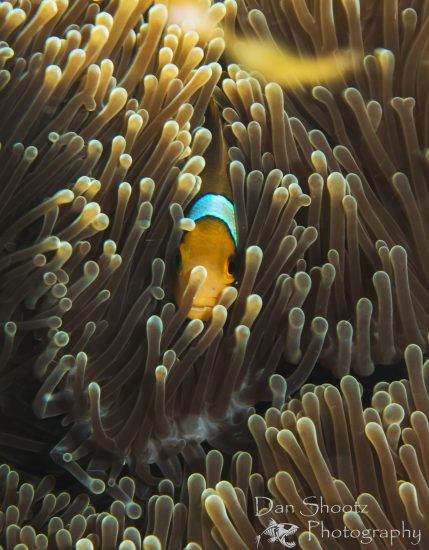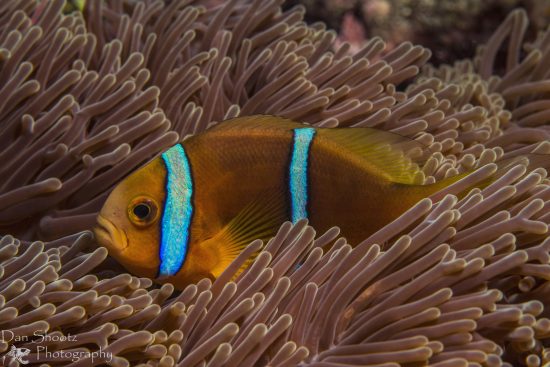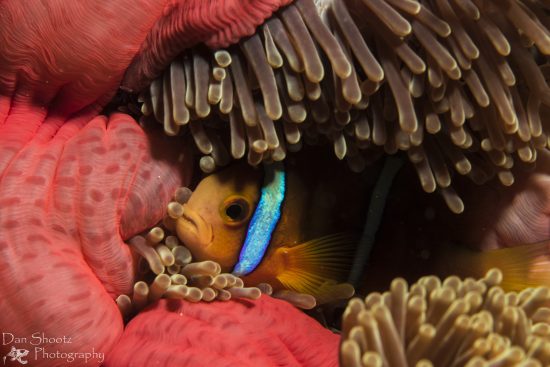 Tahiti is an incredible place famous for its sharks, whales and great diving. One of my goals for this trip was to photograph clown fish, which being in Tahiti I thought would be an easy task. Little did I know it would take me weeks of searching and then over seven days to shoot usable images!!!

Knowing little about clown fish, I spent many days searching every corner of the lagoon, hoping to happen across an anemone with its clown fish friend. Unfortunately the search was fruitless, so on my next trip out I swam over the reef and into deeper water instead, searching for the elusive little orange fish.

With no luck in the deep, I started searching the mouth of the pass, and lo and behold, sitting at 9m in a strong current, was a large red anemone !!! Perfect !!! I dived down and within the blink of an eye I was several meters past the anemone, the current was racing and this was gonna be harder than I thought.

I swam back up the current, took a breath and dived. Descending to 9 meters, I approached the anemone again, and as I did, a tiny clown fish shot out to have a look. I snapped a quick shot before it disappeared into the safety of the anemone and once again I got dragged down the current. This location was proving to be an extremely difficult photo spot, but with no other options, and not a single other clown fish around, this was my only chance.

Lining up some landmarks and underwater marks so that I could find the anemone again, I swam back to land tired and battered but delighted that I'd finally found what I was looking for.

The next day I decided that I would return at low tide when there was no current and it was shallower. To my dismay the anemone was closed and no one was home. It was then that a light bulb went off. I realised they need current to feed !!! From there I worked the tides, figuring out that the last hour of the outgoing and incoming was when there was enough current for the anemone to feed, but not so much that there was a tidal river ripping through !!!

My next problem to overcome was that clown fish are incredibly shy. Every attempt at a dive would see them race back into the anemone, knowing it's stinging tentacles would protect it from predators.

Over the next seven days, the clown fish became used to my presence and began to come out and greet me !! This created it's own problems, as they would never stop moving, fluttering around making it impossible to focus on them !!

The more time I spent on the bottom, the calmer they became, so by extending my bottom time I was able to lie on the bottom, wait for them to stop moving, manually focus my lens, correctly position the strobe, compose and then fire the shot.

In the end, although frustrating to begin with, it was an awesome learning experience, and so cool to see the close relationship between the anemone and the clown fish.

See below for the gear I used and good luck with "finding nemo"!

Photography Gear for shooting clown fish

- 100mm macro lens. They are pretty flighty, so having that little extra distance helps, although a 60mm does the trick too !!!
- At least 1 strobe to light up the beautiful colours of the anemone and clownfish.
- A camera with plenty of focus points, I use the Canon 7dmk2
- If possible, scuba is probably a much easier way to shoot them. For some of these shots my bottom time was in excess of 2 minutes lying silently on the bottom, hoping that they would become inquisitive enough to come out of the anemone, although I would be interested to know whether or not they are scared of the bubbles !!

Diving gear for shooting clown fish

- Mares Razor Illusion freediving fins
- Mares Essence Liquidskin mask and snorkel
- Mares 1.5mm 2nd Skin Shorty

Let me know about your own clownfish experiences below !!!
Written by

Dan
Date

13th December 2019
Also by Dan