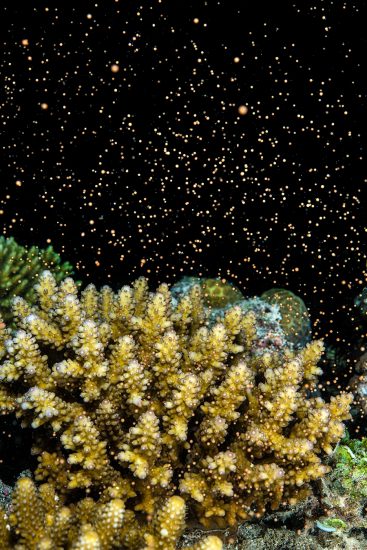 Spawning Coral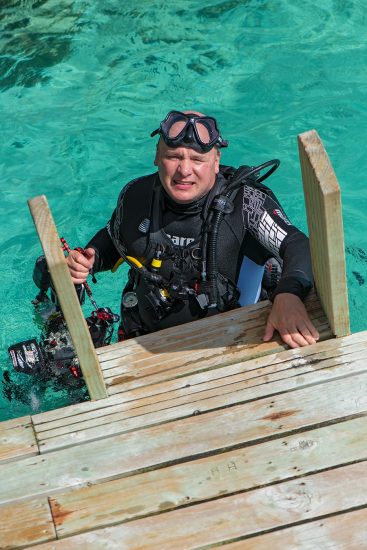 Alex diving with the Coral suit the correct way round.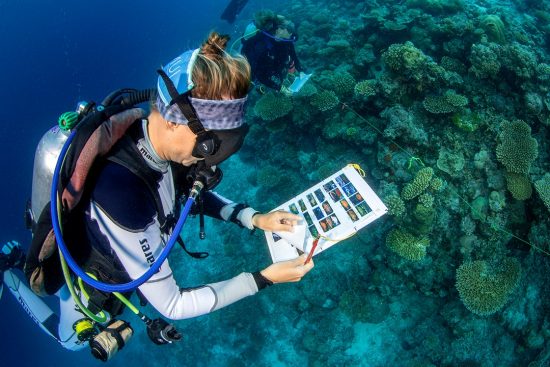 Pip Roe and the MUI Team conducting reef fish surveys.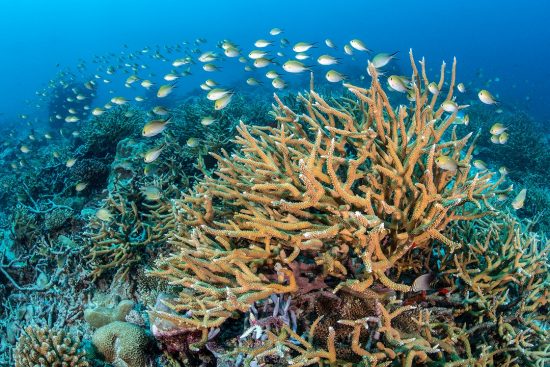 Hard corals create the habitat that other reef species depend on.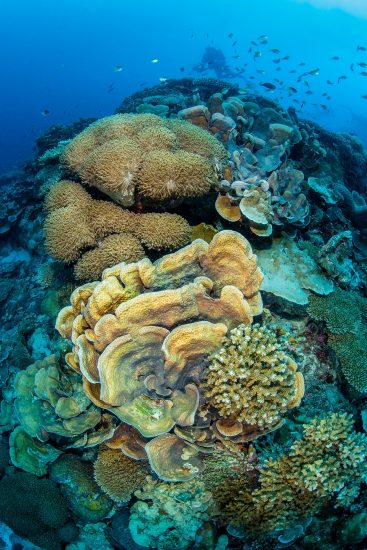 Laamu atoll has many reefs with dense growth of diverse hard corals.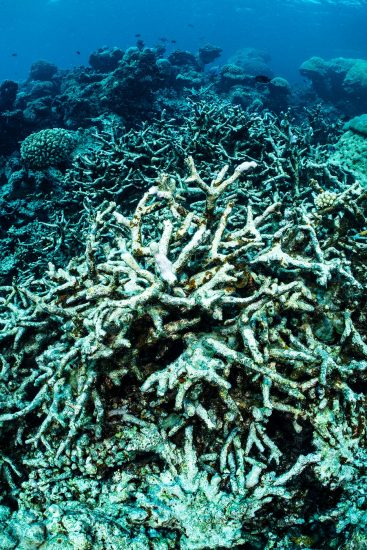 Dead coral, bleached and killed by warming seas.
I normally plan my travel meticulously, paying special attention to the season and the lunar tidal cycle. I find this preparation makes me much 'luckier' with the marine life encounters I am hoping for. But when, this autumn, we were finally allowed to travel beyond Europe and the Maldives was once again on the UK travel list, my only criterion was getting my camera back in the water in this diving nirvana!
Therefore, it was a very pleasant surprise on arriving at Six Senses Laamu, that Philippa 'Pip' Roe, head of the MUI team of marine biologists at the resort casually mentioned that they were doing a coral spawning dive in a couple of hours. I didn't need a second invitation, I was into my dive gear before unpacking my T-shirts. My first dive in the tropical Indo-Pacific for two years was at night. 
"Our main coral spawn is next month in November," explained Pip, "but we've been examining some of the other coral species and think that they will spawn 4 weeks earlier. Nobody has ever recorded them spawning here before, so it will be really valuable to know." The resort has the biggest marine biology team of any I have visited in the world, they study everything from mantas and turtles to making surveys of the reef fish and have so many valuable insights for a photographer like me. 
As it happens the corals resolutely didn't spawn on my first two nights, so having deserted my family for every dinner since we arrived, I opted for food over diving on the third night. And that is when the call came. Pip had spotted the first signs of spawning and was kind enough to surface and get a message to me. I raced across the island, trailing my dinner and was underwater on the house reef in minutes. In my hurry I put my Mares Coral wetsuit on backwards – too late to change! It is probably not the most valuable piece of consumer feedback that Mares HQ will get, but I am pleased to report that the suit is perfectly comfortable with the zipper running up the front! While I am on the subject, don't underestimate this suit and its 0.5mm thickness. It is much warmer than you would think, certainly as warm as many of the aging 3mm suits of my buddies. And being so thin I was able to dive in it without any lead, which I really like (I am naturally a sinker)! It will be my go-to on those warm tropical trips in places like the Maldives and Raja Ampat.
Finally, on that third night we were treated to a spawn, the scientists got their datapoint and I got my photos. Coral spawning remains one of the ocean's most illusive sights, far more people have seen whale sharks, hammerheads or even humpbacks. The majority of coral species only spawn once a year, at night, and some for just a couple of seconds. So the challenge is to be there, in front of the right coral, at exactly the right time – and it is getting harder with corals suffering around the world. But get it right and the spectacle isn't just fascinating, it is a diving experience that totally engulfs you. You'll never look at coral reef the same way again.
It was also a most uplifting experience, especially as the Maldives reefs are amongst those that have suffered the most with a warming planet. I was here in May 1998 and witnessed a spectacular and, as it turned out, tragic change on the reefs. Over the course of just a couple of days all the reef-building corals turned bright white. We didn't know what was happening and for the first few days I though my camera had developed a fault. We later learned that this was coral bleaching and I was in the middle of the largest bleaching event ever seen at that time, which is estimated to have killed up to 90 per cent of coral on 16 per cent of all reefs. And sadly the 1998 bleaching was the first of many, killing corals again and again. Laamu's reefs have faired better than most in the Maldives and there are many sites with dense and diverse hard coral growth. This is partly through luck, the atoll has a different structure than most, and also probably from the blessing of low levels of development keeping the corals healthy and resilient. 
Appropriately, Laamu atoll was officially named as a Mission Blue Hope Spot just a couple of days after the spawn. Seeing corals thriving and the next generation starting out was a much needed glimmer of hope for me, especially against the frightening news for the natural world that was coming out of COP26, which was running at the same time. Coral reefs are on the frontlines of climate change. And many, like those in the Maldives, have changed massively in our lifetimes. But seeing them spawning is a reminder that corals are vital animals and that if we can make decisions to give them a chance they are ready to flourish and to continue to create one of the most beautiful and biodiverse habitats on the planet. After all, hundreds of thousands of species, including Homo sapiens, depend on them.
Written by

Alex
Date

22nd November 2021