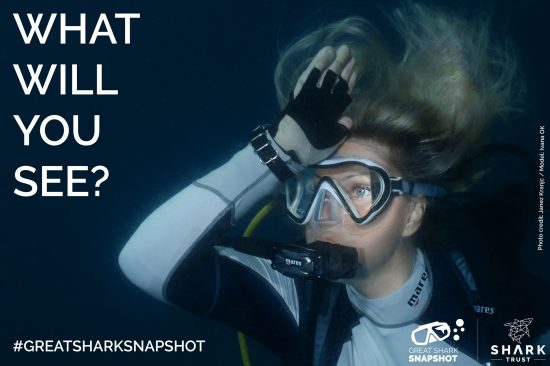 For last week of July, the Shark Trust's citizen science initiative invites divers and snorkellers around the world to record the sharks, rays and skates that they see between the 22nd and 30th July.

Information about the species and numbers of sharks and rays found over the week will be added to the Shark Trust's Shark Log. This global shark census will, over time, allow shark scientists to build a picture of species distribution and any changes that occur. Sharks are threatened by destructive fishing, climate change and habitat loss. The data collected during the Great Shark Snapshot will help scientists put effective conservation plans in place.

Dive clubs, centres, and liveaboards can register to show their support for the event and advertise their planned dives on the Great Shark Snapshot registration page.

If you're a diver looking to join an event, you can use this map to find Great Shark Snapshot dives taking place near you.

As well as gathering vital data, the event will provide a chance to celebrate the incredible shark and ray species that live close to you.

Find out more here: www.sharktrust.org/snapshot

The Shark Trust

The Shark Trust is a UK-based charity that works tirelessly to safeguard the future of sharks, and their close cousins, the skates and rays, around the world. They have a vision: A future where sharks thrive within a globally healthy marine ecosystem. Whilst the team, based in Plymouth, is relatively small, its successes have been considerable. This is partly due to the collaborative philosophy of the charity, working with a global network of scientists, policymakers, conservation professionals, businesses, and supporters, to further shark conservation. Established in 1997 to provide a voice for sharks, the Shark Trust has an ever-growing number of passionate supporters, and together they're creating positive change for sharks around the world.
Written by

Mares
Date

28th June 2023
Also by Mares