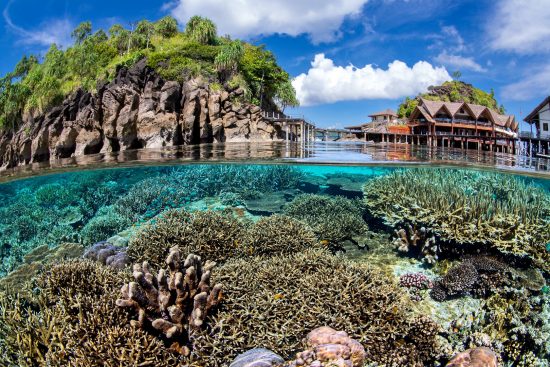 Misool Resort, with incredible coral starting right at the shore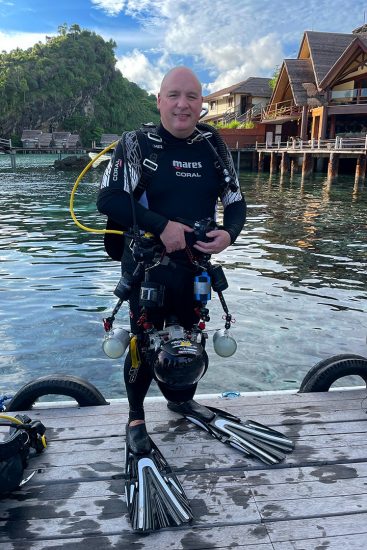 Alex about to drop in for another fabulous house reef dive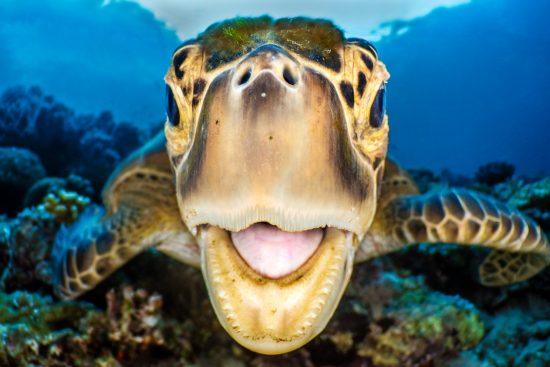 A friendly green turtle on the house reef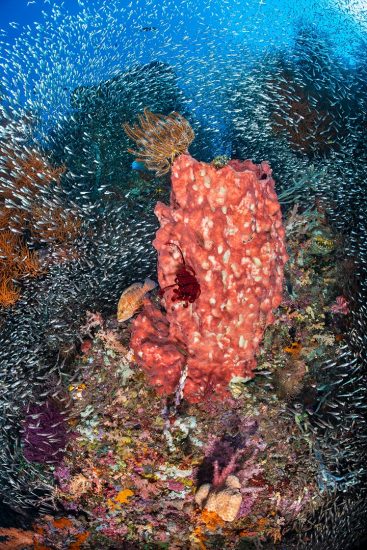 The local dive sites are alive with life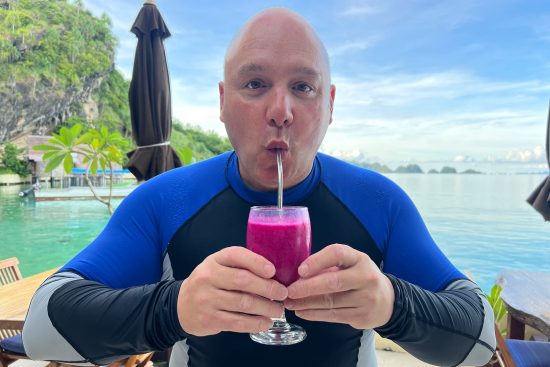 Alex recharging between dives with a dragonfruit and banana smoothie. Rash guard was warm enough to dive in.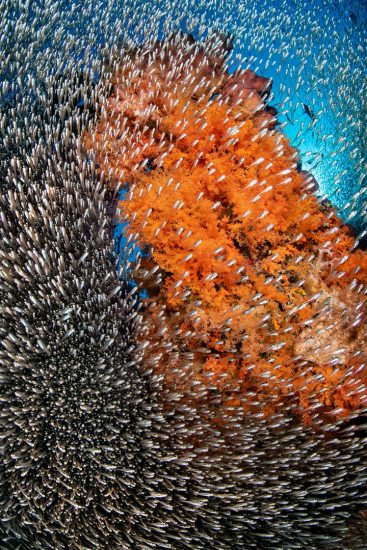 Dense corals and even denser fish - that's Misool.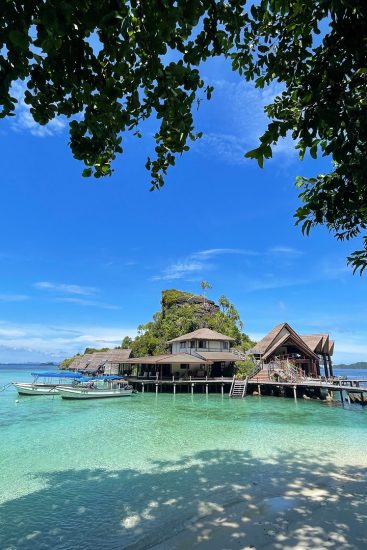 Resort Views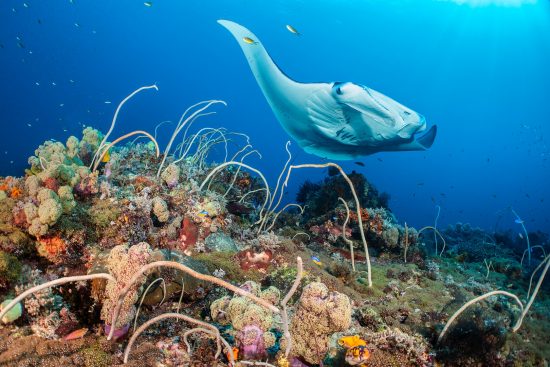 Manta on one of the resort's secret manta cleaning stations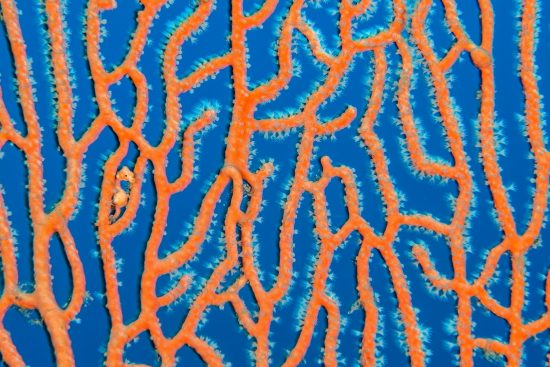 A pygmy seahorse on the resort's house reef
It would be a great conversation topic over dinner with diving friends: What is the world's best diving resort? I am sure there will be many contenders and certainly no consensus. For me, one of the great pleasures of diving is the difference between the places we visit, both underwater and above. That said, I know many people who have been to Misool Resort, Raja Ampat, Indonesia, and I am not sure I know any of them who don't rate it as number one.
We have to start with the diving. For me, Raja Ampat has the best coral reef diving in the world, and the best part of the large Raja Ampat archipelago is the far south-east corner, right where Misool Resort is located. On liveaboard trips, these sites are the turnaround point that take several days to reach. From the resort they are 2 minute speedboat rides and these are reefs alive with life. Every surface is crammed with seafans, soft corals, hard corals, leather corals and above these the water seethes with fish, upon fish, upon fish. It is the world's best place for pygmy seahorses, but the wide angle spectacle means most photographers will never forego their wide angle lens. This location has famous manta dives, like Magic Mountain, and blacktip sharks, and green turtles patrol the shallows just off the beach. Perhaps the greatest pleasure is having a house reef right in the heart of Raja Ampat where you can drop in for a dive or snorkel amidst incredible spectacles, totally at your own pace. 
The location is very special, too. The resort is located in the middle of nowhere, on a private island in an island chain that is pretty much impossible to see on any map. The closest airport is Sorong in West Papau, which already feels like a real frontier town, requiring a three and a half hour flight from Indonesia's main International Airport, Jakarta. Once you reach Sorong, you are still a 4 hour luxury speed boat transfer away from the resort. The price we pay for untouched nature is usually some serious effort in reaching somewhere so remote.
The resort, though, is beautiful and elegant, made almost entirely from driftwood reclaimed from sea and expertly transformed. The staff outnumber guests 4 to 1, and from the spa to the kitchen all are outstanding. I am not writing a travel brochure, so I'll stop there, but Misool attracts lots of non-divers because it is such an amazing place to stay.
This is warm, tropical diving. The gear I used on this trip was my 0.5mm Coral wetsuit, although the water was so warm that I actually started diving in just my long sleeved rash guard and shorts, XR-Rec Trim Single Backmount Set, trusty Volo fins, X-Vision mask and travel friendly Dual 15X lightweight regulator. Many people have commented that they find these gear run-downs useful when they are planning their own trips to the same destinations, so I will include them whenever I write about somewhere.
What I love most about Misool, though, is that the diving is getting better and better. This is an area where new dive sites are still being discovered, and we now know about far more manta cleaning stations in the area. Above all, though, there are more, scratch that, a lot more fish, a lot more turtles and a lot more rays and sharks than when I first visited in 2006. Species we're used to witnessing being strangled from the oceans are multiplying here.
What's the secret formula? There's no magic trick, just sound marine conservation. Misool takes conservation very seriously. This is not a cheap resort, but part of what each guests pays goes towards leasing 300,000 acres of ocean and banning all fishing in this marine protected area, as well as employing a 15-strong team of local rangers, patrolling using a 5-boat fleet and using radar surveillance to properly prevent fishing. When we give nature a fair chance it really works. Scientific studies have measured a 250% average increase in the amount of fish inside the reserve over a 6-year period, and there are 25 times more sharks here than when I first visited. This seals the deal for me; a beautiful resort, in an incredible location that both minimises its negative impact and maximises its positive impact on the environment.
If you want a dive trip of a lifetime, look no further. Misool Resort is heaven on earth for any marine life loving diver. Now we just need someone to invent teleportation.
Written by

Alex
Date

20th March 2023