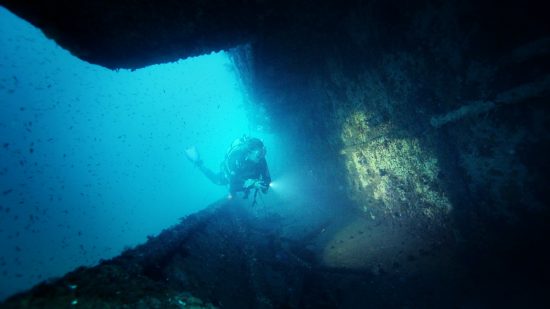 Online Tour Rainbow Warrior (c) Kubikfoto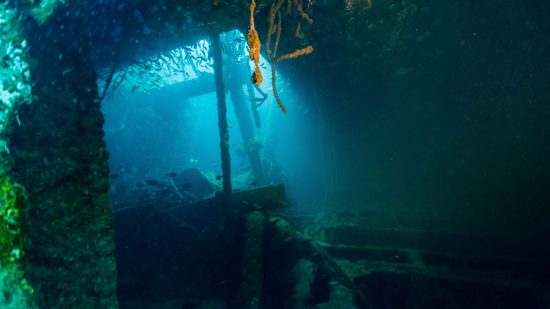 Online Tour Rainbow Warrior (c) Kubikfoto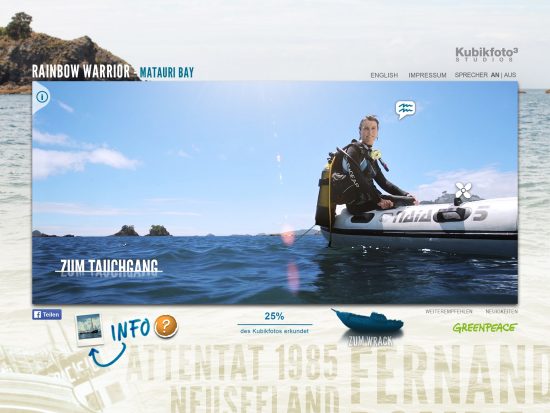 Online Tour Rainbow Warrior (c) Kubikfoto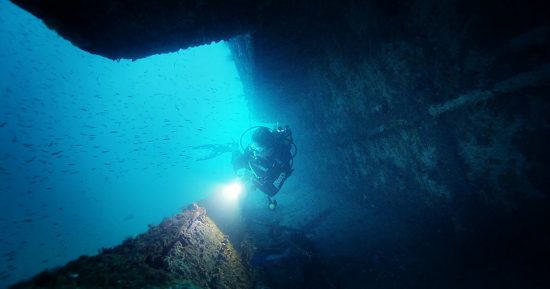 Online Tour Rainbow Warrior (c) Kubikfoto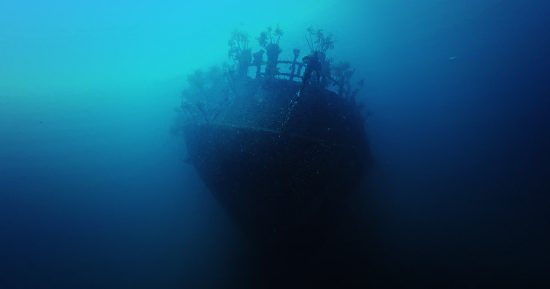 Online Tour Rainbow Warrior (c) Kubikfoto
Website is launched offering online tour of the wreck

Thirty years ago, on 10 July 1985, an explosion ripped through the
Rainbow Warrior, a Greenpeace ship leading a peaceful protest against
nuclear testing in the French Polynesia, causing the death of a
photographer.

Today, the fallen warrior sits at the bottom of Matauri Bay. It has
become an underwater refuge for corals, fishes, small animals and many
other marine life. A website offering an online tour of the wreck has
just been launched at http://www.rainbow-warrior.info/de/Matauri-Bay.
It also provides an interactive insight into the history of the wreck,
with interviews, photos and videos.

Bombs planted on ship
In March 1985, plans were made for the Rainbow Warrior to travel to
Rongelap and Mejato, before heading to Mururoa Atoll to protest the
French nuclear testing there.

After a French agent obtained information of the protest, the French
government initiated "Opération Satanique" — to sink the ship to
prevent it from disrupting the nuclear testing.

On the evening of 10 July 1985, as the ship was docked at Auckland
Harbor, on its way to the Pacific, French agents attached limpet mines
to the hull and propeller shaft of the Rainbow Warrior. The first bomb
exploded at 11.38pm, and the other one a while later, killing
Greenpeace photographer Fernando Pereira.

France initially denied any responsibility, but to no avail, due to the overwhelming evidence.

In December 1987, the wreck of the Rainbow Warrior was sunk in Matauri
Bay, to serve its final mission — as an underwater refuge and
artificial reef for corals, sea anemones and fish. Today, in its final
resting place, it has become a popular wreck to dive, and a symbol of
peace and life.

Link: http://www.greenpeace.de/themen/ueber-uns/der-anschlag-auf-die-rainbow-warrior

LATEST NEWS
Jean-Luc Kister, the French secret service agent who led the 12-men
team in Auckland Harbor 30 years ago, has publicly admitted his
involvement, and apologised for his actions.
"I have the blood of an innocent man on my conscience and that weighs
on me," he told the French investigative website Mediapart.
He called the attack an unfair clandestine operation conducted in an
allied, friendly and peaceful country, but added that "we had to obey,
we were solders".
Written by

Mares
Date

7th September 2015
Where

Matauri Bay, Northland, Neuseeland
Also by Mares