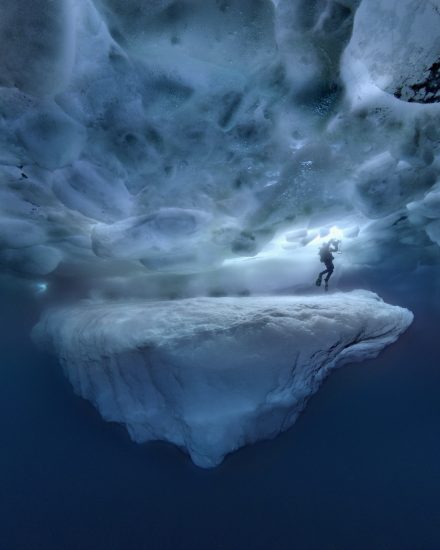 Image captured by Alex Dawson in Greenland
I was lucky enough to get this incredible shot on one of my first dives in Tasiilaq, Greenland. We had spotted this huge iceberg frozen in to the pack ice the day before, and I was really excited to dive it. For this dive, I had two underwater models, so I knew it would be an epic experience with great images as a result.
It's important to be well prepared on cold water dives, and here the water temperature was as low as - 2 °C, so I needed specialized gear that was up to the task. I used two Mares 25XR AST first stages with two VR second stages. The vertical second stage offers the freedom of movement I need when taking photos and the reliable 25XR specifically includes a cold water kit and a dry system that prevents ice formation, something crucial to getting this shot!
Equipment adapted to travel and limited luggage allowance is very important to me, especially on this trip, as we arrived in Tasiilaq by helicopter. For this reason, I took the foldable, lightweight Magellan as my BCD of choice. The Essence Liquidskin mask I used also ticked all the boxes for comfort and travel optimization – it's even foldable!
Mares' Avanti Quattro + fins are famous, and for good reason! They offer great efficiency and thrust power, and have long been my dive fin of choice.
For the temperatures, only an XR dry suit would do. Once I was kitted out and ready to face the cold waters, it was time to get the shot…
I think the shape of the iceberg combined with the amazing light we got under the ice is what makes this picture so unique!
Written by

Mares
Date

7th July 2021
Also by Mares