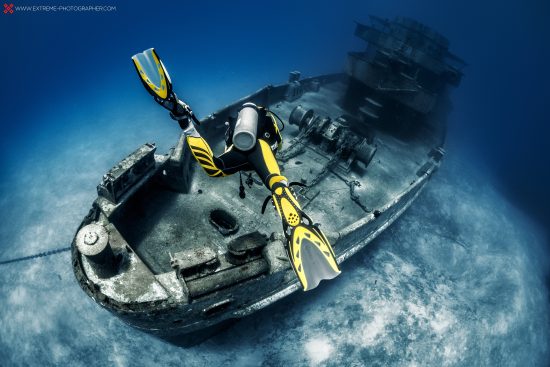 Image captured by Predrag Vuckovic in the Cayman Islands
This image was captured in one of my favorite scuba diving destinations and one of the coolest underwater photography locations ever - the Kittiwake shipwreck in the Cayman Islands.
I knew what to expect of this environment, I had already dived here, so it was easy for me to prepare for my trip and have fun. I packed up my trusty Genius computer, Fusion regulator, Hybrid BCD and X-Vision mask.
Wreck diving can be challenging, but my Genius offers me a wealth of features and the screen is super-easy to read. The high-performance Fusion allows me to control air delivery to suit my needs. The Hybrid BCD is lightweight and a great fit, important factors on a photoshoot, and the X-Vision is a classic, comfortable Mares mask that I wouldn't be without.  
Shipwrecks particularly appeal to me, as they pose many photographic challenges but they're so unique and make for an exciting dive.
 With this image, my goal was to unite the diver and the wreck so that the picture could tell the whole story. Incredible visibility here is crucial, making the whole scene unforgettable.
This was a really special photo for me because I captured the perfect underwater moment that I had dreamed of before my dive. Often, when I think too much about my underwater photography projects, I see the images in my dreams - here I was lucky enough to make this shot a reality!
Written by

Mares
Date

7th July 2021
Also by Mares