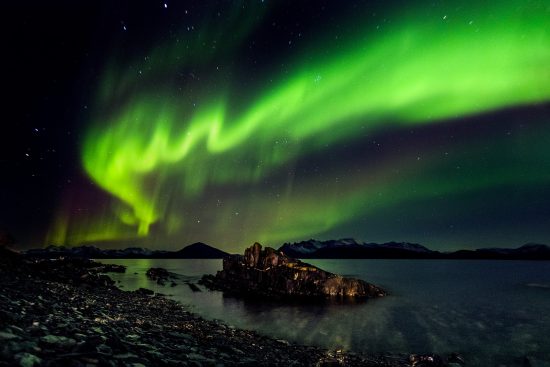 Northern Lights after a day in the fjords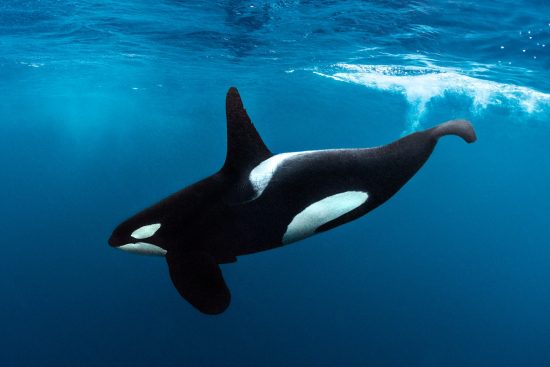 A large male orca passes close by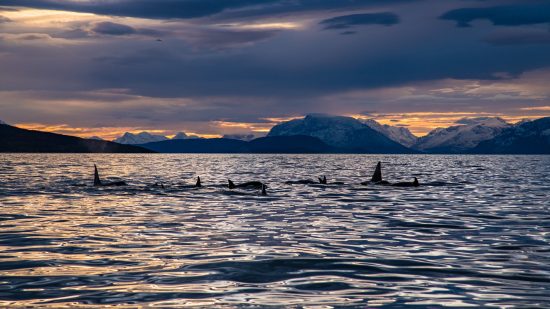 Pod of orca at the surface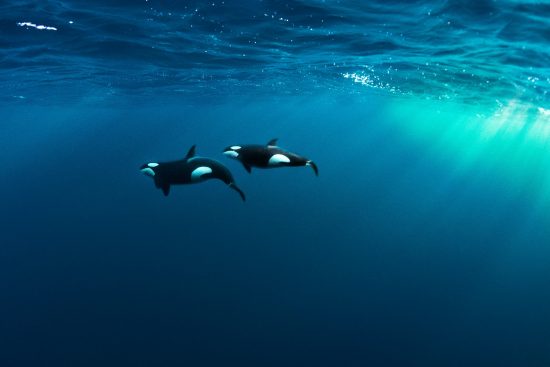 Pair of orcas swimming in the sun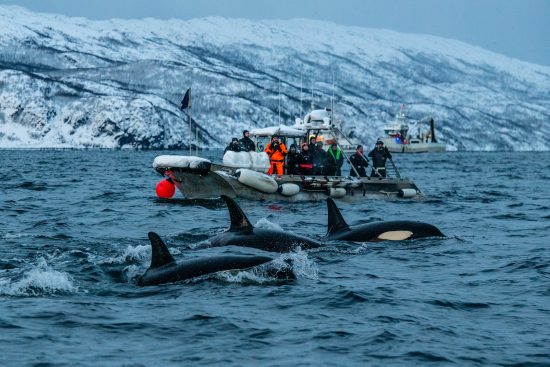 Orcas surface between the boats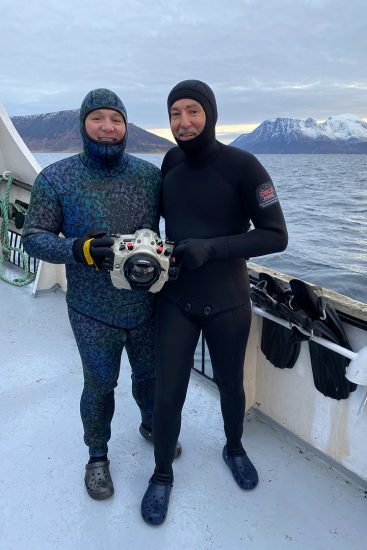 Alex with Pierre The Orca Whisperer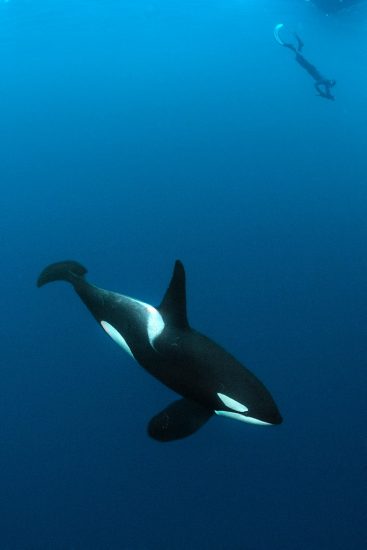 Swimming with a male orca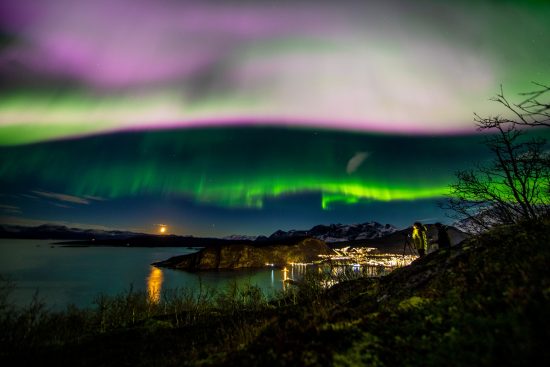 A grabbed photo of the purple aurora
It is definitely the best snorkelling experience in Europe, and it is probably the best underwater experience too. Each winter, hundreds of orcas gather in specific fjords in the north of Norway to feast on the spring-spawning herring that aggregate there to over-winter. The herring are good eating because they are rich with eggs after a summer of feeding, and following years of good fishery management by the Norwegian Authorities, they assemble in astronomic numbers. The huge number of herring draws in the predators, with orca and humpback whales gathering in large numbers in a very small area. Norway supports one of the world's largest populations of orcas, with several thousand of the ocean's apex predator, and this provides hardy snorkelers with the chance to have unforgettable encounters. I travelled with pioneering operator Orca Norway who collaborate with charismatic expert Pierre Robert de Latour – also known at the Orca Whisperer.
This all takes place in the Arctic Circle, which means short days and cold conditions, and the two questions everyone asks first are "Is it safe?" and second "How do you stay warm?". Orcas are the ocean's top predator, with different populations around the world eating pretty much all the oceans other big animals. Orcas are known to feed on sharks (including great white and tiger sharks), dolphins, whales, seals, sea lions and fish. They do huge, powerful and fast on a scale above everything else in the sea, but what makes them, for me, the most impressive predator on the planet, is that they are highly intelligent and work as a team. They are the ultimate hunter.
This brings us back to the question, is it safe to swim with a predator that hunts on predators that we'd think twice about swimming with? Well, the statistics suggest so. Despite many people having swum with orcas in the wild, there remain no reliable reports of fatal attacks. But I would stress that these are huge (males grow 6-8 metres long), powerful animals (that can swim up to 60 km/h) and always demand the utmost respect. Orcas have huge brains (bigger than ours) and strong culture. They have developed highly specialized hunting strategies for the different species that they prey on, maximising the food energy obtained and minimising the risk of injury to themselves. I believe that orcas only eat what they know is safe and good eating, and we humans are not nutritious enough!
What about the cold? Well, it is the Arctic, but it is also snorkelling, so you are not spending time at depth and you are also not in the water for hours. I was completely fine during my trip – but these are definitely conditions where you cannot cut any corners. Every item needs to be correct and high-quality. I wore my Polygon 80/65 suit, 5mm Flex Gold socks and 5mm Seal Skin gloves. I did pack thicker gloves and extra 2mm socks to layer up, but I didn't need them. I have two pairs of freediving fins, one pair is oversized to account for thicker socks, which I used. These size-up fins are simple but excellent Mares Razor fins which I use for all my cold water snorkelling. I used my X-Vision diving mask and a Dual snorkel. Other essentials were a big coat to wear over my suit if it was windy, and plastic clogs to keep my neoprene socks off the cold metal of the boats. You can do this trip in a drysuit too, but I was so comfortable in the Polygon that I was very happy with my choice and would thoroughly recommend it.
The other thrill of going to the Arctic in winter, when the days are short and the nights are long, is that if you get clear skies, you have a very good chance of seeing the Aurora. And you don't need to stay up late - our best experience of the northern lights was before dinner at 18:00 hrs. While I didn't get the best luck with the orca encounters this time, we did get very lucky with the Aurora, as there was a tear in the Earth's magnetic field on one day, and this allowed a super bright, purple aurora to form that was far brighter than the lights of the town and completely spectacular.
This is definitely a trip that creates memories that will last a lifetime!
Written by

Alex
Date

26th December 2022
Also by Alex