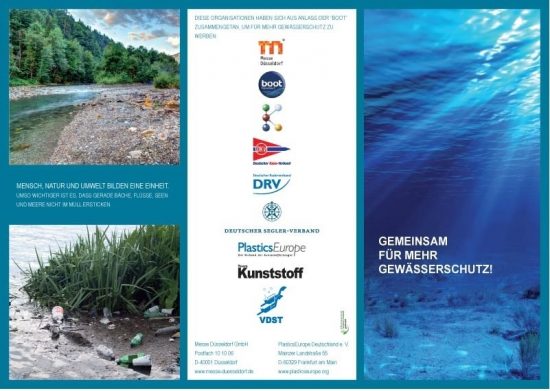 Trash in
the ocean affects everyone. This is the message that some organisations intend
to publicise at the upcoming BOOT in Dusseldorf, from 23 to 31 January 2016.
Under the
motto "Together for water conservation", a broad alliance of organisations have
come together for the second time to inform visitors about the need to protect
our oceans. These associations include Messe Dusseldorf, German Canoe
Association, German Rowing Federation, German Sailing Association, Association
of German Sport Divers (VDST), Team "Kunststoff" (plastic) and PlasticsEurope
Germany eV.
Stationed
at a booth in Hall 14, their aim is to inform the public about the causes of
waste in the ocean and to encourage everyone to do their part to improve the
situation. Whatever the type of waste, people should be mindful and not
carelessly discard it in the environment. The same goes for plastics, which
should be recycled at the end of their life cycle. With recycling and the
orderly disposal of waste, less trash ends up in the environment and thus
valuable resources are saved.
More information on the initiative "Together for water protection"
can be found in this PDF flyer.
Written by

Mares
Date

22nd January 2016
Where

Düsseldorf, Germania
Also by Mares