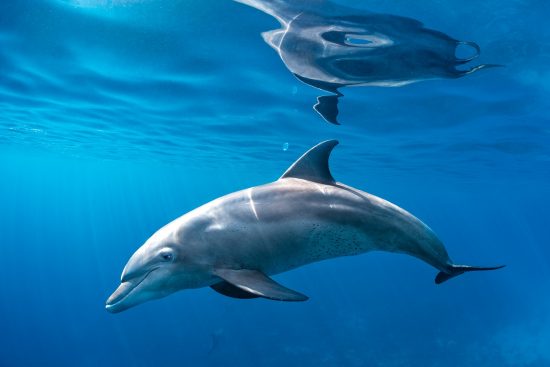 Bottlenose dolphin in Egypt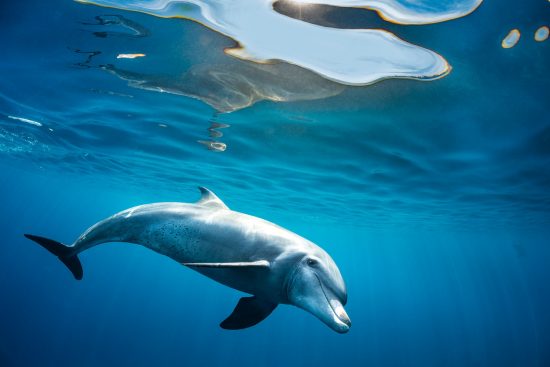 Another curious bottlenose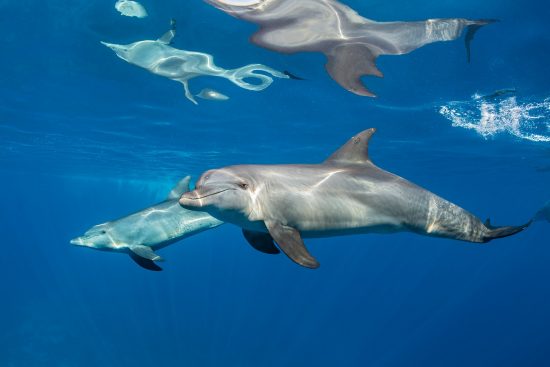 Pair of dolphins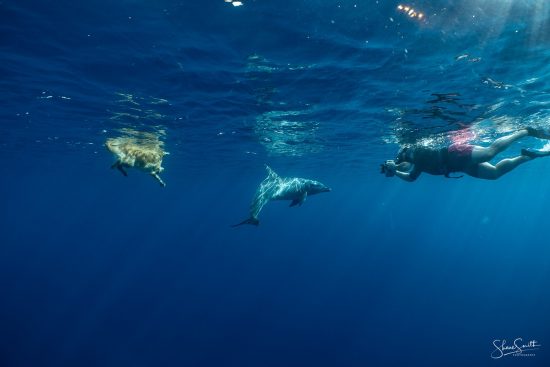 Alex photographing dolphin and dog (photo by Shane Smith)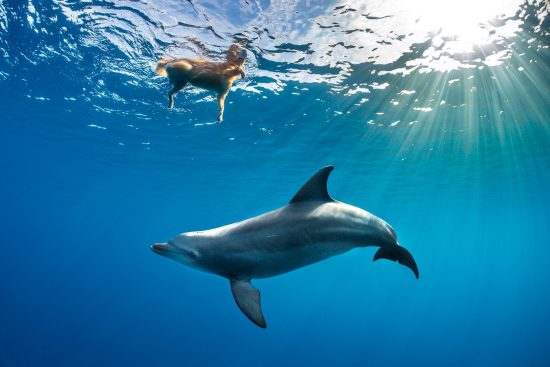 Antar the golden retriever and a dolphin circling him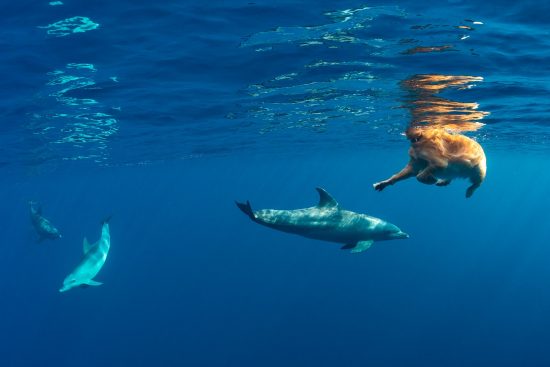 Dolphins come in to meet Antar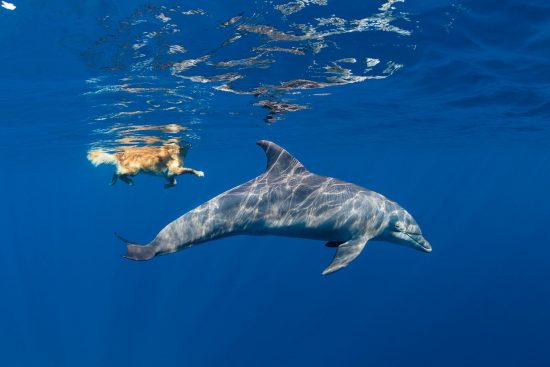 Antar swimming with a dolphin
One of the big lures of the underwater world is that it is ripe for exploration and discovery. It is a place where the unexpected can almost be, well, expected! A recent trip to the Egyptian Red Sea definitely proved this point, when I had the chance to encounter two of my favourite animals, two I had never expected to meet together in the ocean, a bottlenose dolphin and a golden retriever dog.
This wasn't a planned or organised encounter. We arrived at Gubal Island and spotted dolphins playing not far from the mooring, so a few of us decided to swim towards them and see if they would come to investigate. Since dolphins can swim at least 100 times faster than people, such interactions are always on their terms. If they are interested, they will come to you, if they are not, you will not even get a glimpse. Fortunately for us, they were in a playful mood and swam around and through the group of snorkellers. It was an unusually windless day for the Gulf of Suez, especially for the very end of November, and perhaps this helped put the dolphins in such a good mood, or perhaps it was the four legged swimmer that joined us...more of that in a moment!
I always say that there are two key factors in dolphin photography. The first is to have a go. Too often, particularly experienced photographers will sit on the boat, telling anyone there is no chance of getting close. Much of the time they are right, but not every time. If you don't try, you won't know. So my philosophy is to grab a mask, snorkel, fins and camera and get in. I also grabbed my Ultra Skin short sleeved top. Although the Red Sea gets cold in November (we saw a lot of divers in drysuits), it offered some welcome warmth, sun protection and its neutrally buoyant. The thing I didn't bring was my strobes. Photographically, it might be nice to have them, but dolphins aren't exactly the most colourful subjects and leaving them behind makes us more able to swim, dive down and pan the camera with them – in other words actually get the photos.
The second rule is shutter speed. Dolphins move fast, and without flash to freeze them, we need a fast shutter speed to make sure they don't blur in our pictures. Remember that slightly blurry dolphin photos look amazing on the back of the camera and heartbreaking when downloaded to the computer. I would recommend 1/250th as a starting place, but try to get to 1/500th if you want to be certain of sharply recorded dolphins, which is what I used here. I usually open my aperture a click or two and push my ISO up to help (I used ISO 800 for these shots).
After we had spent a wonderful 20 minutes with the dolphins, while they delighted in showing off their speed and manoeuvrability, we were joined by the dog. Antar is a golden retriever who lives with his owner, Faisal, on a liveaboard run by Red Sea Explorers. Faisal told me later that Antar is obsessed with dolphins, spends his days watching out for them and loves jumping in to swim with them. The dolphins seemed very interested in him too and stayed with us much longer than is typical. They would regularly swim up and investigate Antar and I not only got some very nice dolphin pictures, I also got some images I never expected - a golden retriever swimming with dolphins. Before this trip, I was very excited to be heading back to the wonders of the Red Sea, and the diving really delivered, but my biggest memory, my most joyful underwater experience, was watching these two animals clearly enjoying life and enjoying their encounter in the ocean.
Written by

Alex
Date

5th January 2022
Also by Alex