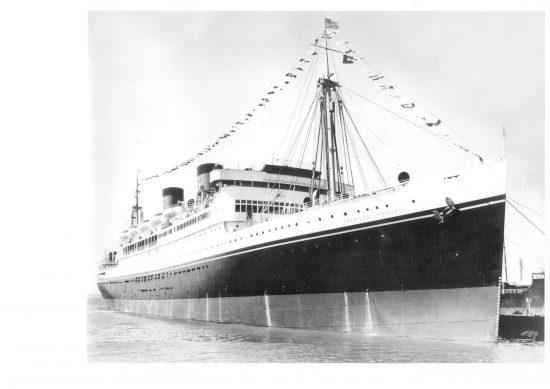 The President Coolidge, a luxury cruise liner.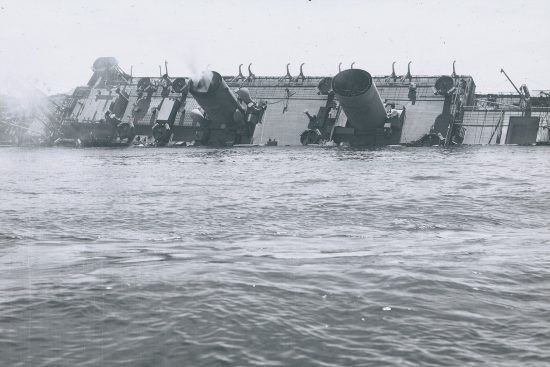 The Coolidge sinking. The last time she saw the sun.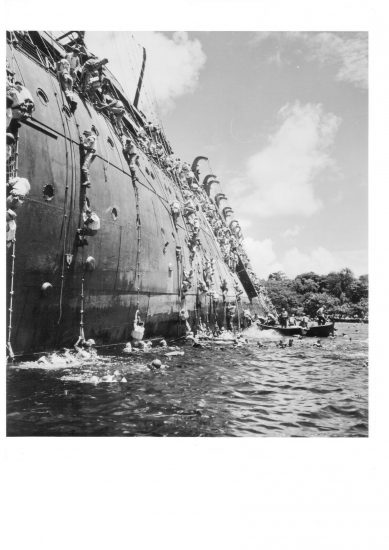 Soldiers escaping just before the Coolidge went under.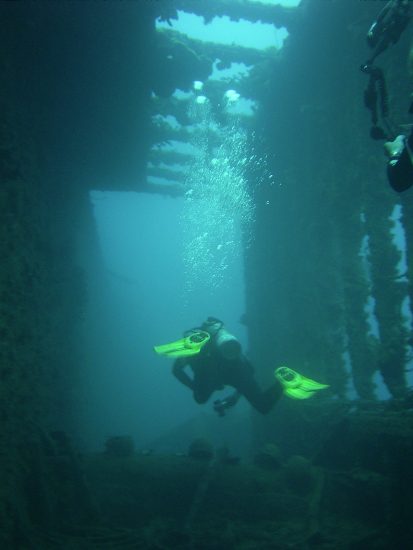 Following Sedi through the maze of hallways.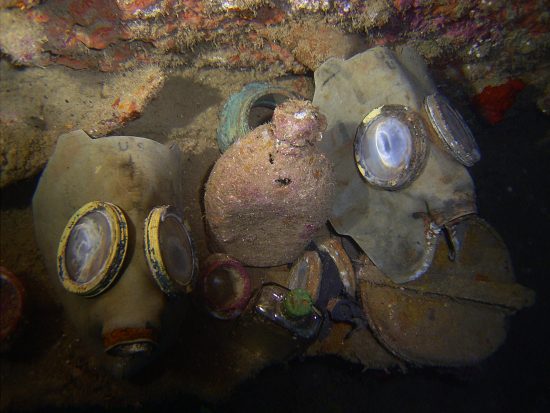 WWII gas masks left behind.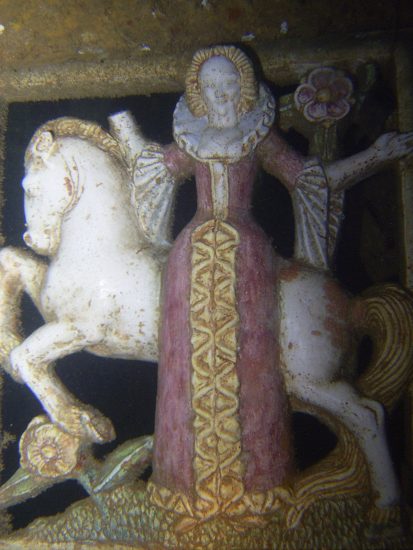 The infamous Lady, 50 meters down in the belly of the USS President Coolidge!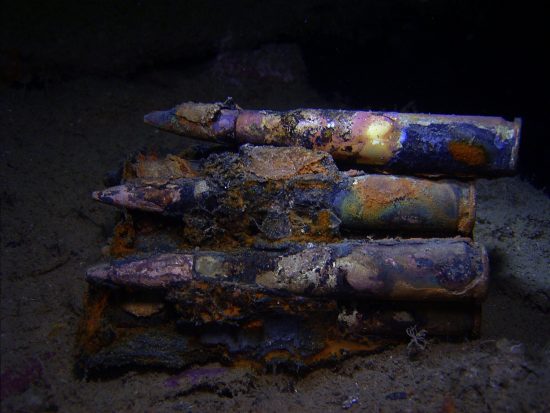 Ammunition on board the USS President Coolidge.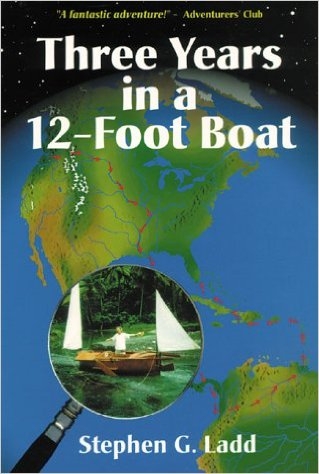 The book that planted the dream.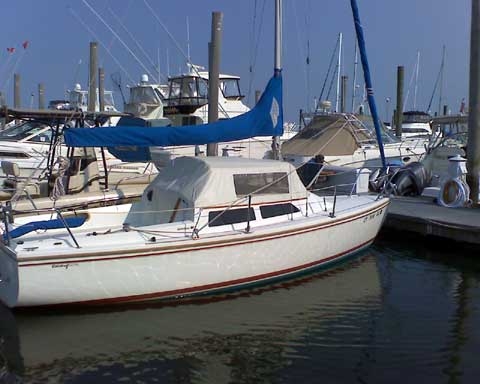 Catalina 22, similar to Brians first sailboat.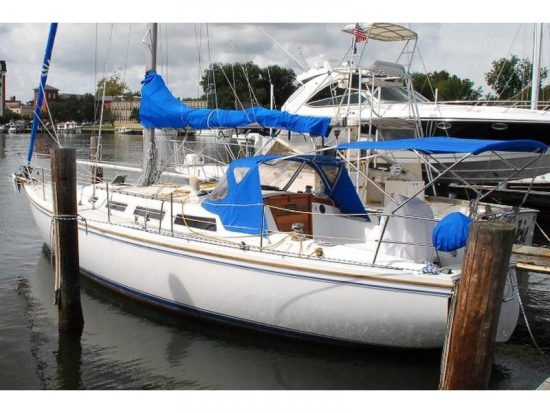 Catalina 36, similar to Brians second sailboat.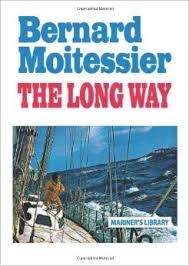 The book that made cruising a realization.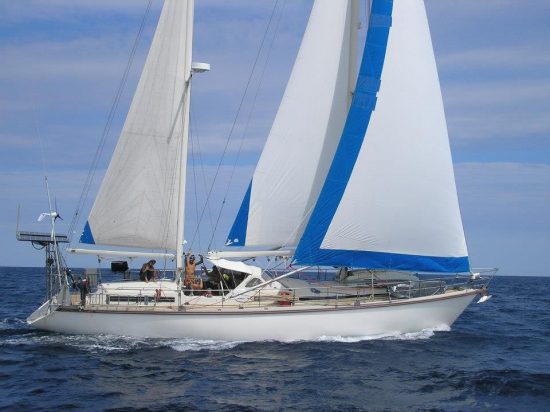 SV Delos! Our home :)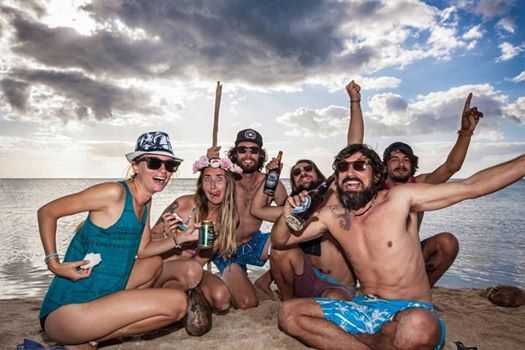 Current crew of SV Delos in the Indian Ocean.
Here I am.  50 Meters  underwater.  In a dark black hallway. Swimming my way towards "The Lady".  I'm  following the bright yellow fins of a local dive guide, Sedi, through the maze of hallways on the wreck of the USS President Coolidge, in Vanuatu, that has been resting underwater since it sunk in 1943 during WWII from a friendly mine. I look at my dive computer on my wrist and shine my torch at it.  The background lights up in a flash of beautiful neon green with an assortment of numbers which look a bit fuzzy from the extra nitrogen racing around my brain. I see that I have plenty of time before I go into deco mode, my air consumption is good and I have only been underwater for 4 minutes.  A bit of water leaks into my mouth from the huge smile that takes over my face as the nitrogen narcosis tingles its way through my body. Sedi is about 3 meters in front of me with a very bright torch leading the way, pointing out army helmets, guns, and medical supplies all left behind when the 200 meter luxury cruise liner-turned troop carrier sunk.  He is leading us on a very famous dive to see a beautiful porcelain sculpture that had been left on the ship from its luxury days.  She is known as "The Lady" and has become pretty famous in the diving world.  People from all over the world travel here to get a glimpse of her and give her a kiss on the cheek.  At this point everything slows down and gets
quiet.  My breathing calms, and in between my breaths I hear nothing except the occasional exhale of other divers around me. As I turn my head to look around, I do it at the same speed as a sloth reaching for the next branch.  I am completely relaxed and have a moment where I think to myself "holy shit, this is the best dive of my life, and how am I so lucky to be able to see this
magical underwater museum?" I have a moment of reflection and think about the random circumstances that have brought me here.
To this moment, on one of the most famous wreck dives in world. Somehow, all of the choices I have made in my life brought me to this place.  To this wreck, in the middle of the South Pacific.
----------
Let's rewind a few years, back to 2002.  My brother, Brian, was going to university in Seattle, Washington, very far from the USS Coolidge.  In fact, he had never heard of the Coolidge before. While exploring a local bookstore something caught his eye.  The title showed "3 years in a 12 foot boat" by Stephan Ladd.  Brian had always been into adventure and this book was pouring with it. It's a great story about a guy that builds a 12 foot boat in his apartment, sells everything he owns, and spends the next 3 years  sailing his way down the Mississippi, through the Caribbean, the Panama Canal, and even crosses the Andes by river!
Brian didn't know it at the time but his life had just took a turn.  From the moment he picked up that book his life's path had veered away from the course he was on.  Some years later Brian finished his degree in Electrical Engineering and got a great job with Microsoft as a program manager.  He made it. All those years of studying had paid off and he settled into the office life. Even though he was happy and content with his accomplishments, that book, and the thought of sailing never left his mind.  As the years went on, Brian eventually bought a small sailboat and kept it docked behind his apartment.  Taking his Catalina 22 out
for sunsets and weekend sails was the first thing he did when he had the time and the weather was good.  Even though he wasn't far from the city or office, once he stepped foot on that boat and started sailing, the e-mails, the work, and the meetings, all disappeared into the wind.
This was now 2005, and while my brother was in Seattle looking into buying a new house, I was living with my mom and other brother in Orlando, Florida.  At the time I was 18 and Brian was 28.  Being in Florida I spent all the time I could at the beach which eventually led to me getting my SCUBA certification.  Any time I had a break from school I was either diving or surfing.
And during the longer breaks I would hop on a flight to visit Brian on the other side of the country.  We would party, sail and be adventurous.  Always on an outdoor mission.  As another year past, I finished high school and ended up at the University of North Florida studying a degree in Environmental Engineering. In hindsight I can honestly say that I wasn't in my element while
studying.  I loved learning new things and especially learning about the positive impact I could have on the environment. But I felt that everything I was doing was for the wrong reasons.  I was only studying because that's what I was supposed to do.
Society had told me that you finish high school, go to college, get married, work for 20 years and then retire and "live" life. This is exactly the path I was on and it felt forced.  I was only doing it until I could figure out what the hell I wanted out of life.  On a spontaneous spring break trip in March I went to the Florida Keys with a big group of friends. I made it to paradise.  This was where I felt at home and felt like myself.  Diving and swimming every day in warm clear water, the thoughts of exams, studying and sitting in class rooms left my mind with every exhale underwater. During one of the magical sunsets that happen so often in this part of the world, I ended up walking past the Florida Sea Base, in Islamorada.  The Florida Sea Base is a Boy Scout camp where kids from age 13-18 come from all over the world to spend 10 days diving and living the beach life. They are taught to sail, dive, fish and be respectful to the marine environment. Not thinking much about it, I walked into the main office of the camp
and asked if they were looking for any staff for the upcoming summer. I didn't think I would have much of a chance having never been a boy scout and being pretty new to the scuba diving world but I filled out an application, smiled and told them I'm ready whenever they need me. Spring break ended and I drove back home to a life of calculators, books, and professors.  Not more than a week had passed when I got a call from the Florida Sea Base. "Hi, this is Capt. Steve from the Florida Sea Base in Islamorada.
I see here on your application you have a lot of boating experience.  Would you be willing to move down here and work as a mate on one of our dive boats?" I could almost hear his smile through the phone.  I felt tingles go through my body and didn't hesitate for a moment. "Yep, I'm in! When can I be there?" I hung up the phone with the biggest smile on my face until I realized I didn't have a lot of boating experience and must have written that on the application because of my Spring Break drunken haze that I was in when I filled out the application. Well, I wasn't going to call back and say I didn't technically have as much experience as he may have thought.  I'd been on a few dive boats and gone sailing with Brian in Seattle so I figured I could pay attention and
use common sense and figure it out. I spent the next few weeks selling all my stuff and packing up my car for the 8 hour drive to paradise
In the meantime in Seattle, Brian was also having some second thoughts on where his life was and the path he was one. He left Microsoft behind to start his own web design and consulting company.  He was in a long term relationship, was successful, making good money and on the first class path to retirement.  But something was missing. Was this really what life was about? Working, stressing just to make money to buy things that only give a false sense of happiness? His escape was still sailing and he was really getting into it. By this point he sold his Catalina 22 and upgraded to a Catalina 36. This boat was a real step up! Week long trips were now possible up into the San Juan Islands. Brian was also devouring more and more books on sailing. And even joined a local race crew to absorb all he could. This is when he came across a book called "The Long Way Round" by Bernard Moitessier.  A great story about a man who joined a Round the World race for single-handed yachts. He was leading the race, having already rounded the three great capes when he decided to forfeit the race and continue on to Tahiti and the South
Pacific where he had friends and beautiful anchorages.  This really added fuel to the sailing fire as Brian's mind realized people actually sail around the world!  Not just around the harbor or even a few hundred miles up the coast to Canada. This was different.  This was leaving everything behind and permanently living aboard your boat while sailing the world and traveling to
far off destinations.  I remember speaking on the phone with Brian around this time and how excited he was. "Bro,
I'm gonna buy a boat and sail around the world" He said to me.  "What? People do that?! Ohhh man, you have to take diving gear and a compressor" I said back to him.  That was it. The seed had been planted, Brian and his partner made a 4 year plan. They
worked hard and saved money, even taking the bus to work.  No more eating out, no more new cars, no more vacations or spending money on unnecessary things.
Those years flew by for both of us.  Brian was consumed with saving, planning and researching while I spent the next 3 years between semesters at University and summers working at the Florida Sea Base. Although it was a job at the end of the day, I would have honestly done it for free.  Through the years I was able to work my way up to Dive Instructor and Capt.  I would wake up with the sun, walk to the harbor in nothing more than a pair of shorts. Take young eager kids out to see what lies beneath the surface.  Come back watch the sun set with a beer and do it all again the next day.  I could have carried on like this forever if it wasn't for that voice in my head telling me I needed a degree.  University was becoming less and less a priority though.
The ocean, sailing and diving was teaching me way more than I could have ever learned in a classroom.
Stay tuned for part 2 tomorrow...
Written by

SV Delos
Date

11th July 2016