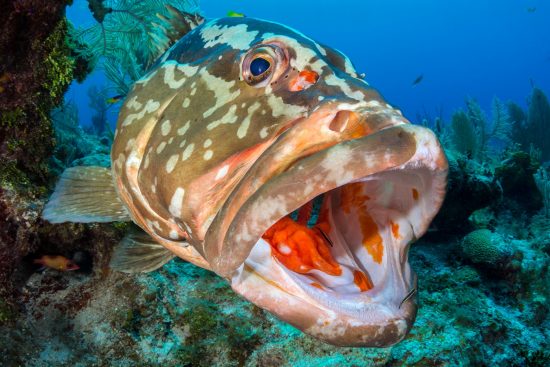 A friendly Nassau grouper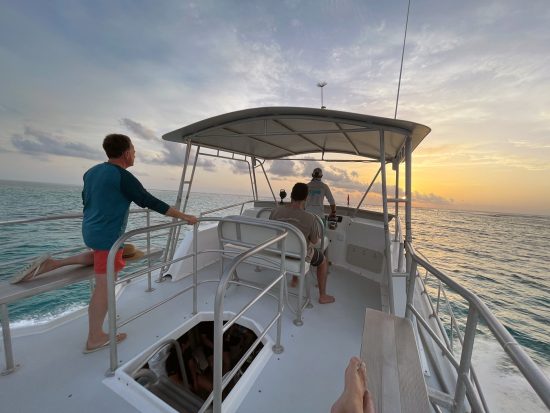 Leaving at first light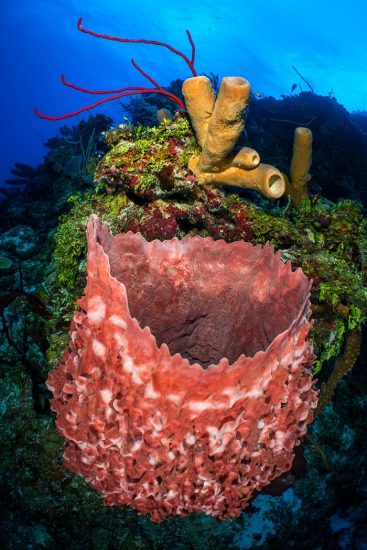 Amazing sponge growth on Bloody Bay Wall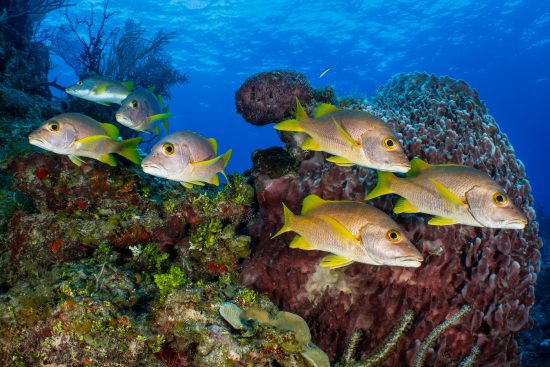 Schoolmaster snappers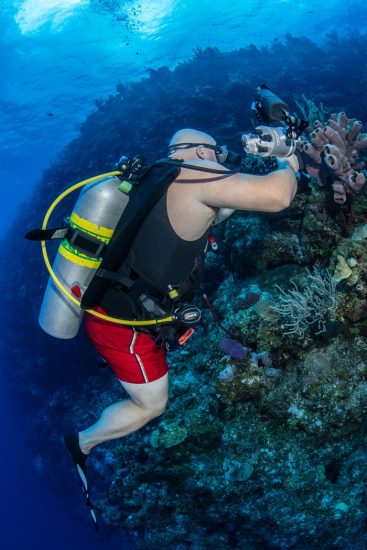 Alex photographing a sponge with his usual level of elegance! The water was warm enough that I just wore my Gold Skin vest. Photo Byron Conway (thanks, I think)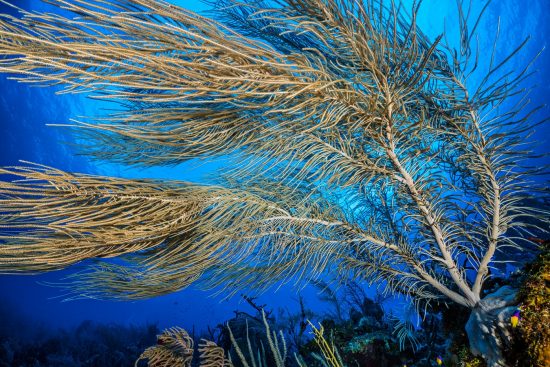 Lush coral growth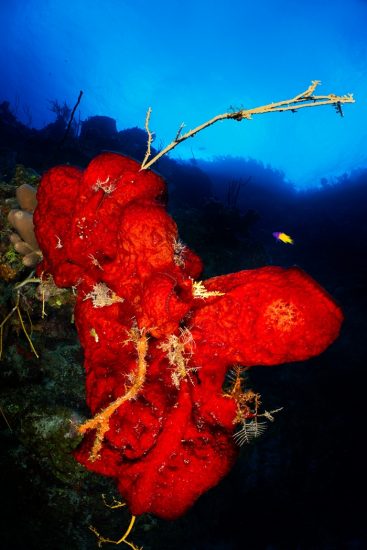 Colourful sponge growth
As I've written before, Grand Cayman is one of my favourite places to teach underwater photography. The conditions are inviting and the diving offers lots of different experiences and subjects. There are walls, coral caverns, stingrays, sharks and the famous Kittiwake wreck, to name a few. I love it so much, I run photography workshops there almost every year. The dive centre I work with, Ocean Frontiers, upgraded their fleet of dive boats a few years ago, and when the islands were closed to visiting divers during the pandemic, they had time to hatch a cunning plan. They realised with the speed and comfort of their Newton dive boats that when the sea was calm, they could get to Little Cayman and back in a day, and have time for three dives on the spectacular Bloody Bay Wall. Such a weather window opened up during my workshop there this August…
Little Cayman is 115 km from Grand Cayman, and most divers fly there by Twin Otter aircraft. Given the open ocean crossing, Ocean Frontiers only make the trip with at least two boats. Little Cayman is the smallest and least developed of the Cayman Islands. It is rightly celebrated for some of the richest reefs in the Caribbean, which are bathed in some of the clearest water you can find anywhere in the world. In short, perfect conditions for creating stunning underwater images. Especially as the vertical reef wall starts in very shallow water and drops vertically, even under-cutting, into some of the deepest water in the Atlantic Ocean.
Bloody Bay Wall dominates the underwater experience in Little Cayman, and all of the many sites dotted along it provide fantastic conditions for photographing scenery, with lots of friendly creatures to work into image. Many sites have resident Nassau groupers, which are both charismatic and obliging subjects. Hawksbill turtles are abundant and friendly, and reef sharks are commonly seen cruising in the middle distance.
We got on board shortly after sunrise and scoffed breakfast for the first hour of the crossing. Most people had a snooze before the shout went up that we could see land, and it was half an hour to dive time. The Cayman Islands are so flat it was amazing to think how Colombus found them in the vastness of the sea. As we pulled up on the dive sites, we definitely got some strange looks from the dive boats from Little Cayman's resorts! We must have looked like an alien spacecraft to the resident dive boats, who never see anyone else there.
Our first dive was at Randy's Gazebo, with giant barrel sponges, orange elephant ear sponges or burgundy deep water seafans and nice schools of fish. Next up, at the Great Wall, the coral precipice is so sheer it is foreboding, like the ramparts of some ancient fortress. Such a great dive. Finding the smaller critters is all about knowing where they live: search along wire corals for symbiotic shrimps and look in the holes of the touch-me-not sponge for the secretive white-foot shrimp. Our final dive was at Lea's Lookout and was a treat of groupers, turtles and a couple of reef sharks.
Then captain Jon gunned the engines and we headed for home. We were back at our home dock about an hour before sunset. Memory cards filled with pictures and our minds buzzing following what felt like a real diving adventure. Always take the chance for a special diving adventure!
Written by

Alex
Date

13th October 2023