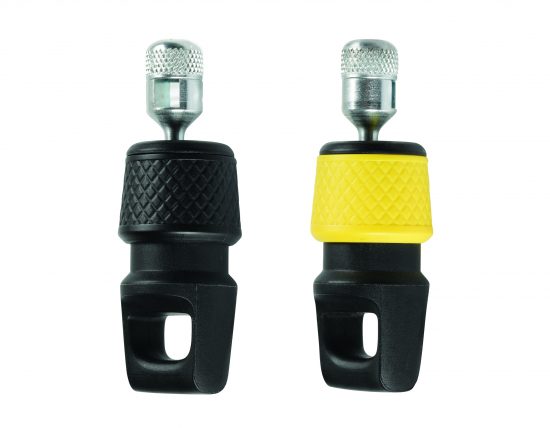 The innovative magnetic securing system by Mares is the ultimate way to connect your diving accessories and equipment. Gone are the days of dangling hoses and lost dive lights. The Magnetic Connector is a versatile and unique system that includes many uses such as an octopus and console holder, torch/dive light hook, camera attachment, and much more!

The Magnetic Connector's simple yet effective design allows you to quickly find the connection site, especially when the connection point is not easily visible. The audible "click" of the attachment also lends assurance that everything is securely connected. The advanced engineering of the mechanical closure system locks the fastened item in place safely and reliably. It can hold over 60kg (132 lb) of equipment.

The Magnetic Connector's compact design not only keeps your diving accessories secure but as streamlined as possible. In fact, the Magnetic Connector is even shorter than a double-ended carabiner and just as easy to install. By simply unscrewing the connector's head, the threaded pin can easily connect to all BCD D-rings.

Another valuable benefit is its 360-degree free rotation, which allows for the perfect placement of your equipment and accessories. The free-swiveling ball head also allows the connector to tilt in every direction for maximum comfort. The Magnetic Connector is currently available in two color options, black and yellow.

Mares went above and beyond when designing this useful accessory. Although it is rugged and extremely secure, we still made it easy to use by allowing divers to connect and disconnect their equipment to it, not just single-handedly, but with the use of only two fingers! The Magnetic Connector is simple, quick, and safe. It unlocks quickly even under a full load and is the smartest alternative to a carabiner.
Written by

Mares
Date

5th March 2021
Also by Mares