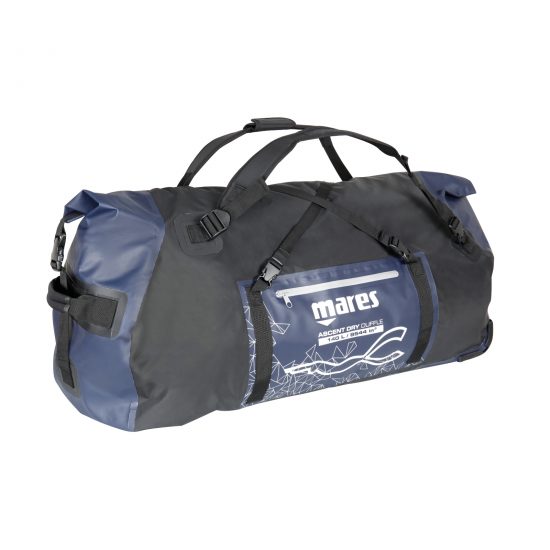 The Ascent Dry Duffle is the newest duffle bag design by Mares. With a total internal volume of 140 liters, this bag is ready to carry all of your freediving gear. With this bag, Mares made transporting your equipment from adventure to adventure a breeze with two carrying options, easy-rolling wheels for pulling or ergonomic shoulder straps for wearing as a backpack. You can even quickly remove the shoulder strap for easy travel without having to worry about the strap getting stuck on the airport carousel.
This large duffle bag creates plenty of space for all your equipment. Keep your heavier gear like fins and weights from moving around with the internal weight/fin VELCRO® Brand retainers. Mares eliminated the top zipper to reduce the possibility of water entry and replaced it with a folding closure seen on traditional dry bags. After packing up the bag, simply roll the opening closed and secure with the side buckles for a waterproof seal.
Need to quickly obtain smaller items like cell phones, keys, sunscreen, or defog? Mares added a sizeable waterproof pocket right on the outside of the bag for easy accessibility.
Built with rugged material, the Ascent Dry Duffle bag's exterior is durable but still lightweight. Weighing only 2.3 kilograms when empty, this bag is an excellent option for traveling, and as with all things Mares, the exterior colors and design make the Ascent Dry Duffle not just functional but stylish as well.
Written by

Mares
Date

25th February 2021
Also by Mares