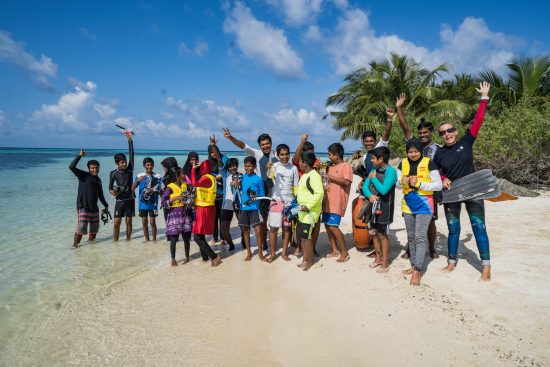 Leanna Crowley, Maldives Underwater Initiative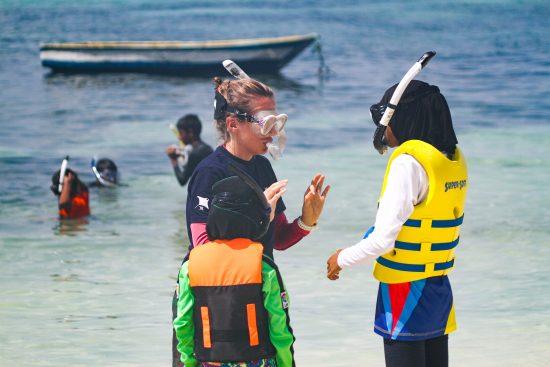 Leanna Crowley, Maldives Underwater Initiative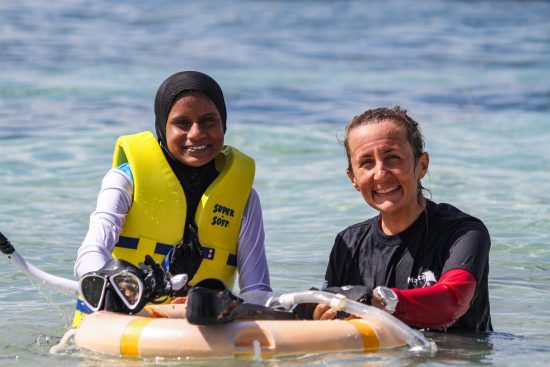 Leanna Crowley, Maldives Underwater Initiative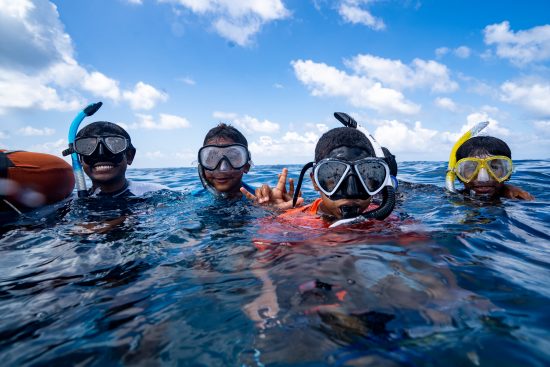 Leanna Crowley, Maldives Underwater Initiative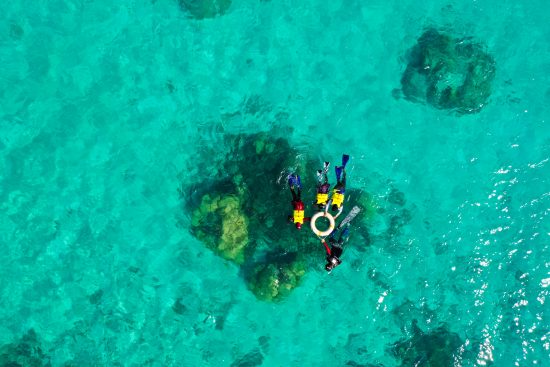 Leanna Crowley, Maldives Underwater Initiative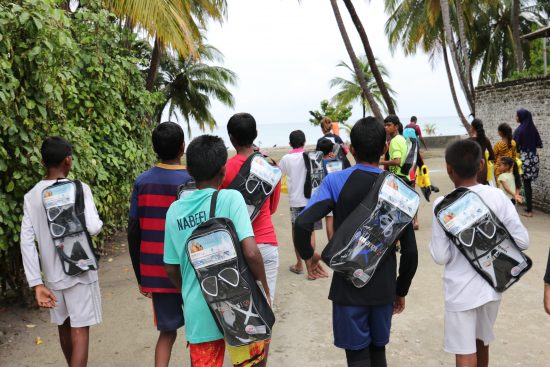 Adam Tholhath, Maldives Underwater Initiative
The Maldives is world famous for its picturesque turquoise waters, white sandy beaches, and rainbow reefs. A vast underwater mountain range that lies in the middle of the Indian ocean, it acts as a haven for marine life, big and small. The epic dive and snorkel sites, and high chances to encounter majestic megafauna, places the Maldives high on the bucket list for many ocean enthusiasts.
Yet despite the Maldives being 99% water and 1% land, many of its inhabitants do not get the chance to experience its treasures below the surface. As is the case with many developing countries, these incredible marine habitats are often restricted to those that can afford to dive or snorkel there or have experience in doing so. Many Maldivians do not know how to swim or snorkel, or do not have easy access to swimming lessons. Pressures to move to the capital island Male for work and education, has meant that the 40% of the population that live there do not have access to clean or safe swimming areas. Additionally, the percentage of women that can swim is much lower than that of men – being a proud fishing nation, men typically spend more time out at sea whilst women are working at home, and for cultural reasons families are often hesitant to let their daughters go into the water alone.
In recent years, the younger generation have been taught swimming as part of their school extracurricular activities, however there is still a high percentage of young Maldivians that are unable to swim or snorkel - in a survey with the Maldives Lifeguard Association, it was estimated that only 10% of 10th graders could swim.
That's why the Manta Trust decided to facilitate large donations of snorkelling equipment to schools in the Maldives, with the hopes of encouraging, and improving the opportunities for, children to experience their local reefs. The Manta Trust is a marine research charity that co-ordinates global mobulid research and conservation efforts. They take a unique, multifaceted approach to mobulid conservation, with an approach that revolves around three fundamental pillars: research, education, and collaboration. Since the conception of its flagship project in the Maldives in 2005, the Manta Trust team have always felt passionate about sharing their love for manta rays and the underwater world with those that live in and depend on these habitats for their livelihood.
The "Hello Hallu" program (meaning hello solution in the local language Dhivehi), which was initiated by the Manta Trust in Laamu Atoll and supported by their project funder the Maldives Underwater Initiative (MUI) by Six Senses Laamu, inspired to take more than 300 students from 13 schools out snorkelling on their local coral reefs. To encourage students to continue spending time in the water when the team were not around, they reached out to Blueyou, a consultancy firm for sustainable aquaculture, to request sponsorship of snorkelling sets for schools. Blueyou kindly accepted and collaborated with Mares Maldives, who provided the snorkelling equipment to donate a total of 390 sets of masks, fins, and snorkels to schools in Laamu atoll between 2019 and 2021, and an additional 20 sets to a similar program in Baa atoll.
Since the equipment was donated, the Manta Trust and MUI team have been able to take numerous school children for their first ever snorkelling experiences, and the feedback has been tremendous. Many of the children were able to see the coral reefs and marine life that the Maldives is so famous for, for the first time. Young girls that were scared to enter the water before, found the courage to go into the ocean and were amazed at what they saw.
This year Blueyou will also be supporting the Blue Marine Foundation to fund snorkelling camps in Laamu atoll, where each of the schools that had gear donated to them, will be taken snorkelling on their island's reefs. The camps will include reef clean ups and education sessions so that the children are aware of the threats the marine ecosystems face, and how to reduce them, and have a chance to improve their confidence in the water.
The Manta Trust would like to say a huge thank you to Blueyou and Mares for their support in this crucial project. It is essential that local Maldivians are equipped with the skills to swim and snorkel in the ocean to instil a desire to conserve marine ecosystems, as well as improve safe practice. Ultimately, you cannot protect a place until you experience or understand it, so by helping the younger generation to see the beauty of what lies on their doorstep, the Manta Trust hopes to inspire them to become stewards of their local marine environments and protect these areas for generations to come.
Discover more here:
Maldives Underwater Initiative: Instagram - Facebook - Website

Maldivian Manta Ray Project: Instagram - Facebook - Website
Mantatrust: Instagram - Facebook - Website
Written by

Mares
Date

4th October 2021