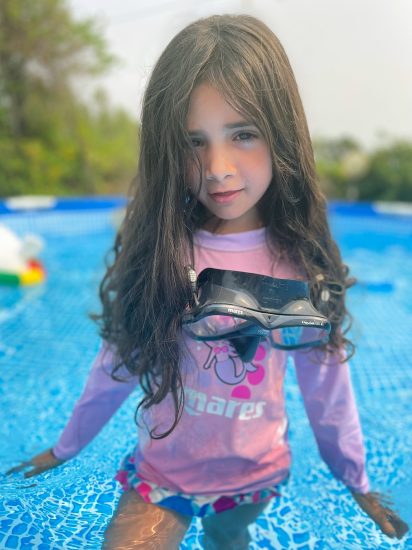 Pool quarantine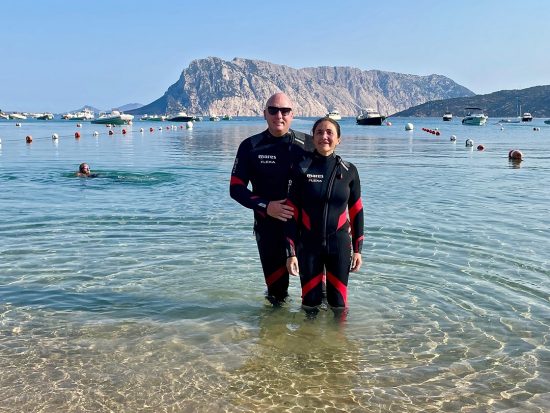 Diving with the Mrs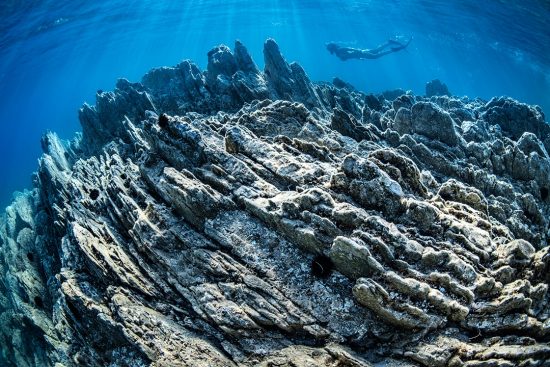 Eleonora snorkelling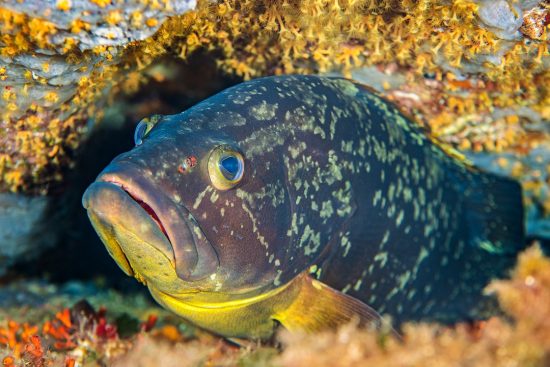 One of many groupers at Tavolara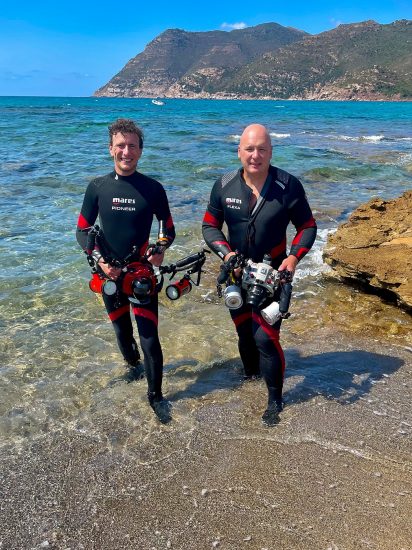 Macro in Porto Ferro with Marco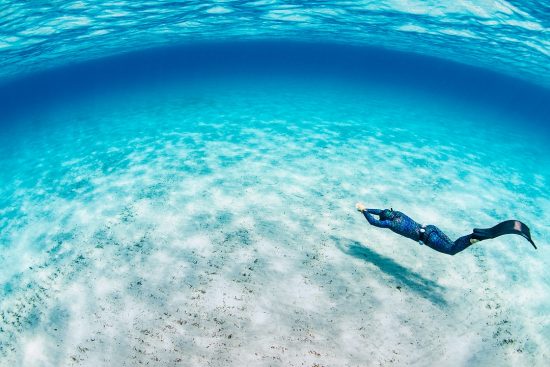 Enjoying the blue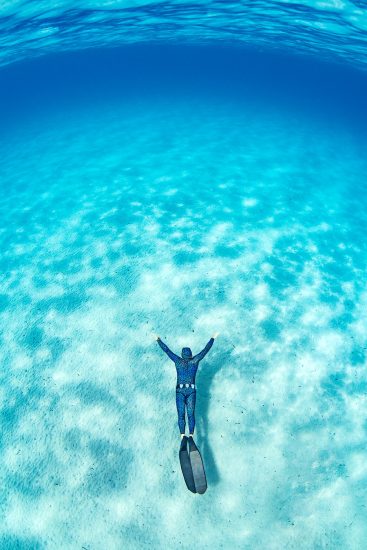 Peo dives in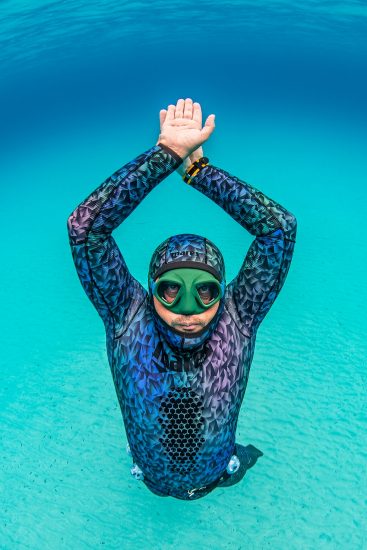 I am jealous of Peo's mask and suit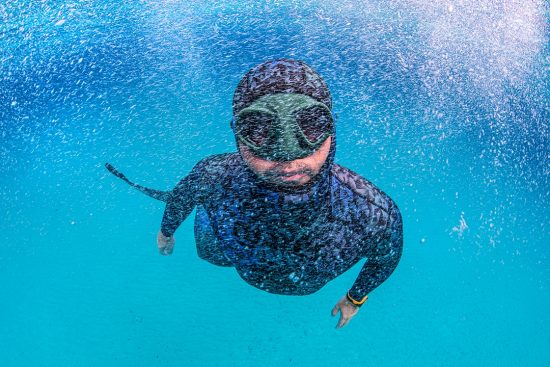 Peo with bubbles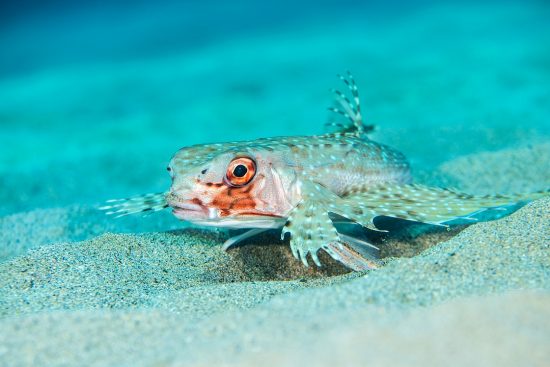 Gurnard On The Sand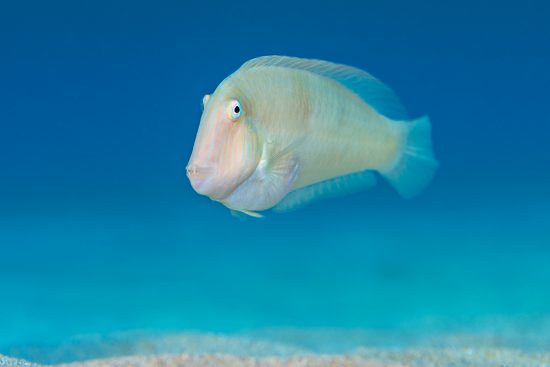 Razorfish On The Sand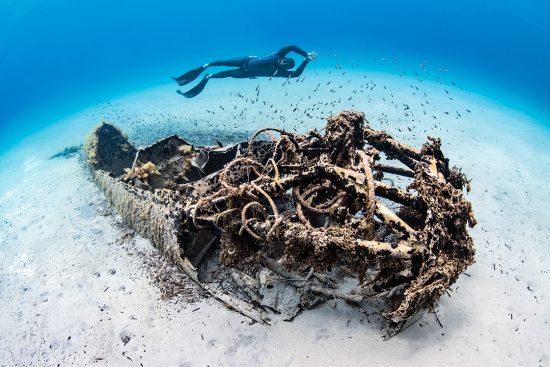 Corsair plane wreck
This summer we were lucky to escape to Sardinia for a family holiday. Fortunately for me, my wife Eleonora is not only from this beautiful island, but her father has a small vineyard, just a few minutes from the tempting blues of the Mediterranean Sea! And this summer I was even keener than normal to immerse myself in the azure, transparent waters, as my diving (and indeed everything else) had been restricted to the UK for the last 12 months! But this was not a dive trip, and trying to fit some underwater time into a family holiday is a challenge many experience, especially while the kids are still too young to join on their own diving adventures. My solution was to make the most of any opportunity - I only made 4 dives in three weeks, but I carried my camera and snorkelling gear to the beach most days, and once sandcastles were built I'd go off and explore! Some beaches had attractive rock formations and seagrass meadows, but most of the time it meant just enjoying the beauty of the light dancing across the ripples in the white sand.
Getting there was a little different this summer, with loads of Covid paperwork and testing. I've visited Italy more than 50 times, but thanks to Brexit this was the first time my passport got visa stamps going in and out. Travelling from the UK we also had to do 5 days quarantine on arrival, which we mostly spent keeping cool in a paddling pool in the garden! It all raised my anticipation of finally being able to get in the water and to catch up with friends.
The only boat dives we made were a morning in the Marine Protected Area of Tavolara with Aquarius Diving run by our friend Andrea Severino. This was also the first time since the start of the pandemic that Eleonora and I had the chance to dive together, which was really special. I was really impressed by the numbers of fish in the Marine Protected Area, which have increased very noticeably year on year since I first dived here, about a decade  ago. Not all Marine Protected Areas are as well managed and effective, so it was very heartening to see one flourishing.
I also managed a day shore diving from the beautiful and wild Porto Ferro, while the families played on the beach. This time I was diving with naturalist and incredible wildlife photographer Marco Colombo, who is perhaps best known in Italy from his regularly appearances on the nature TV show Geo. It was a geeky day, as we spent our time exploring the open sand looking for life. I was happy spending my time slowly stalking razorfish and also found a flying gurnard. Marco found a very rare mantis shrimp (Rissoides desmaresti) although it was too shy for a photo!
We also went to the beach with our friends, Gianmatteo Grossi and his family. Peo is also part of the Mares family, and we swam out to the wreck of an old plane, a Corsair Vought F4U, that lies partially buried in the sand offshore. Peo had the new X-Tream mask and I was most jealous of his Polygon 30 suit (I was just in swimming trunks). I have the Polygon suit at home – the thickest one (80/65) that I used recently in Scotland that would have boiled me in Sardinia – Peo's looked the same, but was so thin in comparison. He had been using the 30 all summer in the Mediterranean – and I want one! Once we were back from the wreck, the kids stole our snorkels and had a competition who could blow water the furthest. The flexible neck of Eleonora's Bay snorkel made it the winner in this performance test!
Written by

Alex
Date

27th September 2021
Also by Alex