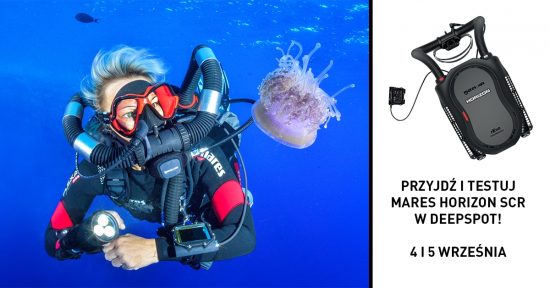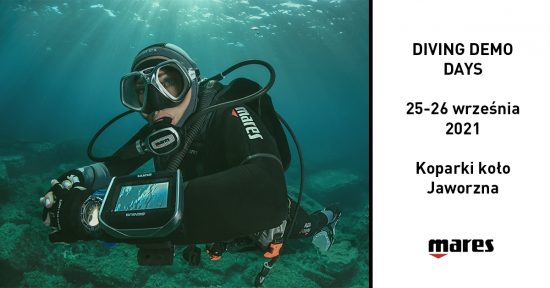 Test the Horizon SCR

Come and test Mares' Horizon SCR at Deepspot, one of the deepest dive pools in the world, on the 4th and 5th of September! Accompanied by SSI Horizon SCR instructors, you will get 40 minutes to try our revolutionary semi-closed rebreather. Places limited to 20 divers per day – sign up now at info.poland@mares.com

Diving Demo Days

Save the date, the 25th -26th of September 2021, for the Mares Diving Demo Days at the Koparki quarry near Jaworzno, Poland!
Test Mares BCDs, regulators, fins and computers, with the chance to win some incredible Mares prizes over the weekend! Tickets are available at the entrance and dive gear can be provided by the dive center on site. See you there!

______________________

Dni Testów Mares SCR Horizon

Przyjdź i testuj Mares Horizon SCR w Deepspot, jednym z najgłębszych basenów nurkowych na świecie, 4 i 5 września! Będziesz miał 40 minut na wypróbowanie naszego rewolucyjnego rebreathera pod okiem instruktorów SSI Horizon SCR. Miejsca ograniczone do 20 osób dziennie – zapisz się już teraz na info.poland@mares.com

Diving Demo Days

Zapiszcie w kalendarzu 25-26 września 2021 na Mares Diving Demo Days nad kamieniołomem Koparki koło Jaworzna!
Przetestuj jackety, automaty, płetwy i komputery Mares, a w wolnej chwili wygrywaj niesamowite nagrody Mares! Bilety są dostępne przy wejściu, a sprzęt nurkowy można wypożyczyć w centrum nurkowym nad wodą. Do zobaczenia!
Written by

Mares
Date

5th August 2021
Also by Mares