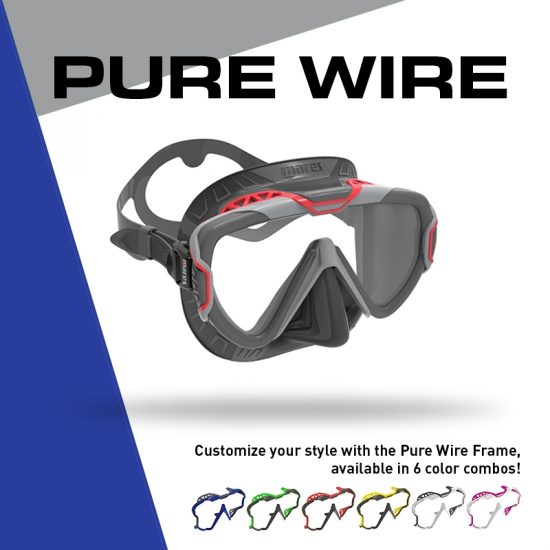 PURE WIRE MASK

Perfect wearability, a wide field of vision and easy personalization options in a unique, ultra-modern mask.

Let's take a look at some of the characteristics…

- Skirt

 The skirt has both glossy and matte sections encasing a single piece of glass, ensuring a perfect seal over time. It's molded in anti-allergenic liquid silicone for extended durability and superior comfort, and its special form allows the mask to adapt perfectly to any face shape.

-Frame

Thanks to the construction of this mask, the frame is stylish and easily interchangeable, with several color options, providing easy personalization. The dual-material technopolymer construction offers mechanical resistance while simultaneously supporting the skirt thanks to its special "soft grid", also ensuring a better hold when positioning the mask on the face.

-Buckles

 The buckles on the skirt are made of high-resistance technopolymer. They pivot and adjust quickly for the ideal placement on your head.

-Strap

 The strap is made of silicone with a shape designed to ensure the best stability and excellent comfort.

-Colors

 The Pure Wire is available in 5 color options: Grey-Yellow/Black, Grey-Red/Black, White-Grey/Black, Blue-Grey/Clear and Grey-Yellow/Clear.

PURE WIRE FRAME

Thanks to the unique characteristics of the Pure Wire mask, this frame can be easily personalized, and there are 6 color combinations to choose from: Grey-Yellow, Grey-Red, White-Grey, Blue-Grey, Lime-Black and White-Pink.
Written by

Mares
Date

1st September 2020
Also by Mares