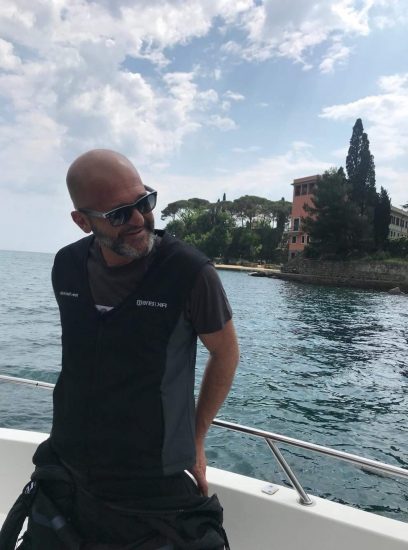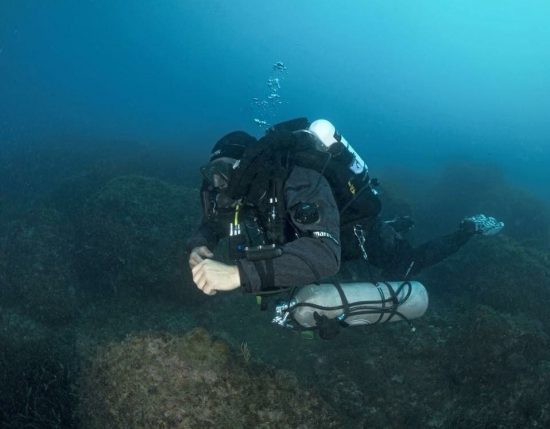 Rapallo, May 2018

My new rEvo rebreather is ready for use. Yme, my instructor, has just finished the first lesson of the course which will allow me to obtain XR CCR Extended Range certification down to 45 meters.

A whole week of dives awaits me, with a run time of over 90 minutes per dive. The weather is very unstable; temperatures are decidedly lower than the seasonal average. On the surface, the water doesn't go above 16°C and after -10m depth it goes down to 14°C.

The study program foresees the perfect execution of a series of skills. I will have to spend a lot of time underwater stationary and in trim – it won't help my thermal comfort.

Fortunately I can wear my new Mares XR Active Heat Vest. I wear it over a cotton top which I usually wear to isolate my skin from the under suit. It's equipped with a double zip which allows me to don it easily, even whilst seated. It's light, and not at all bulky.

The rechargeable battery is small and the connecting wire is inside, in a special pocket where the battery also sits. You can choose between four different heat  levels using a button which is also used for turning on and off the battery. I use the remote controlled which allows me to turn it on and choose the desired level of comfort a second before entering the water.

I start to feel a pleasant warmth on the back and chest area whilst, sitting on the boat, I do my pre-dive checks. Underwater I manage to comfortably bear the outer cold and heat loss which gradually increases during the dive time. We return to the surface after 85 minutes.

Time is unfortunately limited due to the depth of the study program. Yme decides to take an hour's surface break whilst the boat moves on to the next dive site.  We don't have time to open our dry suits to dry out condensation from the undergarment. I use the remote to deactivate the jacket.

I turn it on again at the moment of re-entering the water. We'll stay down for another 95 minutes. Despite the efforts of the previous dive and the current one, once again I don't feel the cold. I get back on the boat and the jacket's battery still has life, despite being active for almost 200 minutes non-consecutively.

For the next 5 days the schedule will be almost identical - There will be 10 demanding, very informative dives. 10 dives with an average time of 90 minutes, all repetitive.

They were 10 dives in which I managed to defend myself perfectly against the cold and heat dispersion.

The heating jack from Mares was a true ally, accompanying me during this special week of training, and it will continue to accompany me on my dives until water temperatures reach their warmer August levels.
Written by

Underwater Tales by Stefano Sibona
Date

26th June 2018
Where

Rapallo, Rapallo, GE, Italia
Also by Underwater Tales by Stefano Sibona