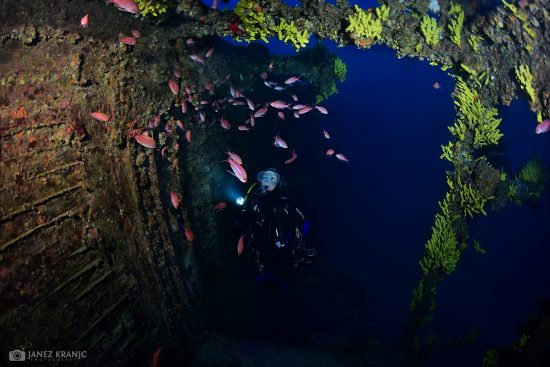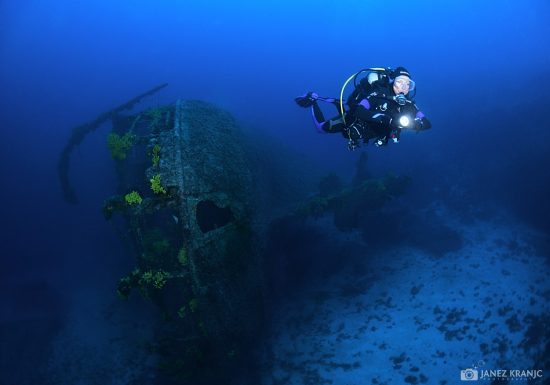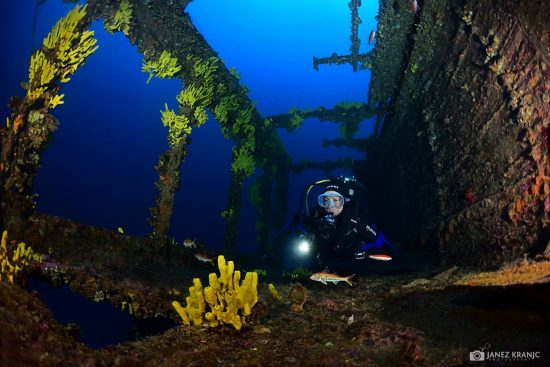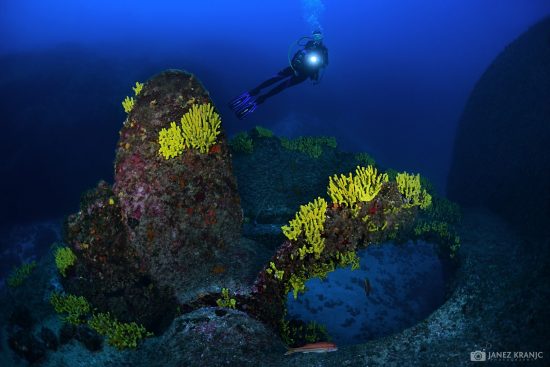 The wreck of the Brioni passenger and cargo ship is one of the most captivating wrecks in the Croatian part of the Adriatic Sea. It is located on the south-eastern coast of the island of Vis, facing the tiny town of Rukavac. This boat, built in 1909 at the Shipyard of Monfalcone, can really be said to have had an unfortunate fate. Throughout its forty years of sailing, it was deployed by the naval forces, stranded once on the island of Krk, and eventually, in 1930, it hit the shore on the cape of Jezero, sending it to the bottom of the sea. At the time, it was carrying tobacco and wine from Split to Vis.

The wreck of the Brioni is 8 meters long and 9.5 meters wide. The stern came to a halt at a depth of 40 meters, positioning the bow at 60 meters below sea level. The boat lies on its left broadside covered in yellow sponges. The visibility at this site is almost always good, so the propeller and the stern come into sight even from twenty meters deep. By approaching it slowly, you can get a real impression of the size of the ship.

Following the ship's hull, you cross the deck all the way to the command bridge. What used to be lifeboat holders are now decorated with sponges, whereas the deck corridors and ship aisles are reminiscent of a real maze. The bow is located at a depth of exactly 60 meters and offers a fascinating view. Due to the depth of the wreck's location, entering it is not recommended without careful preparation.

To fully see and enjoy the Brioni you need to do at least two dives. Furthermore, this location is primarily suitable to experienced divers because decompression profiles are almost mandatory. In this aquatorium there are also several other interesting wrecks (Liberator B24, Flying Fortress B17) which are definitely worth a visit.

Our experience was made possible with the top aficionados of these waters, the Issa Diving Center in Komiža.

Text and photo: Janez Kranjc

Model: Ivana O.K.

Dive gear used: Excite fins, Flexa wetsuit, Fusion regulator, Juno mask, Quad computer, Quantum SLS BCD, EOS 12RZ torch

To start wreck diving, or continue your wreck diving journey, take a look at SSI's training programs!


Written by

Ivana and Janez
Date

2nd July 2018
Where

Vis, Croazia
Also by Ivana and Janez