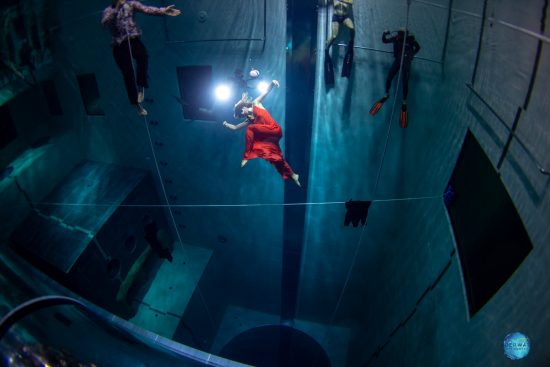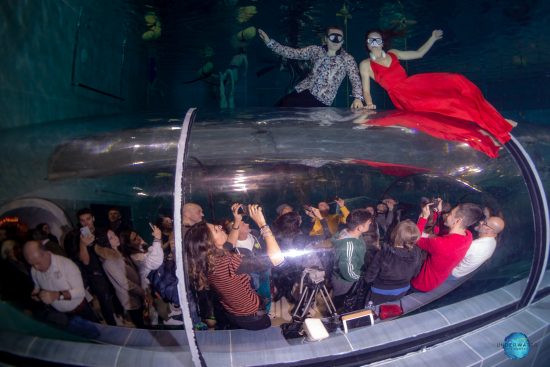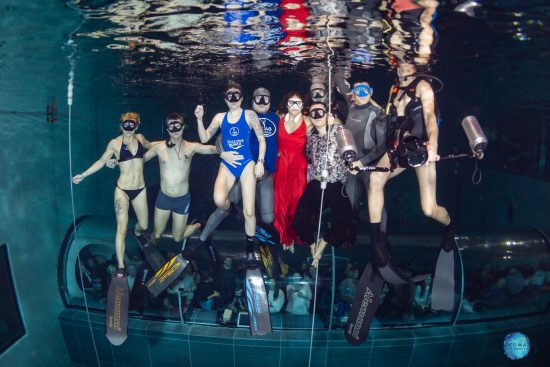 The Guinness World Record Attempt for the Longest Underwater Dance whilst freediving was a success at the deepest pool in the world: Y-40!

It was a wonderful event combining the skills of actress, World Champion freediver, Guinness Record holder and psychologist Marina Kazankova and freediver, artist and designer Dmitrij Malasenko!

Y-40 was full of freedivers, divers in the water and an audience who could see the show from the viewing tunnel- Marina and Dmitrij were very emotional and happy to see so many spectators!

The build up to the performance included a dedicated psychological preparation that Marina teaches around the world to relax and slow down the heart rate.

To make the show even more spectacular, they decided to dance not on the dance floor, but on a rope. It was not very easy to keep balance underwater!

Marina wore a wonderful coral-coloured, silk dress which flowed underwater - designed and made especially for the record by the talented designer Olla Makeeva. Dmitrij had a shirt to match the dress, and the divers also wore 2 capes, with 2 lightsabers and black and white Mares masks.

The music for the show was composed by Omura, helping the dancers to synchronize their movements, and it was heard both inside and outside the water.

The audience admired and applauded the beautiful performance, and instead of the 3m 15s planned, it lasted 3m 28s. Art and freediving came together, demonstrating that freediving is not an extreme sport only for champions, but a wonderful way to express ourselves and feel inner peace.
Written by

Mares
Date

11th January 2019
Where

Y-40 The Deep Joy, Via Cataio, Montegrotto Terme, Province of Padua, Italy
Also by Mares