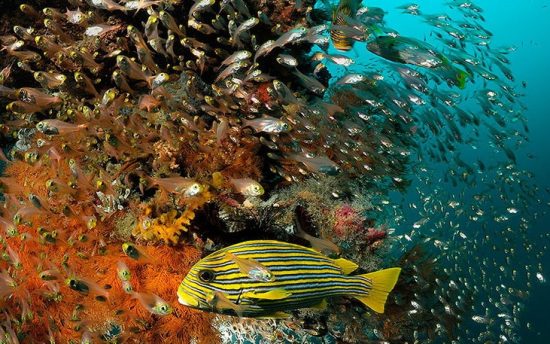 Small fish swirling around a yellow-ribbon sweetlip. Photo from the "Ocean Acidification: The Other Carbon Dioxide Problem" exhibition. (c) Solvin Zankl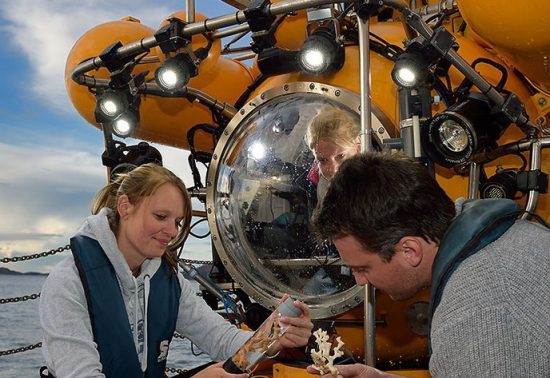 Precious samples. Photo from the "Ocean Acidification: The Other Carbon Dioxide Problem" exhibition. (c) Solvin Zankl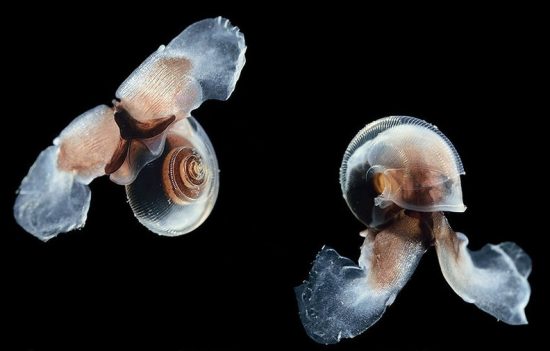 Sea butterflies, also known as pteropods. Photo from the "Ocean Acidification: The Other Carbon Dioxide Problem" exhibition. (c) Solvin Zankl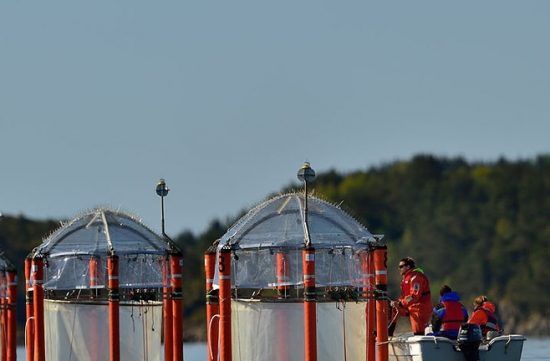 Mesocosms at Raunefjord. Photo from the "Ocean Acidification: The Other Carbon Dioxide Problem" exhibition. (c) Solvin Zankl
A new photo exhibition by two nature photographers centres on the
organisms on which climate change research is currently focused on.



From the Arctic to the tropics, ocean acidification has altered life in
the sea. In a photo exhibition by the German Research Association
BIOACID (Biological Impacts of Ocean Acidification),
ocean acidification – dubbed "the other carbon dioxide problem"– takes
centerstage.

It showcases the works of nature photographers Solvin Zankl
and Nick Cobbing. The exhibition is a contribution to Science in 2016*17 – Seas and Oceans.

British photographer Cobbing had witnessed the 2010 field experiment on
ocean acidification in Spitsbergen, which made use of the KOSMOS
mesocosms in Kiel.

Researchers from 15 countries simulated environments
of varying degrees of acidification that may be experienced in the
future. Based on the results, they deduced how the plankton community
would react to rising carbon dioxide concentrations in the Arctic.



Solvin Zankl, an internationally renowned nature photographer from
Kiel, is a familiar figure at GEOMAR and the Alfred Wegener Institute,
Helmholtz Centre for Polar and Marine Research.

In his contributions to
the exhibition, he peeks over the shoulders of the researchers at
BIOACID and gives us an insight into the world of plankton. He was
there at the mesocosm experiment in 2015 when everything focussed on a
tiny organism that held great importance for the planet: the
single-celled calcareous algae Emiliania huxleyi.

Going on expeditions
with Germany's only manned research submersible JAGO amidst the
cold-water corals off the Norwegian coast, Zankl captured the colourful
life of tropical coral reefs. Armed with his photo-microscope, he
photographs planktonic organisms barely visible to the naked eye.

In
his portraits, sea urchin larvae buzz about like little spaceships
through the marine universe and jellyfish dance a whimsical ballet;
there is also a photo of a copepod, whose species has become "fast
food" for fish, due to climate change.

The exhibition is open until October 21st at the east shore campus of the GEOMAR
Helmholtz Centre for Ocean Research Kiel from Monday to Friday, 9am to
3pm.

A website and web app have been created to supplement the
exhibition and provide visitors with additional information.

All photos, graphics, texts and videos of the exhibition are in both German and English at the online platform.

Comments and questions for the researchers can be made via Twitter at @BIOACID_project and #BIOACIDexhibition.
Written by

Mares
Date

27th September 2016
Also by Mares