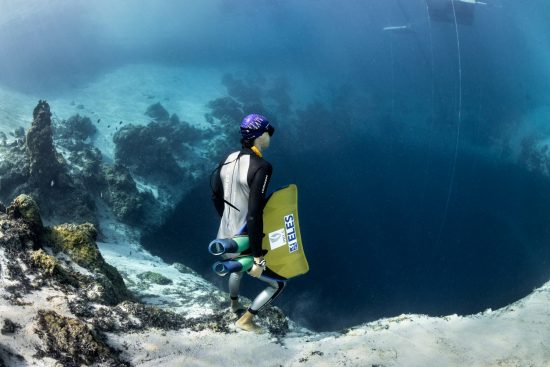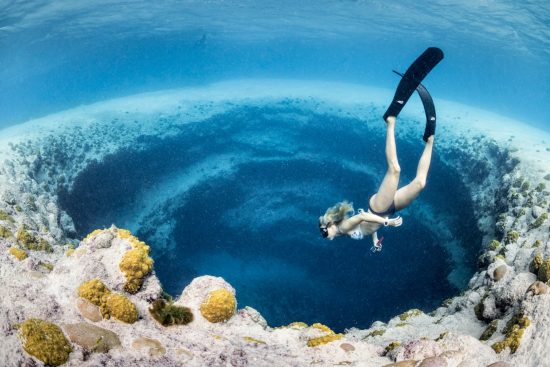 Vertical Blue is one of the best depth freediving competitions in the world which takes place in Dean's Blue Hole on Long Island in the Bahamas.

Dean's Blue Hole is a 203m deep sinkhole, surrounded by white beaches and rocky cliffs. This makes it the perfect freediving location, because the diving platform can be reached by swimming. Furthermore, the water is warm and due to the closed perimiter, there are no waves or strong currents.

Vertical Blue is the only competition where freedivers get to do six competition dives in any discipline they want, which makes it the ideal opportunity to chase both national and world records. This year the competition takes place from the 16th to 26th of July and it will be very interesting because of many strong competitors among the men and women.

The unique nature of the Vertical Blue competition convinced Neža and I to apply this year and compete together. We arrived in the Bahamas a good two weeks before the competition to have enough time to adapt to the pressure and the conditions of the Blue Hole.

Training has progressed well and we are eager to see where it will take us. We will both try to compete in all three disciplines and snatch some personal bests. But even more than results we are enjoying the company of other freedivers and the beauty of the island. On the rest days we take the opportunity to satisfy my other passion and photograph the amazing scenes of Long Island above and under the water.

Samo Jeranko

Samo is also an SSI Freediving Instructor Trainer.

Follow Samo and Neža's journey to the Vertical Blue competition here in their vlog.

For all your Mares Freediving gear see here.

Samo uses the Smart Apnea dive computer , Horizon 10 wetsuit and Razor Apnea fins.
Written by

Samo
Date

18th July 2018
Where

Dean's Blue Hole, Long Island, Bahamas
Also by Samo