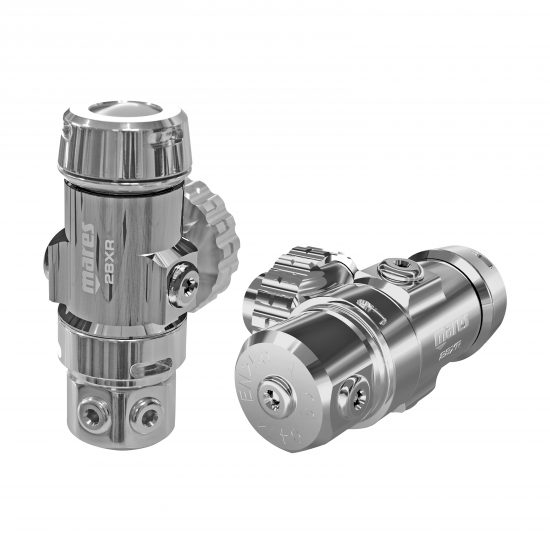 28XR HR 1st Stage
We are excited to introduce the greatest innovation in first stage technology for cold water diving, the Twin Balanced Piston. The TBP can already be purchased as an additional accessory in our scuba diving line of regulators (with 15X, 62X, 72X and 82X first stages) and is already assembled in the 28XR first stage. The TBP is the most innovative alternative for cold water diving kits. By combining a balanced piston design with a diaphragm first stage, Mares is able to offer the ultimate regulator.

The Twin Balanced Piston solves the age-old question of piston vs. diaphragm for extreme environments. Traditionally, a balanced piston first stage is not ideal for cold or contaminated water due to its likelihood of freezing up and the possibility of contaminated water entering the breathing chamber. On the other hand, a diaphragm first stage does not perform as well as depth increases when an isolation dry kit is installed. For decades, manufacturers used an oil or air chamber to make both types of regulators environmentally sealed; however, this method created its own issues like being difficult and messy to service.

The TBP is the ultimate solution for this problem, offering a completely isolated first stage, guaranteeing the greatest reliability in both freezing water temperatures and extreme depths. This remarkable technology is phenomenally reactive to pressure variations, even meeting the requirements of the NORSOK U-101 at a depth of 200m.

With the Twin Balanced Piston's innovative "Pistophragm" technology, Mares puts forth an incredibly responsive system which works perfectly at any depth and water temperature. It is also very easy to assemble and service. This totally isolated system is the perfect set-up for divers from those submerging in contaminated water situations to adventurous ice divers.

Discover more at www.mares.com.
Written by

Mares
Date

26th July 2021
Also by Mares