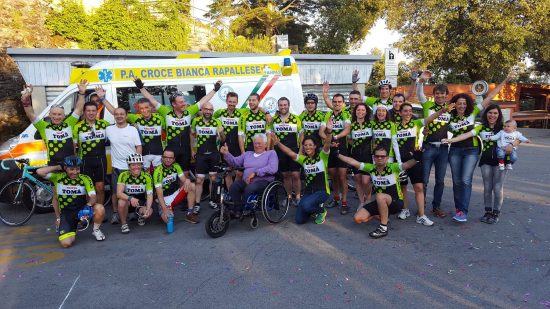 The Mares Team, ready to go!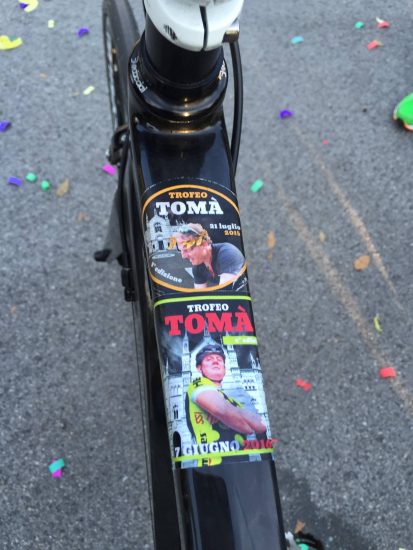 The Trofeo Tomà has become a yearly tradition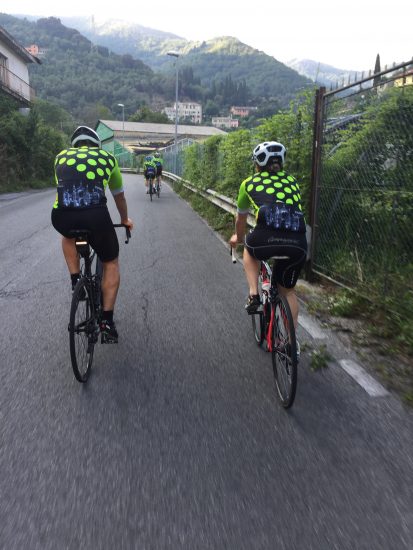 Settling in to the uphill climb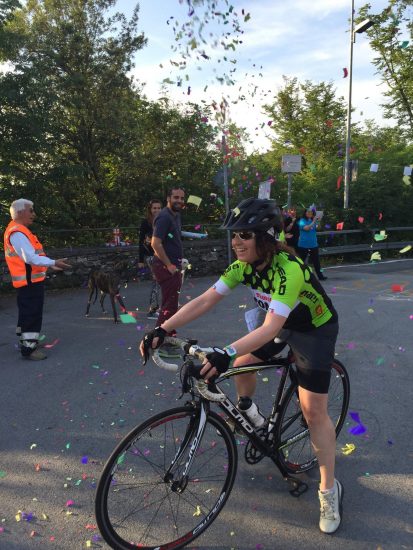 Michela Ratto, this year's winner, as she crosses the finish line!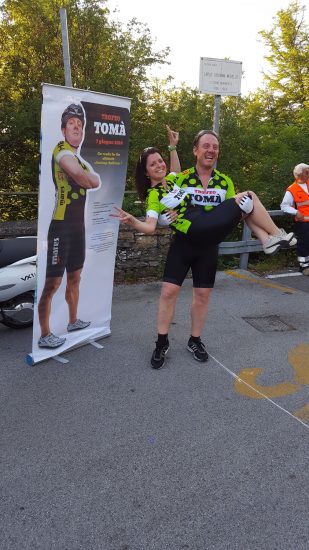 Another successful race to Montallegro!
"From the
deepest of seas, to the highest of peaks". This slogan, taken from our Fusion
52X video, describes exactly what happened to a number of Mares employees on Tuesday 7th June. For one evening only, a group of 20 adventurers exchanged their diving
gear for road bikes in order to follow local cycling celebrity Gianni Tomà
(Mares insiders also know him as 'Doctor Tech') during his 4th ascent to the Sanctuary of
Montallegro.  The challenging climb from Rapallo to the Sanctuary measures
9km in distance, with a total altitude of 650m. 
What started in 2013 as a simple, fun ride after
work has turned into a true climbing challenge; the 'Trofeo Tomà'. Despite the demanding course, the Trofeo Tomà has
triggered a buzz of excitement among Mares/SSI and HEAD employees in Rapallo:
the most competitive cyclists start their physical preparation weeks before the
challenge. Possible race strategies and the right equipment are discussed again
and again during coffee breaks in the days preceding the event. 
As a response to increasing enthusiasm among
the employees, Mares sponsored this year's event with a dedicated Trofeo Tomà
finisher jersey. The garment was conceived by the company's in-house Design
Department, usually charged with the development of regulators, fins or
neoprene suits.
The winner of the 2016 edition was Michela Ratto
from the Purchasing Department, who crossed the finish line with a margin of
more than 30 seconds to the closest chasers. Michela, who participated in the
race for the first time, deserves a huge congratulations!
No doubt arriving at the Sanctuary takes a
bit of training and determination, but what matters more than ranks and
placements is having real fun and spending a nice evening together with your
workmates! The Trofeo Tomà 2016 provided all that! During their descent to
Rapallo the riders stopped at Trattoria Rosa to quench their thirst, restore
their burned calories and enjoy the fantastic panoramic view of Portofino and
the Gulf of Rapallo.
No matter whether you are a Mares employee or fan
of our products, the Trofeo Tomà is within everyone's reach! Don't miss the
2017 edition!
Written by

Mares
Date

6th July 2016
Where

Rapallo, GE, Italia