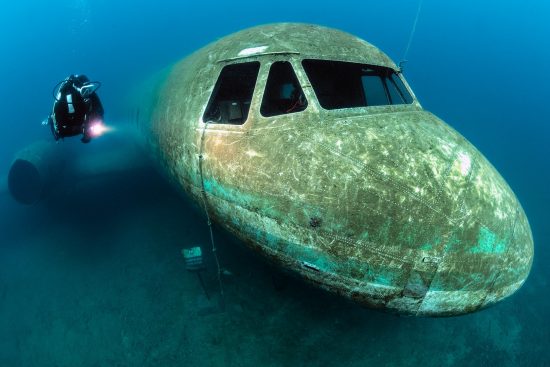 Caroline lights up the plane wreck. The plane was sunk on purpose and is a Hawker Siddeley (HS) 748.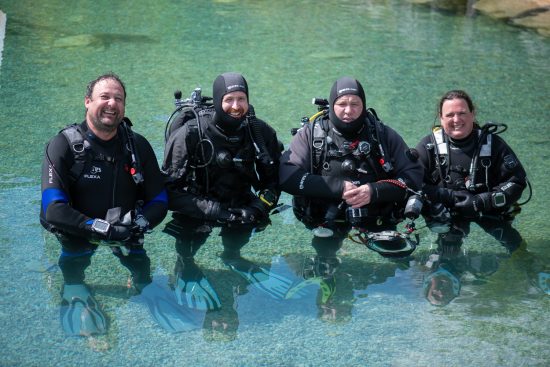 Hennie, Ed, Alex and Caroline warm enough to pose post dive!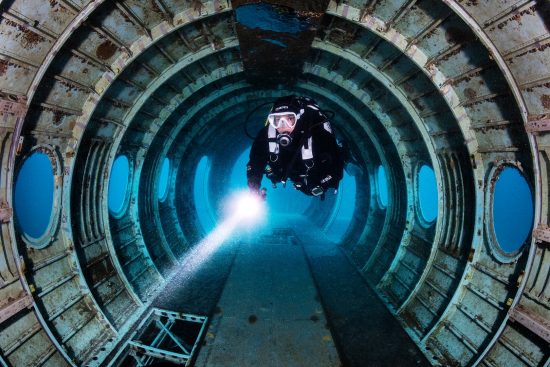 Caroline with the EOS 32LRZ zoomed to narrow beam inside the plane.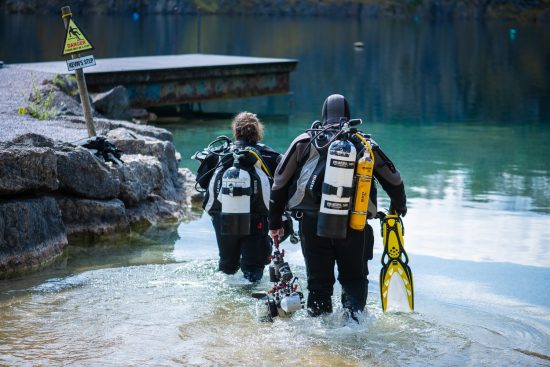 Caroline and Alex head off for another dive.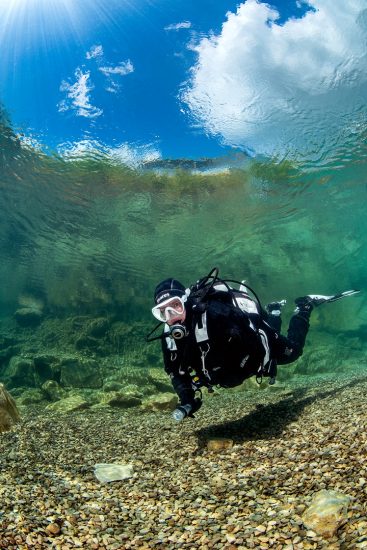 We had lovely conditions.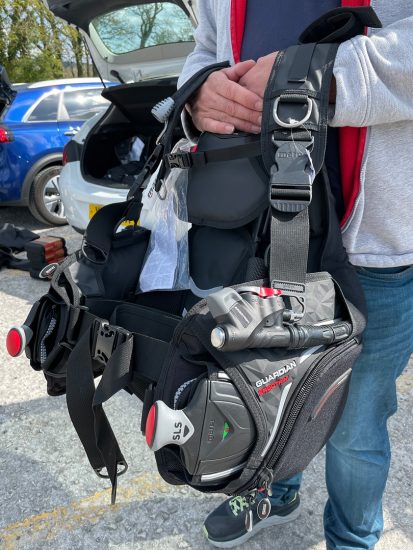 The new Guardian Ergotrim BC. We could look, but not try!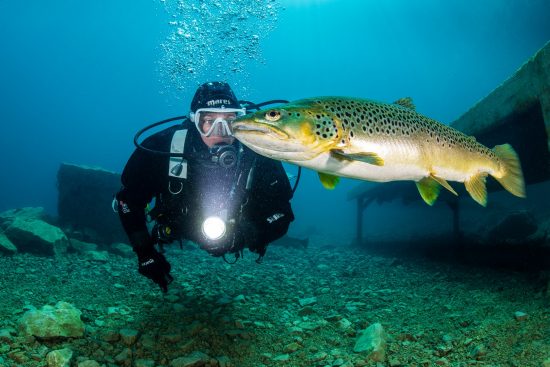 Meetings with friendly trout.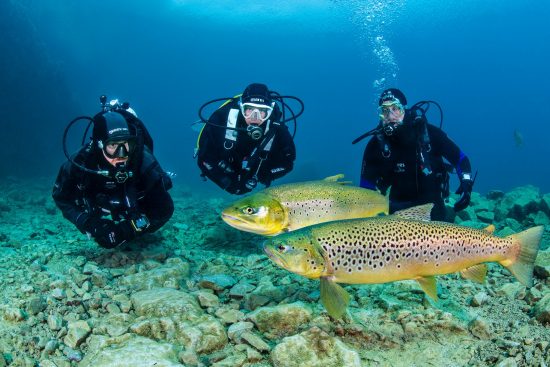 The team enjoying meeting the locals.
The recently updated EOS LRZ line of torches sparked the plan. Our idea was to meet up at Capernwray in the north of England for some underwater fun. The aim was simply for us all (me, fellow Ambassador Caroline Robertson-Brown and Ed, Hennie and Richard from the Mares UK team) to get some more underwater time with the new range of LED, Rechargeable and Zoomable torches, and I thought it would be a good chance to create some images to show them in use and promote British diving. Divers always respond well to seeing products in their own conditions and we all benefit from shining a light on our sport.
I was already pretty familiar with the EOS LRZ, not only because I took it to the Maldives
to attract mantas
, but I also use it daily when taking my sausage dog out in the evening! Unlike a lot of underwater torches, it is totally safe to use on land, and I can charge it easily with a phone charger.
There is some great diving in England, but it isn't on the radar for most overseas divers. This isn't because there aren't things to see – there are. We have rich marine life, charismatic species and a huge numbers of wrecks. The problem is that we also have unreliable visibility and unreliable weather, which often ruins even the best plans! But when it is good, it is damn good.
England is a green and pleasant land because it rains. A lot. Especially on the hills on the west side of the country, which is exactly where we were meeting. Capernwray is in the north west of England at the edge of the Lake District – no prizes for guessing what creates all the lakes! So, it was a very pleasant surprise to find ourselves greeted by beautiful sunshine and some lovely underwater visibility too. Blue skies and blue water are a rare treat here! We also had this popular diving spot almost to ourselves, partly because it was midweek and partly because the water temperature was 8°C in the shallows and colder still at depth.
One benefit of meeting up with Mares staff is that they usually have some interesting new products tucked away somewhere. Ed had the new
Guardian Ergotrim BC
in the car, which has the Airtrim 2.0 pneumatic inflator which can be attached in a standard BC position or rotated and tucked away completely below your left arm. This latter position is very attractive to us photographers for two reasons. Firstly, it is easily operated with our free left hand (our right hand is always holding the camera) and also the inflator is kept out of the way and can't float between us and our camera at a critical moment. As the Guardian was a production sample, we weren't allowed to dive it though, it was still touring the dealers!
The great weather and visibility allowed me to make images that I wouldn't normally be able to make in England. Poor visibility doesn't stop underwater photography, it just limits the type of photos you can make to only close focus shots, so the clear water allowed me to shoot much bigger scenes than I usually can. Caroline very generously agreed to leave her camera on land and pose for my pictures. When you have limited time, you will always get better photos working with someone who is used to underwater photography.
Capernwray is filled with various wrecks, including an old airliner, which was our first target. I photographed Caroline by the nose of the plane and also inside, which showed off the power of the torch. On the second dive we focused on getting some fish into the pictures. Capers has some massive trout and if we stayed totally still they would swim right up to us. I even managed to get a photo of Ed, Caroline, Hennie and some trout – shooting such a big scene is pretty tough 364 days of the year in England! A lucky day, indeed!
Written by

Alex
Date

13th June 2022
Also by Alex