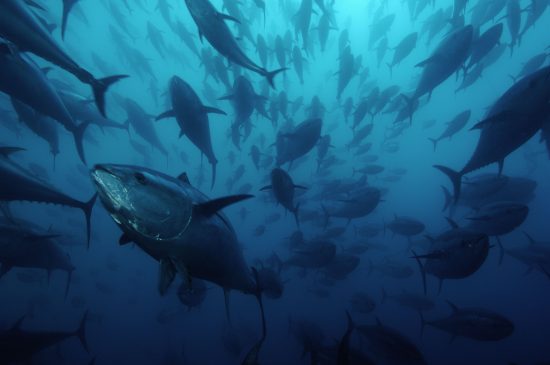 Red Tuna, Brian J. Skerry National Geographic Stock, WWF
Increasing fish imports leads to a need for more responsible fishing

The annual meeting of the German fishing industry is taking place in
Rostock, Germany from August 25th-28th. The WWF is taking the
opportunity to call for reforms to the industry and for consumer
behaviour to change.

According to Karoline Schacht, a fisheries expert at the WWF, Germans
have actually already consumed their figurative share of fish for this
year. Thus, in the second half, the fish that would be consumed needs
to be taken from abroad. She elaborates that if there was no
overfishing, the fish stocks in Europe would be abundant, and Germany
would be able to supply fish for three months longer from its own
fisheries.

With the threat of overfished seas, the industry faces enormous
challenges and must urgently look into how they can conduct their
business ecologically and fairly. According to Schacht, "whoever wants
to have full nets tomorrow would need to undergo the necessary
reforms".

The WWF is encouraging the industry to adopt the EU regulations on
maximum sustainable catches, to use more selective gear and to prohibit
the discarding of unwanted catches. In addition, it wants the German
fishing industry to be sustainable as well. "The fisheries must be
sustainable, not just in North and Baltic Sea, but also overseas, where
the majority of our fish come from," said Schacht in German.

Over the years, the German fishery industry has lost some of its
influence. Today, only 12 percent of fish consumed in Germany comes
from local fishing or fish farms. Instead, fish imports are becoming
more of a mainstay, with the majority of consumed fish coming from more
than 100 countries. Of particular importance is the import of salmon,
shrimp and tuna. Often, these fishes had been caught or farmed off the
coasts of developing and emerging economies. In fact, almost 60 percent
of imports originate from non-European countries. For consumers in
Germany, where fish comprises 13.7 kg of the annual per capita
consumption, the WWF feels that this issue has become more of a
responsibility.

Consumers can consult this guide about shopping for fish for more
information:
http://www.wwf.de/aktiv-werden/tipps-fuer-den-alltag/vernuenftig-einkaufen/einkaufsratgeber-fisch/.

"Although we can choose from a variety of exotic fish specialties, many
people in developing countries depend on what is available in their
territorial seas," said Schacht. Europe, the world champion importer,
consumes a quarter of the world's traded fish; and compensates for
bottlenecks in self-sufficiency in fish imports. "We have a
responsibility for the design of sustainable fisheries, which people
must in turn strive to maintain in the long term," said Schacht in
German. She concludes that conscious consumption and a fishery that
operates sustainably in overseas markets would be decisive indicators.
Written by

Mares
Date

27th August 2015
Also by Mares