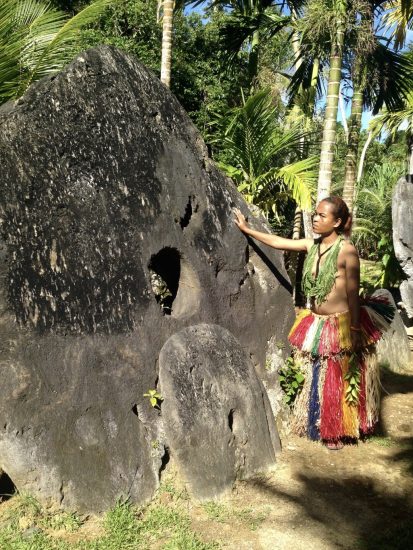 Evelyn, a Manta Ray Bay employee, modeling at Gal Stone Money Bank during MantaFest.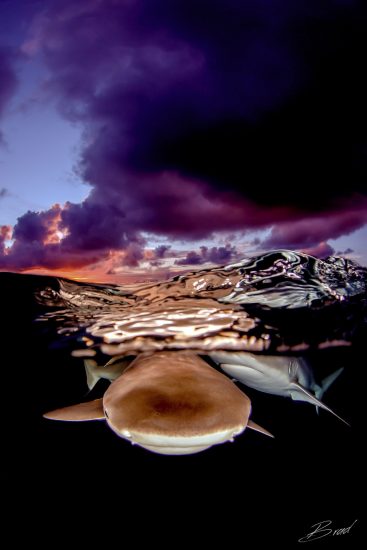 Sunset Shark Split shoot is just one of the special dive plans we run during the event.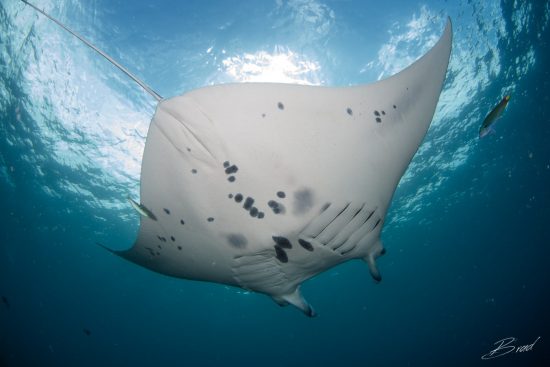 Yap Island is the world's first Manta Ray Sanctuary with a year-round resident population of reef mantas.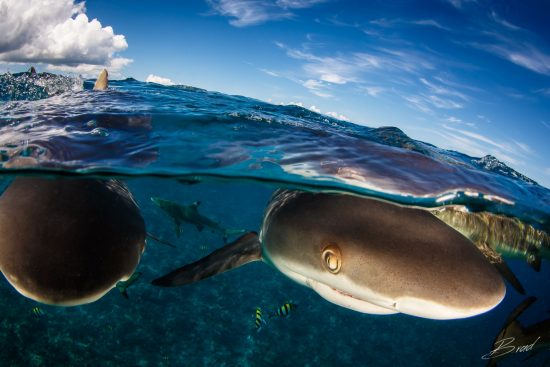 Shark diving EVERY DAY!!!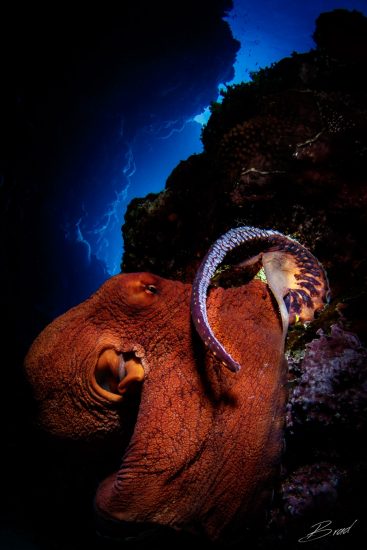 Yap Caverns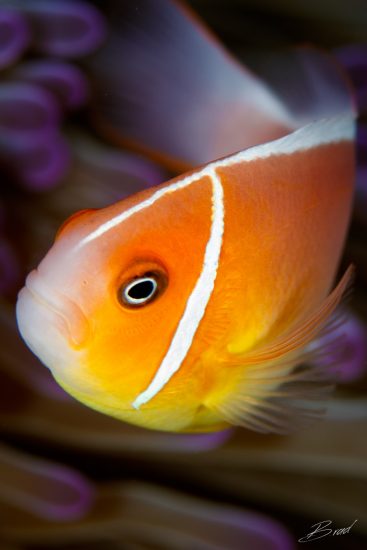 Macro and behavior lessons.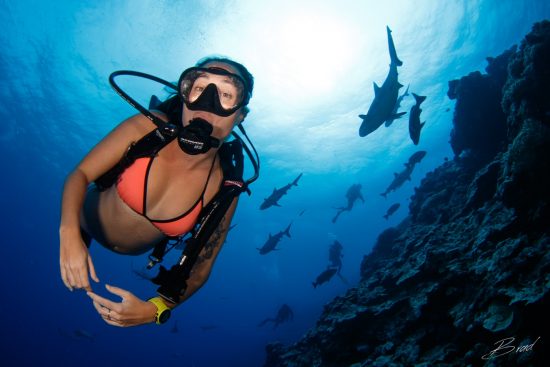 Clear water and schooling reef sharks at Vertigo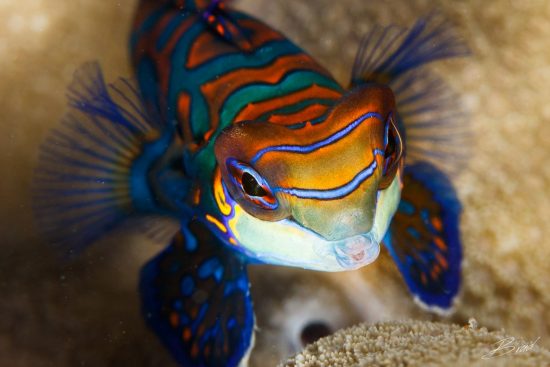 Mating Mandarinfish diving, every day at sunset.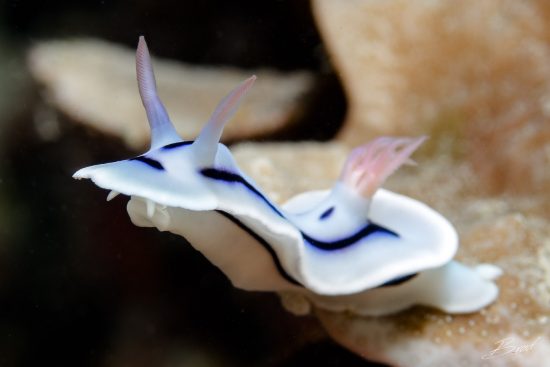 Macro diving.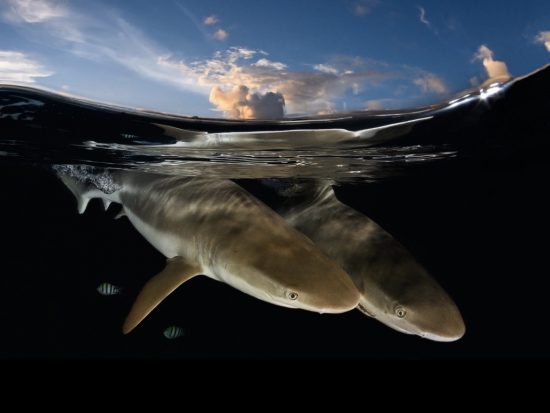 "Best of Show", Jim Decker, shot at "Vertigo" at our Shark Sunset Split Shoot, MantaFest 2016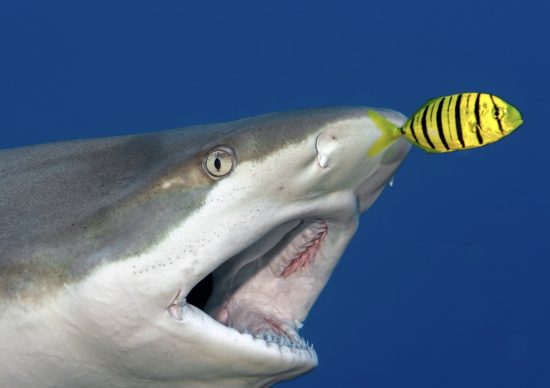 "Best of Class, dSLR", Judy Bennett, shot at "Vertigo", MantaFest 2016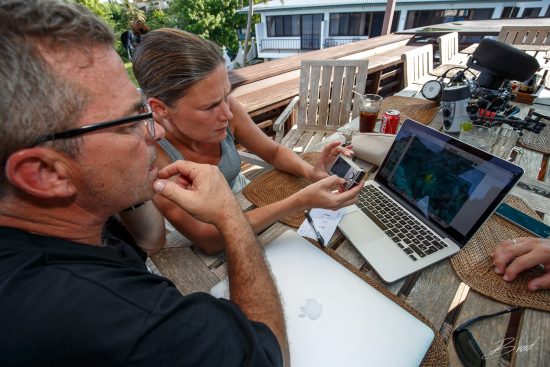 One on one with Steven Miller from Ikelite photo school at happy hour, during MantaFest 2016.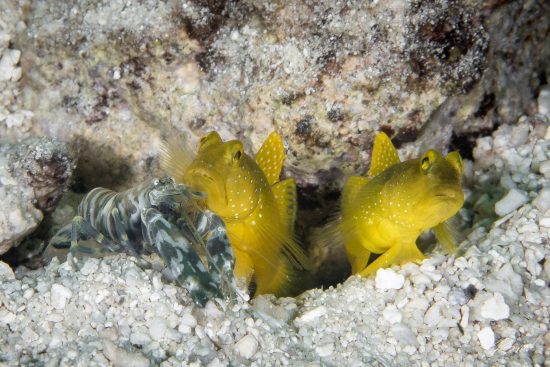 Macro and behavior samples.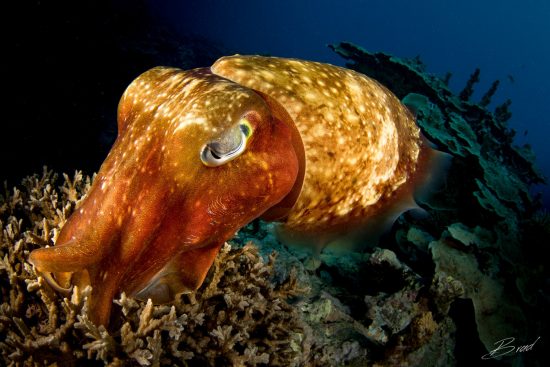 Cuttlefish are encountered often on the outer reef.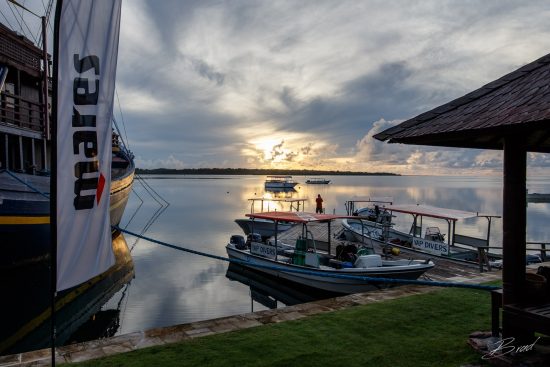 Mares mornings in Yap.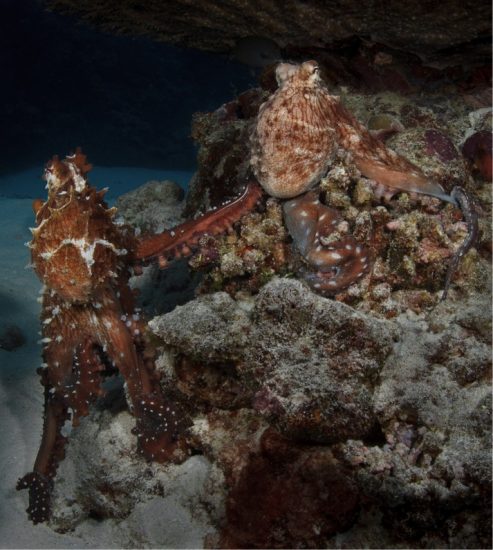 "1st Place dSLR", Steve Kopp shot at "Yap Caverns", MantaFest 2016
The biggest in prizes that is.

This summer some photographers are going to win almost $10,000 in Mares gear along with two week-long dive packages and three live aboard trips with their photos.

MantaFest is a small photo workshop where contest participants get two weeks of professional photo training and special dive plans in Yap.

One-on-one Photo Training
The sound of actual canon fire kicks off happy hour on a 100 year-old Indonesian Schooner, converted into a restaurant and open air bar, which turns into a classroom where guests ask anything and everything related to photography with the presenting pros over the house brewed beer.

Steven Miller, one of the pro presenters from Ikelite photo school, has a wide angle heart and teaches guests how to shoot split images. Special dive plans and shoots are setup throughout the event where photogs are put to the challenge.

Our "sunset shark splits" shoot is the most popular where the challenge is to nail the shark, nail the sky and nail the split.

"We want photographers to go home with some of their favorite photos and offer a new challenge while showing them what's special here in Yap", says house photo pro, Brad Holland.

Frank Schneider takes photographers through a special workshop on shooting reef sharks. He says reef sharks are especially challenging because they are always on the move. Some of his photography training is about being in the right place at the right time by observing and learning your subject's behavior. Frank teaches photographers how to shoot reef sharks at Vertigo.

David Fleetham, one of the America's most published underwater photographers, is a presenter at MantaFest as well as a naturalist. He teaches advanced composition, histograms and the importance of knowing your marine environment - how to get close to critters and fish, seeing behavior and knowing when to move in and get close for THE shot.

MantaFest prizes are the same big value items for dSLR, compact and action cameras in both photo and video entries.

The last event a live aboard trip on the Palau Aggressor was won with a goPro. Along with the grand prizes, there are category awards from 10 other event sponsors.

High Utile Factor
The traveler's reward in Yap is in the uncrowded diving on a small undeveloped tropical island where peaceful traditional people still use stone money. During MantaFest, divers are on exclusive dive sites in small groups with top industry professionals who are there solely to improve your images.

You know you're out there in the world when a photo excursion is led by a local woman in traditional attire, which consists of a hand-made grass skirt… and nothing else. She stands next to a thousand-year old piece of limestone carved into a disk that can still be used as money.

Yap offers travelers and photographers authentic and vibrant island spirit with the most intact traditional culture in Micronesia, and it's served up to photographers on village excursions that include traditionally dressed local people during MantaFest.

Workshops
• Shooting splits -or- over / under images
• Composing THE shot (advanced composition)
• Shooting Sharks -  shark behavior for photographers
• Using Histograms
• Drone flying for photo and video
• Lightroom workflow
• Brushes and Filters in Lightroom
• Image workflow using Photoshop
• Improving your final file (advanced sharpening and color)

Camera Divisions:
• dSLR  / Micro four-thirds
• Compact
• Action Camera

Entries:
• Photo
• Video

Getting technical about capturing your next masterpiece happens in classroom style workshops for both dSLR and compact camera systems. Shooting and in-the-water skills take up most of the first week with advanced editing training the second. Throughout the weeks guests can make happy hour appointments for one-on-one training on anything photography related.

MantaFest is Micronesia's "biggest" little photography event, happening the last week of August and first week of September every year in Yap, with pro training, big prizes and a small crowd.

MantaFest Photo Festival, Yap Micronesia
Manta Ray Bay Resort & Yap Divers
www.mantaray.com
Written by

b_rad
Date

6th September 2017
Where

Manta Ray Bay Resort, Colonia, Yap, Federated States of Micronesia
Also by b_rad