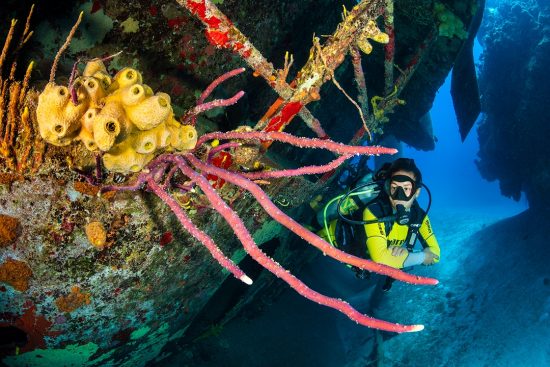 Sam Lungari admires impressive sponges on the Kittiwake Wreck.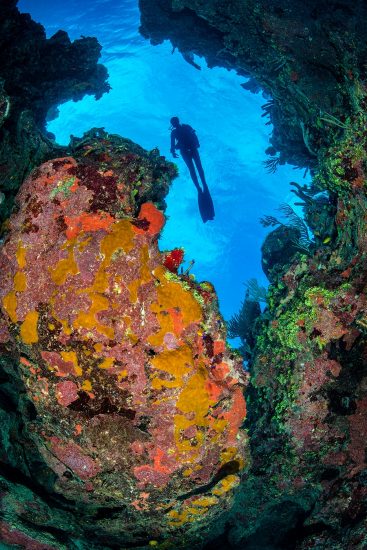 Zuzu Askin exploring the colourful reefs.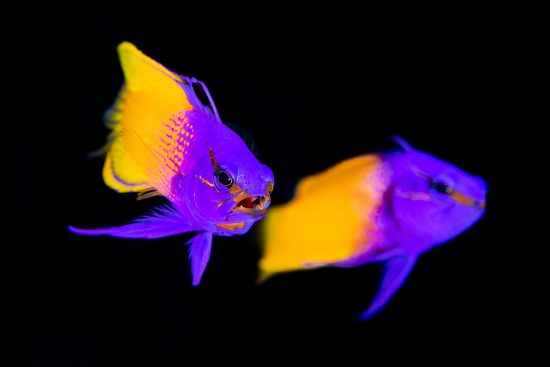 Male fairy basslets displaying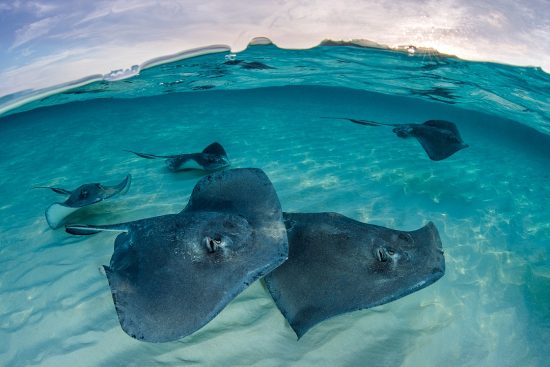 Friendly stingrays in the shallows.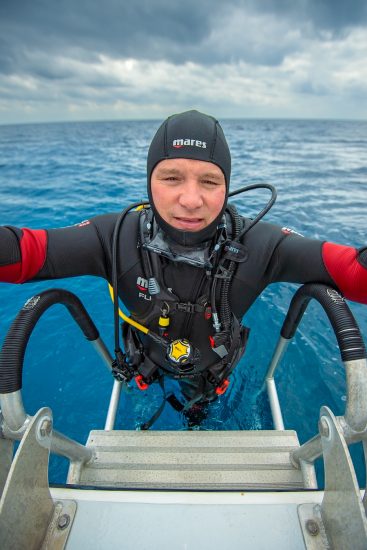 Alex emerges from another dive. Lightweight gear doesn't really help on the ladder, but it does at airport check in.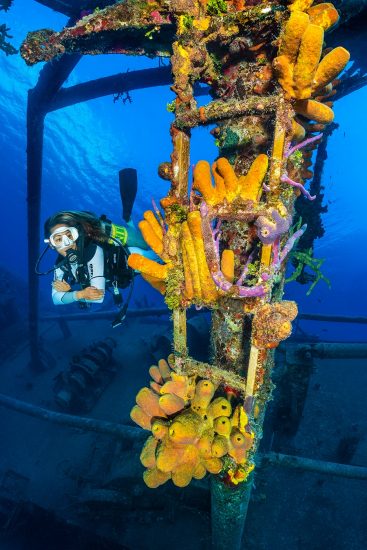 More colourful sponge growth on the Kittiwake wreck dwarf Sam Lungari.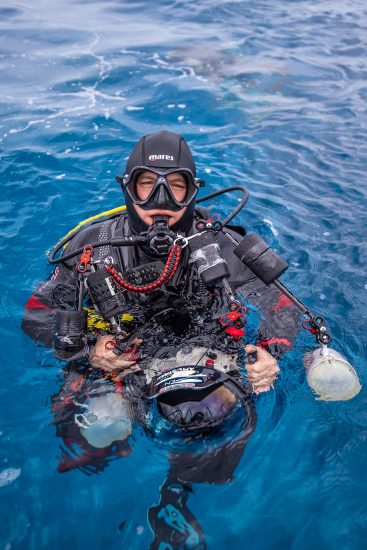 Big cameras mean a need to save luggage allowance on dive gear. Mares has some excellent lightweight options for photographers.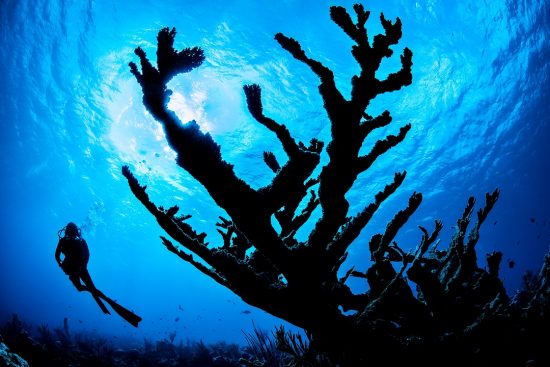 Impressive Elkhorn coral formations, with Zuzu Askin. Elkhorn isn't impacted by SCTLD.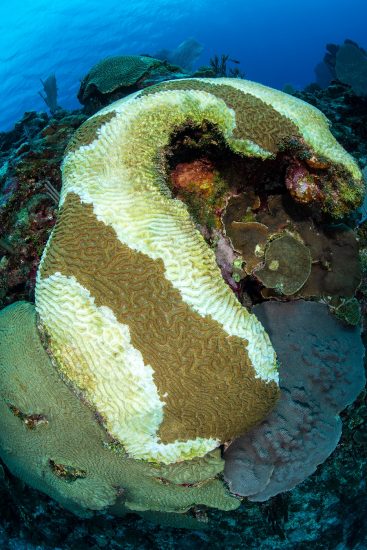 A bolder brain coral infected with Stony Coral Tissue Loss Disease (SCTLD). Ocean Frontiers were treating and rescuing corals on their reefs.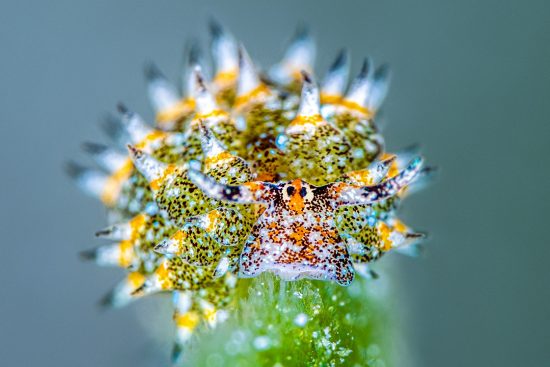 A tiny blue-spot Shaun the sheep slug. Despite being a wide angle destination, I can't resist a bit of macro.
After two years away, it was fabulous to return to the Cayman Islands this January. I have been running underwater photography workshops with Ocean Frontiers (OF) at the East End of Grand Cayman for the last 20 years. I do love helping photographers improve their skills, but who am I kidding, what has kept me coming back is the chance to escape the cold of Europe to bask in the Caribbean sun and dive into the sparkling blue sea. Oh, and to enjoy some fabulous diving too!
Grand Cayman is widely credited as the birthplace of the dive-vacation, and travelling divers have been enjoying the colourful reefs, clear water and benign diving conditions for almost 65 years. Cayman has the perfect recipe for clear water, being a small, flat island isolated out in some of the deepest waters of the Caribbean Sea (the Cayman Trough is 7.5km deep!). And with 365 moorings for dive sites surrounding it, there is always somewhere with perfect conditions.
I love it so much that I have run over 30 workshops there, which usually take place during the last two weeks of January (which is also why I have never attended the BOOT show which traditionally runs at the same time, though I have presented there live from the Cayman sunshine).
Cayman's dive sites mostly fall into two categories. The first are Wall Sites where the reef drops precipitously down to the depths. These sites have vibrant sponge life and the best sites have a complex topography of swim-throughs and canyons that make the diving fun as well as providing great backdrops for wide angle compositions. These sites also have more of the bigger animals: turtles and reef sharks, the latter are especially common at the wall site right outside OF. The other sites are shallow Reef Sites where a mini-wall of coral towers out of the sand. At the East End of Grand Cayman this coral ridge is cut with caves and tunnels and creates fantastic three-dimensional dive experiences. These sites tend to have richer coral growth, particularly the impressive elkhorn coral, and more schooling fish, like grunts, snappers, chub and jacks.
A sad aspect of the trip was seeing the arrival of Stony Coral Tissue Loss Disease in Cayman, which hadn't been recorded in the islands on my last visit two years ago. SCTLD is a fast acting, deadly coral disease that spreads very rapidly across corals. It can be treated, and the team at OF have been treating colonies, but it kills so quickly that it needs to be spotted early to save a coral colony. One of my favourite pillar coral formations has already been killed, although the OF team had managed to save a couple of pieces of it, which are now doing well in their coral nursery.
I took a lot of camera gear on this trip, taking two full systems and 6 strobes. It meant that I needed to save luggage weight with my dive gear. My Dual ADJ 62X regulator was perfect for this. I have mine as an INT fit, as it makes it more travel friendly. My other two big savings were using the featherlight Magellan BCD, which is lovely to dive in, and ditching boots and open heel fins for full foot fins, which saved about three quarters of the weight. So many divers worry that full foot fins will be uncomfortable. They are so wrong. I have done 1000s of dives in various pairs of Mares Volo fins and after a dive or two to break them in, they are perfect forevermore!
11 years ago, the Kittiwake wreck was purposely sunk as an attraction for divers in Grand Cayman. This attractive wreck is particularly loved by photographers, and the wreck features prominently as a backdrop on several Mares catalogues! Storms have moved and capsized the wreck. She is not as nice inside now she's tipped over, but the sponge growth on her is really taking off, especially in the shady downward facing areas. She's now such a colourful dive. Cayman's other famous underwater attractions are stingrays, which can be encountered in waist deep water at Stingray City. We tend to go there at dawn, when we have the place to ourselves and get the most interesting light.
Although the clear water and spectacular underwater scenery make Grand Cayman ideal for wide angle photography, I always enjoy shooting the Caribbean critters in macro. Most photographers tend to head to SE Asia to fill their macro portfolio, so I enjoy differentiating my work by creating images with the different species found in the tropical Atlantic. Plus it means I come back from a Cayman trip with a more diverse collection of images.
Written by

Alex
Date

17th March 2022
Also by Alex