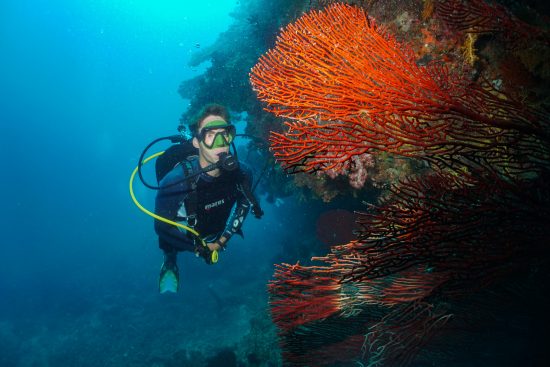 Checking out the sea fans in Fiji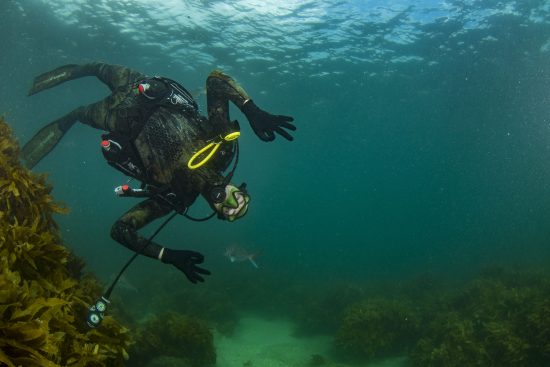 The Mares Quantum SLS , my go to BCD For every day diving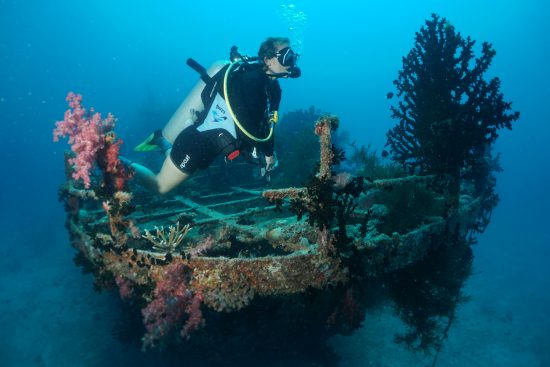 Ellie in her Mares Kaila SLS BCD,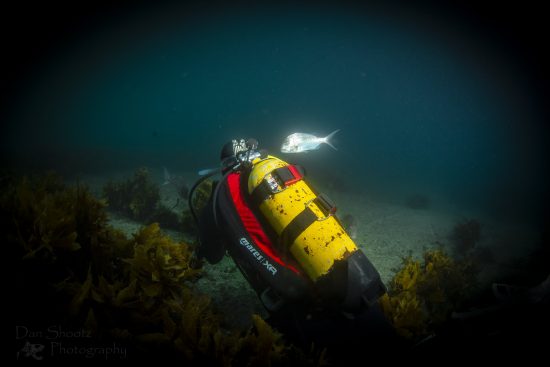 The Red Devil, sleek and stylish.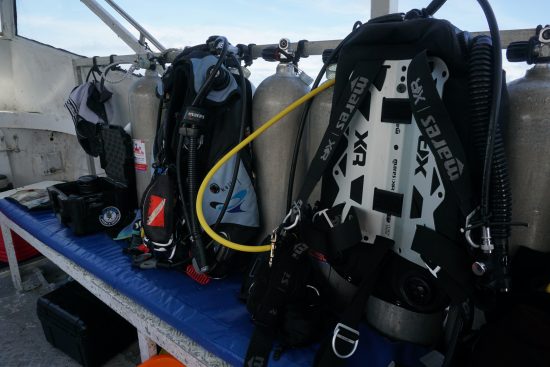 The Silver knight certainly gets some style points !!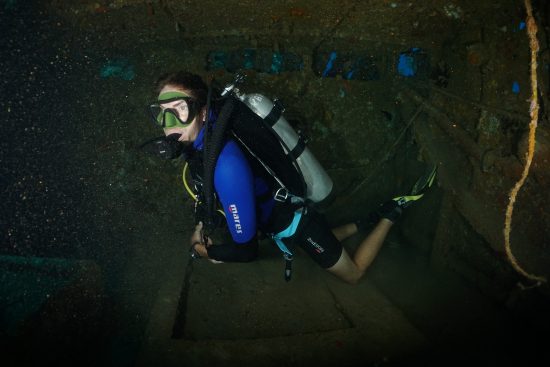 The slim, streamline design is great for wreck, & tech divers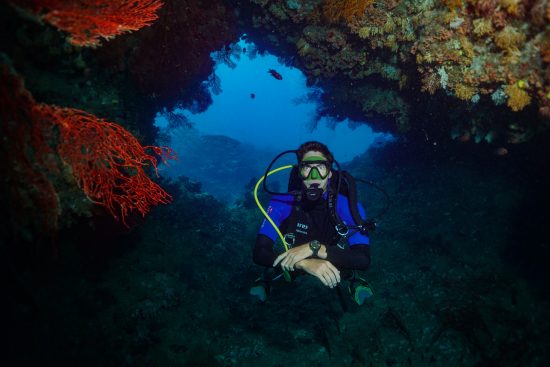 Exploring a Sea cave in Fiji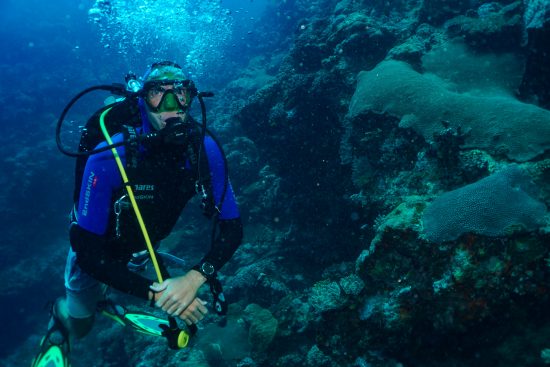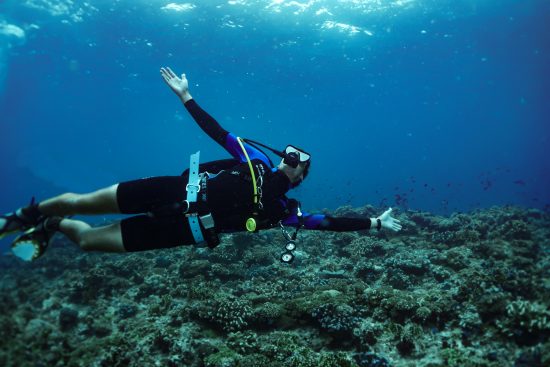 Feeling Free !!
Coming from a freediving background, my peers were always disapproving of my fascination with scuba diving. When I suggested they should give it a go, they would come back with the excuse that there was too much gear to put on and it was too bulky and heavy. Then they would tell me that having all that gear on, under the water, feels constricting.
Now, although these guys have never scuba dived before and don't actually know the feeling, I can see their point. If you are only used to wearing a mask, snorkel, fins and a wetsuit, scuba gear can look a bit overwhelming. Of course, anything is going to feel more constrictive than the usual freediving attire, but to me, the benefits of scuba diving still outweigh all of that!
This conversation, however, did get me wondering. Could I feel like a freediver without the bulky scuba gear but still gain the benefits of scuba diving ? Enter my knight in shining armour, or to be more accurate, the Silver Knight.
Since I began diving, I have always used the jacket type BCD, and my personal favorite is the Mares Quantum. It is affordable, lightweight , comfortable, has plenty of pockets and is great for everyday diving. As I got more into diving, I saw people diving complicated sidemounts and back mounted wings. My understanding was that these were for pros and tech divers, something to aspire to perhaps, but certainly not what an intermediate diver needs. However, those days are long gone, as Mares have come out with a design that bridges the gap between recreational and tech diving in their single back mount range of BCD's.
Recently I had the opportunity to try out a friend's Red Devil back mounted BCD so that I could see what all the hype was about. Well, after that trip I went straight home and ordered one and have never looked back. Here's a quick run down of it, a few pros and cons, and why I can highly recommend giving one a go.
First glance
It was obvious from the start that this was no normal BCD, slipping it on just like a backpack there was nothing to it! Literally, at just 2.7 kg it is one of the lightest BCD's on the market, however, just because it's light, doesn't mean the quality is compromised. As usual, Mares have used only the highest quality components including aluminium D-rings, 3mm Marine Grade Anodized Aluminum Alloy for the back plate which has been laser cut for precision and bulletproof ballistic nylon to protect the single donut bladder. first made in the Red Devil version, followed by Silver Knight, Blue Battle and this year the Psycho Calavera, this stylish BCD looks awesome both above and below the water!
In the water
So it looks super cool, but how does it feel in the water ? Having changed from the standard vest BCD I could immediately notice the difference. As most of you will know, the jacket style BCD puts the buoyancy under your chest, which encourages you to sit a little more upright on the surface. The back mount on the other hand has all 16 litres of buoyancy on your back. This means that when fully inflated, it naturally wants to push you forward ever so slightly. To combat this, I simply let some air out and lent back, problem solved.
On the descent, it was like a proper skydiving free fall. With nothing on my chest and the inflated bladder on my back, it was very freeing. Once at depth, I found it easy to adjust my buoyancy, and in no time had perfect trim which I sustained for the entirety of the dive. I had been warned that I may struggle to shoot pictures with this type of BCD, however I didn't find any issues at all. With 16 kilos of lift (35 pounds)  the single bladder is suitable for most divers and any size single tank. Whether you're a wreck diver, a technical diver or just a recreational enthusiast, the Silver Knight really is the perfect all round BCD.
Modification
The up and downside of this BCD is that it is meant for you. With the one piece of webbing for the harness, it needs to be adjusted to fit, this means it's not that easy for someone else to just quickly slip into it. On the plus side, however, the whole BCD is modular, meaning you can change and replace things if they were to ever wear out or you were going to use it for a different purpose. For example, should the internal bladder get damaged, this is user friendly and easy to replace. If you required heavier duty webbing, then you could swap this out as well. Enjoy a bit more padding? No problem, just add some lumbar support to the back plate or a couple of shoulder pads, the beauty of this modular system is you can truly design it to accommodate your needs. 
For obvious reasons, this BCD doesn't have storage pockets, however, you can add integrated weight pockets, which are really handy, they also have a fold away utility pocket, great for storing your GoPro, wet lenses or filters. Of course, if you don't require the pockets, then there are plenty of D-rings on the harness to hang stuff on. Just add a quick release clip and your torches, SMB's and reels are safe and accessible whenever you need them.
Travelling
As any diver knows, travelling with dive gear is a pain. Has anyone been stung with excess baggage fees? Ouch. With flights all over the world and tight baggage restrictions, my worst enemy is that airline clerk at the check-in desk. I can see dollar signs in their eyes when they see me strolling towards them with dive bags and camera boxes in tow. However, unluckily for them, now the weight of my dive gear is the least of my problems. The Silver Knight packs down to nothing, and if you really want, it can be taken apart completely for more streamlined travel. Weighing just 2.7kg (that's lighter than one of my water housings),  it really is the ultimate travel companion. 
Overall I really love this BCD - its low profile and lightweight design make it the perfect travel setup and its simplicity really ticks the boxes for that feeling of freedom under the water!! But don't take my word for it, this BCD has been tested extensively and pushed to its limits by some of the best divers in some of the harshest diving conditions around. It's been designed for some serious diving!
Written by

Dan
Date

19th June 2020