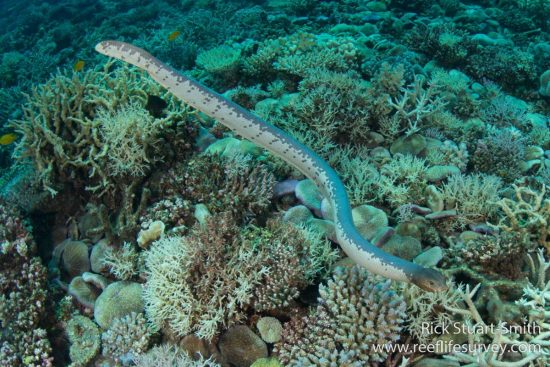 Aipysurus laevis at Timor Sea reefs (c) Rick Stuart‐Smith (www.reeflifesurvey.com)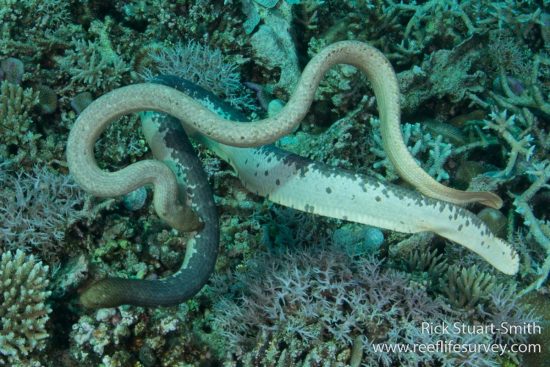 Close up of courting pair of Aipysurus laevis at Scott Reef. Smaller pale male sea snake is pursuing the larger dark female sea snake. (c) Rick Stuart‐Smith (www.reeflifesurvey.com)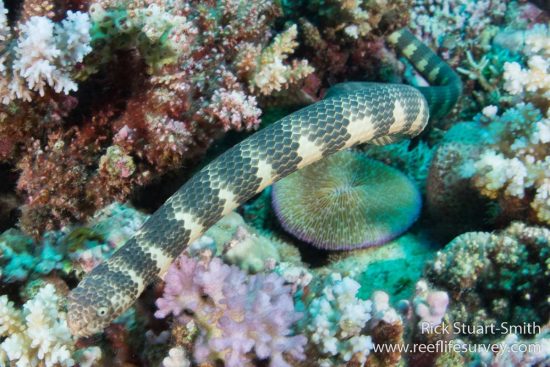 Close up of Aipysurus duboisii at Scott Reef, Timor Sea. (c) Rick Stuart‐Smith (www.reeflifesurvey.com)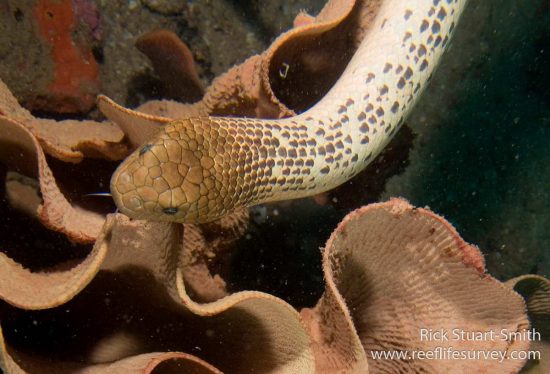 Close up of Aipysurus tenuis at coastal Western Australia. (c) Rick Stuart‐Smith (www.reeflifesurvey.com)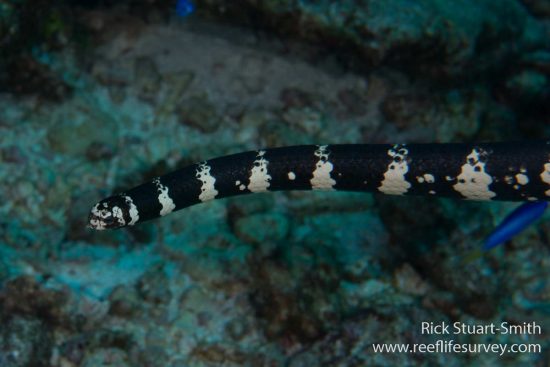 Close up of Emydocephalus annulatus – beaked rostral scale indicates the snake is a male. (c) Rick Stuart‐Smith (www.reeflifesurvey.com)
Western Australia: High genetic diversity in sea snakes found

Scientists have studied the genetic diversity of sea snakes in different locations. Their surprising conclusion: some seemingly identical sea snake populations are actually genetically different from one another – a finding that is of great importance for the conservation of the species.

Dr. Vimoksalehi Lukoschek of the ARC Center for Coral Reef Studies at James Cook University collected genetic samples from more than 550 sea snakes in Australia.

To date, scientists do not know how sea snake populations on the Western Australian coast differ genetically from the populations in the reefs in the Timor Sea, the Gulf of Carpentaria and the Great Barrier Reef.

"The previously unappreciated genetic distinctiveness in coastal Western Australia is critically important. It means that this region is home to genetic diversity not found elsewhere in Australia. If those populations die out, then that biodiversity and potential for adaptation is lost forever," said Dr. Lukoschek.

These genetic differences also mean that if a species disappears from a particular reef, it is unlikely to be replenished by juveniles or adults from adjacent reefs.

The sudden disappearance of sea snakes on the protected Ashmore reef in the Timor Sea is still unexplained, as is the decline of sea snakes at the sheltered reefs in New Caledonia and the southern Great Barrier Reef.

"We observed none of the obvious threats, such as changes in the habitat or fishing, so we are left with a list of other possible causes including disease, invasive species, pollution, seismic surveys or recruitment failure," said Dr. Lukoschek, adding that targeted research on habitat and diet requirements, reproductive biology, disease susceptibility and the impacts of man-made processes, is crucial.

At the moment, to protect the sea snakes, it is essential to reduce stress factors in their habitats, such as trawling and other human activities, said Dr. Lukoschek, who recently published the results of her research in the journal Diversity and Distributions.

Weitere Informationen: www.coralcoe.org.au.
Written by

Herbert
Date

11th December 2017
Also by Herbert