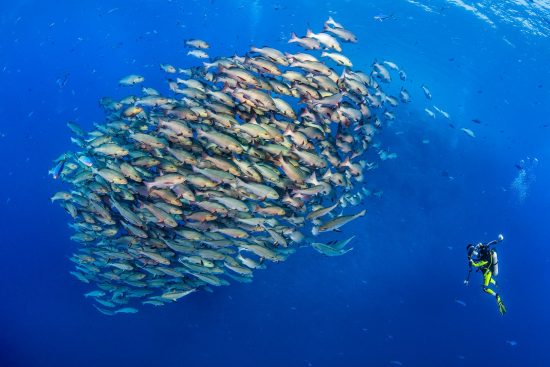 Shooting schooling snappers in Res Mohammed.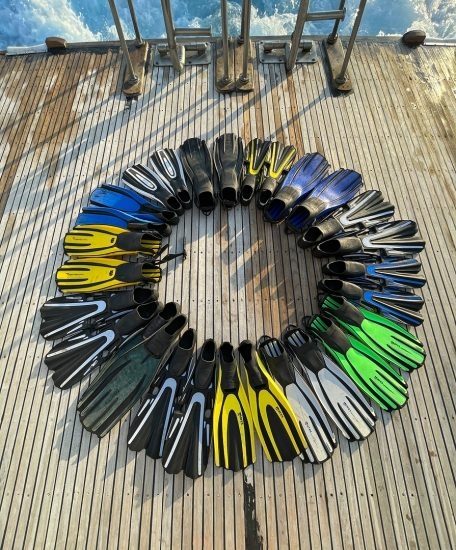 I love my Volo Race fins, but others on my workshops preferred different models.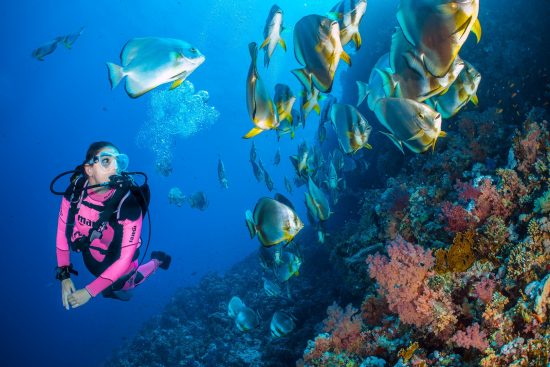 Diver and batfish school in Ras Mohammed.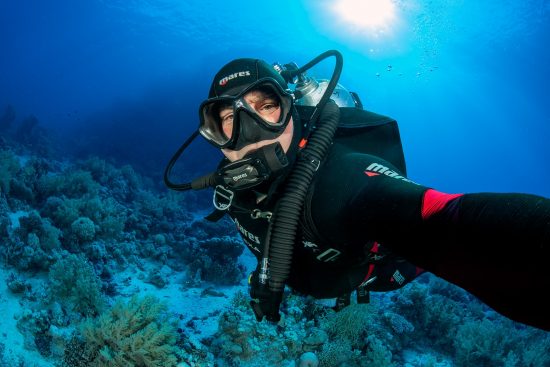 Alex in action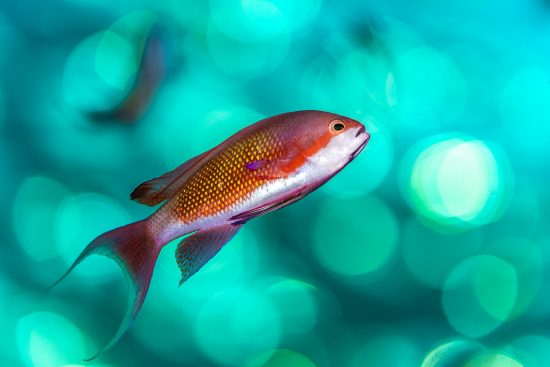 Male anthias photographed against the setting sun.
Diver photographing the amazing scenery in the Red Sea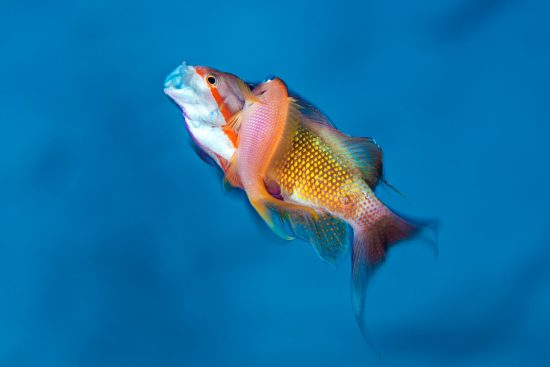 Anthias spawning, the males yawn like this when spawning.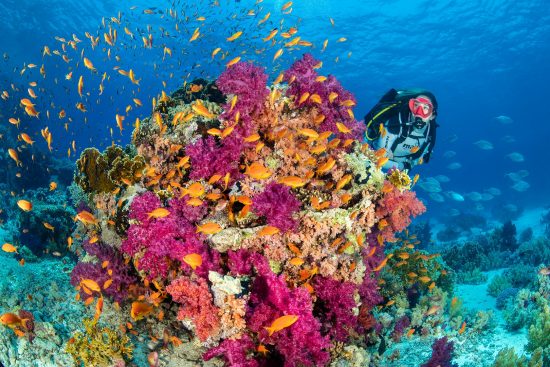 Watching a colourful reef.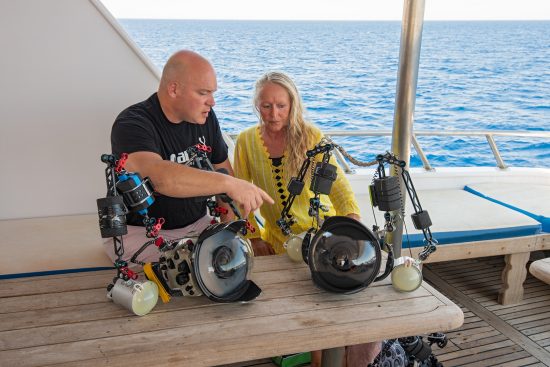 Alex teaching during his workshops.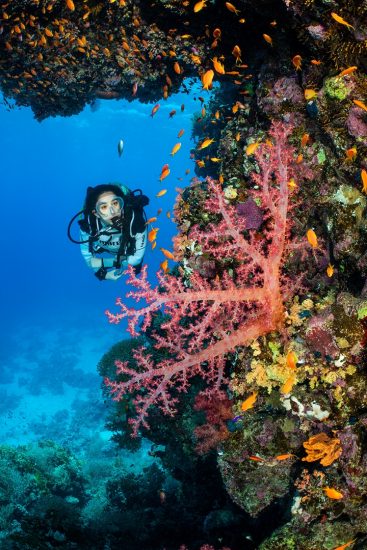 The beautiful corals of the Red Sea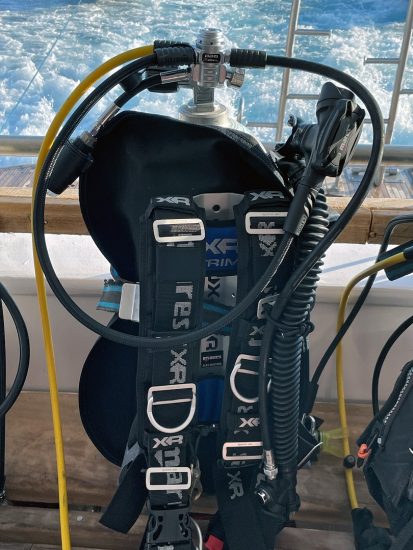 Small, but mighty. The XR-Rec Trim BC and SXS 62X. Lovely to dive and to pack!
It's easy to forget that the Red Sea is seasonal when you always visit it at the same time of year. I think we also make this mistake because pretty much all coral seas are close to the equator and experience only very small seasons, but one of the great charms of the Red Sea is how much it varies throughout the year.

My favourite time to visit is early summer, as this is the time when the water warms and the whole place comes alive biologically. Most marine animals are 'cold blooded', so the water temperature has a big impact on their lives. Everywhere you look, life is clicking up through the gears. Damselfish are laying eggs on the reef, pairs of parrotfish and wrasse are spawning into the water column and great schools of larger reef fish are gathering in impressive annual spawning aggregations.

Ras Mohammad is the centre of the party. The tip of the Sinai Peninsula is a natural crossroads in the sea where the land suddenly falls away into deep water and currents converge. Many of the larger reef species that usually live alone gather here, in this season, to spawn. And it is this spectacle of huge schools, all hanging in the blue, right next to some of the world's most gorgeous reefs, that drives my own migration to Egypt.

Of course, there's much more to shoot in Egypt besides the reefs, especially because the very long days give plenty of time to enjoy the variety of photographic opportunities. I have been running Red Sea summer workshops for almost 20 years and was a visitor in June, myself, for almost a decade before that. It is fair to say I am addicted. Fortunately, the photographic conditions are so rich that I never tire of this destination.

As usual, I ran back to back workshops, and after a couple of year's away I loved the chance to finally rack up some really intensive diving. I clocked up 45 dives on this trip, passing my 100th dive of the year along the way, and also my 200th with my Genius dive computer, which I've had since joining the Mares family last summer. Actually, I just changed the battery in the air integration transmitter (LED Tank Module) before this trip – so from that first experience, it managed about 175 dives/hours before it needed changing.

A long trip means there's lots to say about the diving and the gear, so I'll divide this report into two posts, concentrating here on the dive gear and marine life, and in the next instalment on the tremendous wreck diving offered in Egyptian waters.

In terms of gear, my headline piece of equipment this time was the new XR-Rec Trim BC which, despite being part of the XR range, is something many recreational divers should strongly consider. It is a lovely BC to dive in, it is a pleasure on every dive and also light and compact for travel. I want to try it with my drysuit next. I think I will add some weight pockets to mine, especially for when I'm diving in thicker suits that require more lead. On this trip, I was using my 5-4-3 Flexa wetsuit, and once again I used my beloved Volo Race fins, but there was a wide variety of favourite Mares fins amongst the photo group (see the picture).

This trip was my second in a row using the new SXS 62X regulator which has fitted seamlessly into my diving life. It is so tiny and light that it's a must-have for a photographer like me who is always looking to save luggage weight - something that is especially important as our flights to Egypt are always with miserly package holiday airlines. The regulator has heavyweight performance and I really like the side vent for exhaling bubbles which, as a photographer, handily keeps bubbles out of my face when I'm looking through my viewfinder. I did notice a quirk with it on this trip, when messing around with my photo buddies on a safety stop. Silly behaviour from the others left me laughing and, as a result, I got a mouthful of water inside the reg for the first time. Of course, the water flushed out when I breathed out, but there was a small amount remaining in the regulator, and I realised that the trick to getting every last drop out is to tip your head slightly to the left, so the exhalent valve is down and all the water runs out with gravity.

The photographic highlights of the trip were many. The top of the list on any Red Sea trip must be the stunning scenery, with teeming shoals of anthias and beautiful corals. I do think the corals of the Red Sea look better than anytime I remember in the last 25 years. I think the lack of development on land and a couple of years of reduced tourism have definitely helped the aesthetics.

It is always exciting to see the gatherings of schooling fish, although this year I was sad to see the return of fishing boats to the National Park. Over the last 10 years it seems that Egypt has been doing a better and better job of reducing fishing pressure on these important spawning aggregations, so it was frustrating to see a backwards step and that the numbers of snappers were noticeably reduced. You'd see groupers and other predators trailing hooks and line around the National Park. That said, the diving was spectacular and the visuals remain mind-blowing.

Thank you Egypt, it was great to be back in your waters again. I am already looking forward to next summer!
Written by

Alex
Date

26th July 2022
Also by Alex