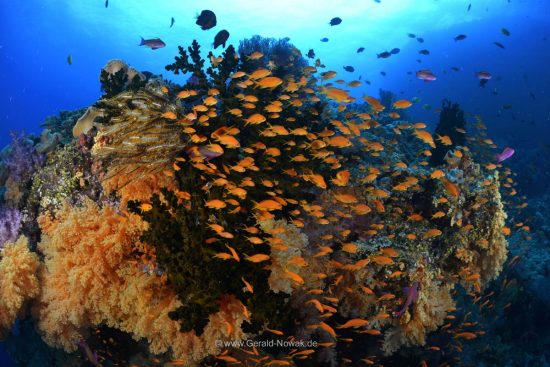 The colorful Rainbow Reef - Taveuni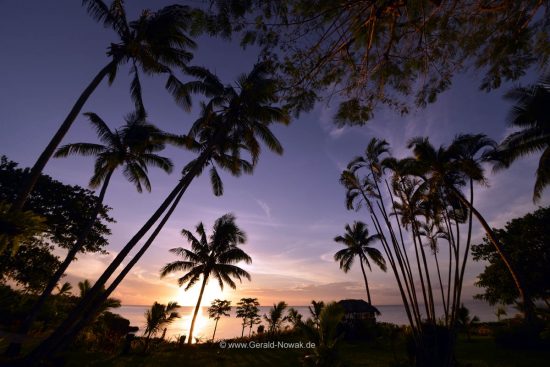 Sunset at the Paradise Taveuni Resort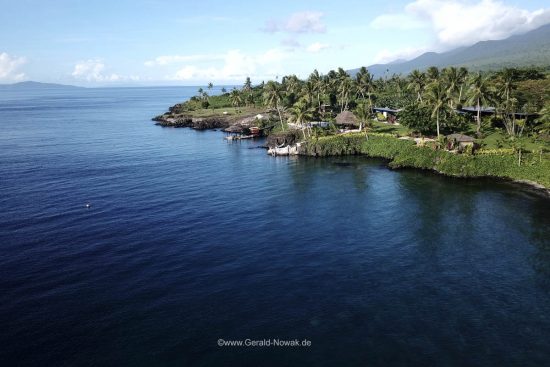 The Resort from the waterfront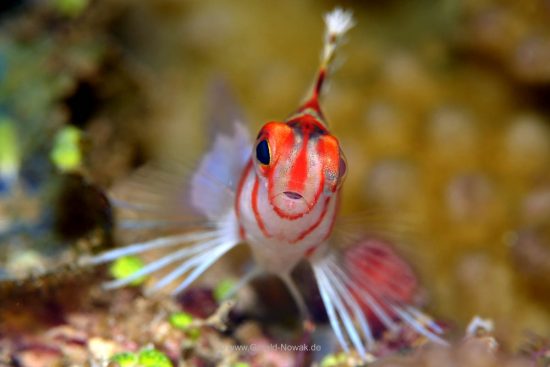 Dwarf hawkfish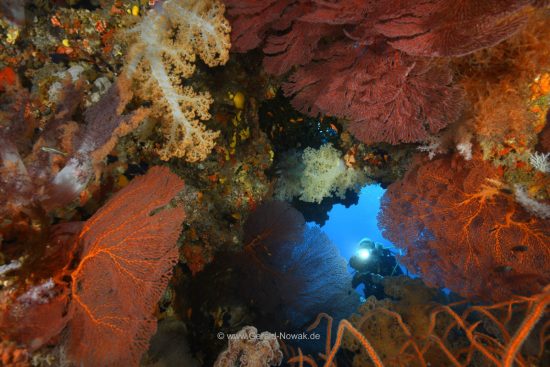 Fantastic Gorgonia caverns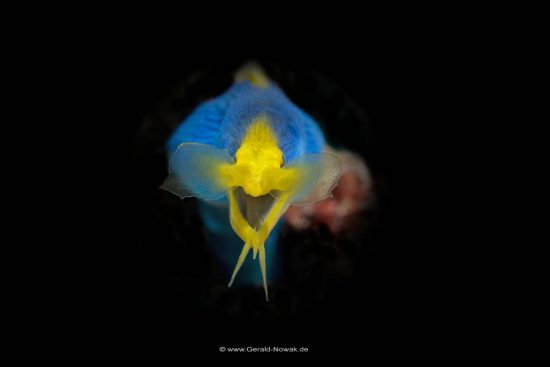 Blue ribbon eal at the Rainbow Reef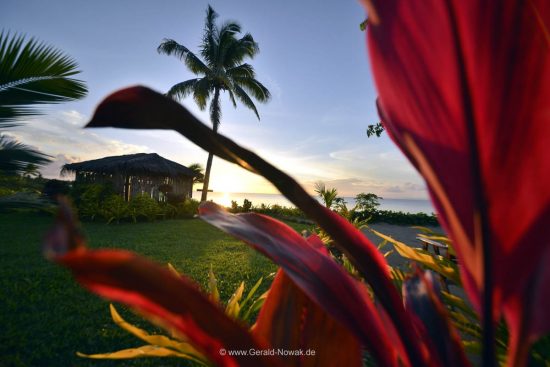 The Paradise Taveuni Resort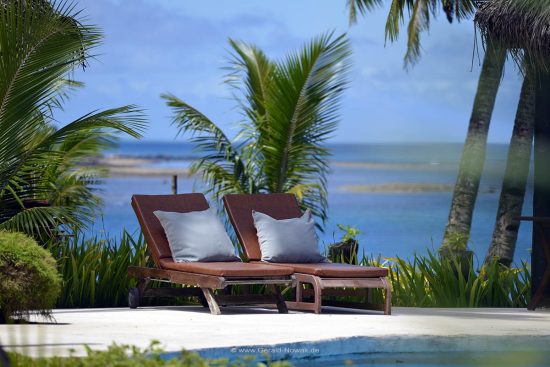 Great places or your holiday - Paradise Taveuni Resort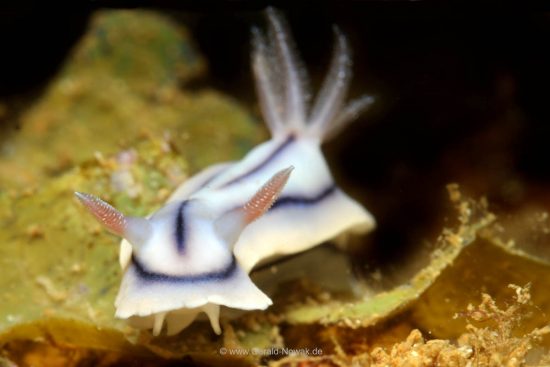 Nudibranches everywhere at the House reef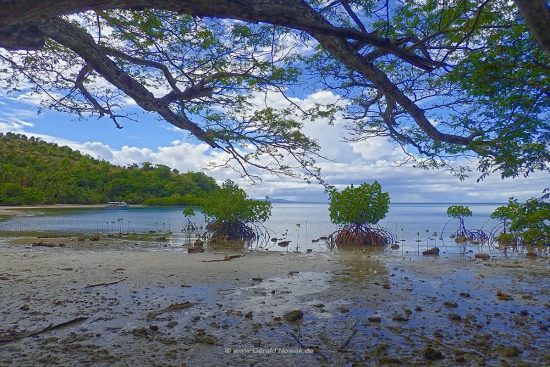 Vanua Levu - great landscape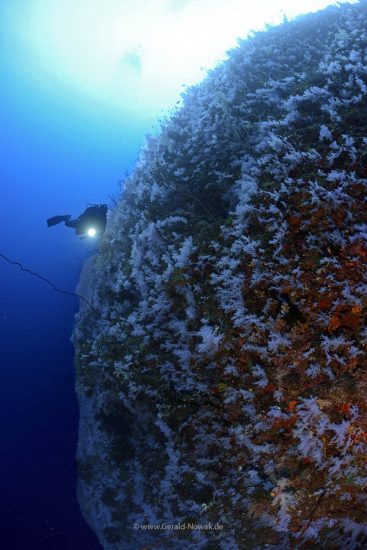 The White Wall at the Rainbow Reef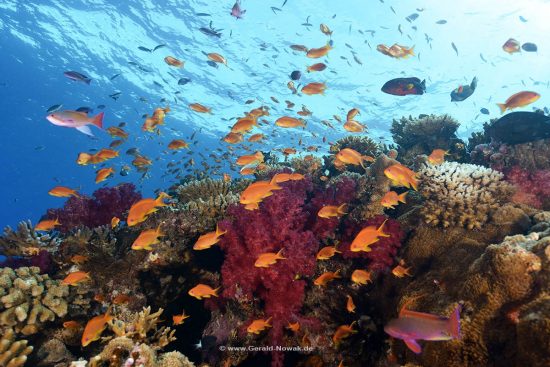 The Rainbow Reef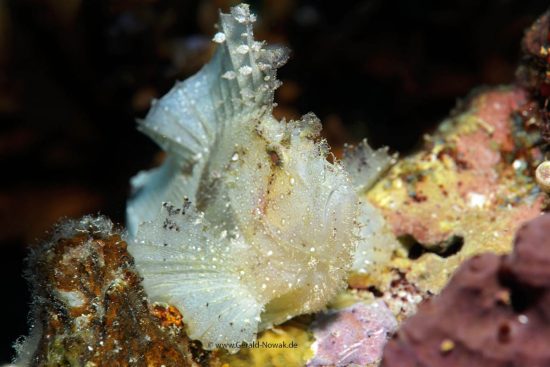 a yellow leaf scorpionfish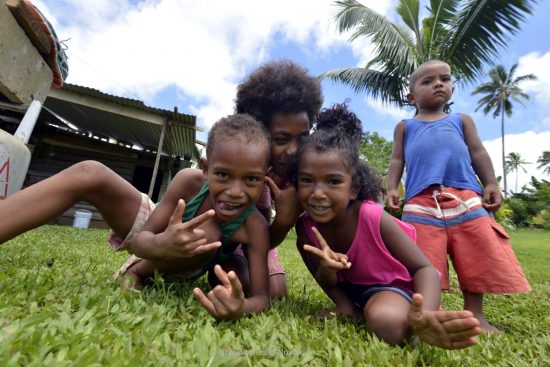 Fiji kids have fun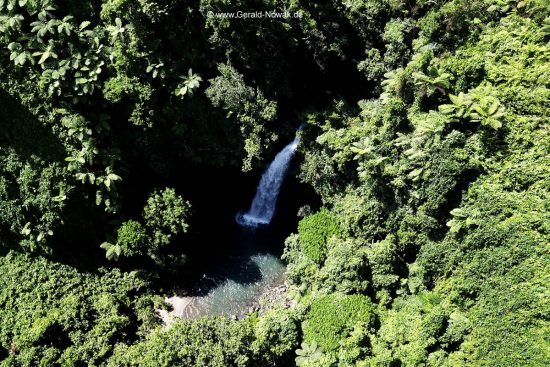 Great waterfalls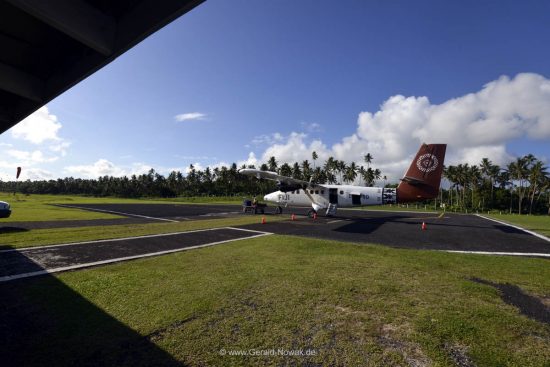 The twin-otter aircrafts from Fiji Airways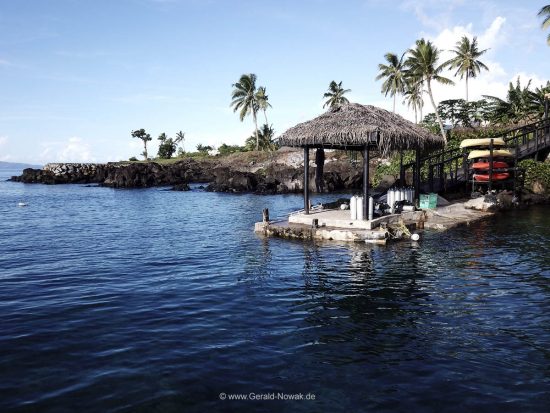 Paradise Taveuni Resort from the waterfront
When tropical storm "Winston" swept over Fiji on February 20, 2016, Taveuni and Paradise Taveuni Resort were particularly hardly hit. Thanks to an overseas container, everyone at the resort survived. The resort, however, was completely destroyed. Even the lawn was torn from the ground along with its roots. Allan and Terri Gortan had completely renewed the resort in their 10 years there, now everything had been destroyed. After seeing the implications, they actually wanted to give up and go back to Australia. however, the help and dedication of the resort's staff in tidying up gave them new courage, and in just over half a year, the new Paradise Taveuni Resort was born.

It was pouring rain and we had been heading south for well over an hour when Vani, my driver, turned around with a smile across his face: "Welcome to the Paradise". We had arrived, after many kilometers of gravel road. The Paradise Resort is located far south of Taveuni and can only be reached via an unpaved road. There are some facilities much closer to the airport, but the Paradise Resort was my first choice. I had been here as a backpacker before, over 25 years ago. At the time it was still called "Susis Plantation" and looked quite different. In the rain, I noticed it just a little, but now that the sun had come out again, I saw how beautiful the resort had become! There were still small bungalows and simple accommodation, but even the simplest accommodation today is better than the most luxurious ones I found back then. Everywhere there are oodles of flowers with lots of cozy seating areas available at various places around the resort. It's easy to find a quiet place for yourself.
Terri greets me personally and shows me everything at the resort, which she does, by the way, with all guests. Since it is already evening, all the guests of the resort come together for a communal dinner. "It's common here for us to have dinner together. Only those who would rather stay by themselves, get their own table", Terri tells me. That's how I quickly get to know all the guests. Of course, all of them are divers, but occasionally there are some non-diver vacationers at the resort. Usually they leave the resort as a diver or at least they are hooked.
The next day, I explored the house reef, while the other divers headed for the well known "Rainbow Reef". I had just arrived, so I decided to see what Typhoon Winston had left over from the house reef. In shallow water, the destruction could still be seen. There were many reef fish, anemones had conquered the free spaces and small, tender coral babies were settling everywhere, but many stones still looked polished. Already at a depth of 8-10 meters you can see the former diversity of the reef once again. It will probably take another year or two for there to be hardly any vacancies left on the rocks, an advantage of the bare rocks in shallow water: the nudibranchs are much easier to locate and photograph.
In the afternoon, I explore the surroundings together with Vani, my driver. He knows so many beautiful places where you can get great pictures of the still very original Fijian island of Taveuni. I am thrilled at how few tourists are found everywhere. This is probably due to the poor connections by small aircrafts to the island. Only a small twin-otter aircraft operates on the island and just 16 passengers can get here per flight from Viti Levu. On most days, there are only one or two flights, which severely limits the amount of visitors, so Vani will probably have plenty of time in the near future and drive his guests across the island and show them his Taveuni. For Allan and Terri it would be wonderful if guests found their way to Taveuni, because their resort truly deserves its name: a paradise in paradise.
I will certainly come here again to see what has become of my paradise. Thanks to Terri, Allen, Vani and the crew of the resort.
Paradise Taveuni Resort Facts:



16 bungalows in different categories with 2 to 4 beds, free WiFi.


Restaurant, bar and lounge, several terraces and gazebos, massage, pool, bathing platform and jetty. Organic Garden with own herb and fruit growing. Live Fijian Show in the evening.


Airport transfer (by car or optional with a boat), excursions (waterfall, viewpoints, date line, market)


Wedding celebrations, family and group specials


A dive center with shop, equipment rental, snorkel rental, 12L DIN / INT Alu


2 dive boats (26 + 12 divers). Camera Room, Nitrox for a fee, full dive equipment, daily excursions to the "Rainbow Reef" and places far to the south of the island. Whale and dolphin snorkeling in season.


A Deco chamber is at the main island in Suva


Written by

Gerald
Date

29th November 2019
Also by Gerald