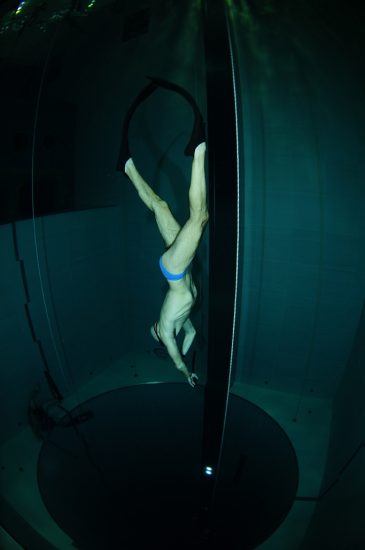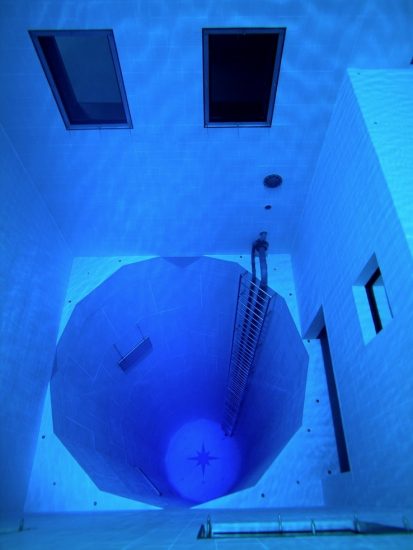 Until recently, deep freedive training during
colder seasons in a swimming pool was impossible, but this is no longer the
case.
The first deep pool was 'Nemo 33' in
Brussels, Belgium, which for many years was the deepest in the world, a real
point of reference for divers throughout northern Europe.
In 2014, the title of deepest swimming pool in
the world passed to the Italian 'Y-40' in Montegrotto Terme, close to Padua.
With a maximum depth of 42 metres, and thanks to the warm 32° spring water, it allows
all freedivers to train in comfort and safety during the winter months.
As well as training for more expert freedivers,
there are also the perfect conditions for beginners who are approaching the
discipline for the first time. The absence of currents, perfect visibility and
confined space does not create the anxiety of the open water, and the water
temperature is perfect for an introduction. 
In France, deep pools have existed for many
years. Even if they are not to record breaking, they offer good training at
around 20 metres.
It now looks like the UK wants to take the title
of 'deepest pool' away from Y-40. The newest artificial blue hole will be
called 'Blue Abyss' and will have a maximum depth of 50 metres. It will be
constructed a few kilometres from London and will become an international
training centre for divers. The structure will host research, training and
development centres but can also be used by freedivers and scuba divers. The
European Space Agency will also use the structure for training.
In Europe it's now possible to do
freedive training 12 months a year!  
Written by

Gianluca
Date

28th October 2016
Also by Gianluca