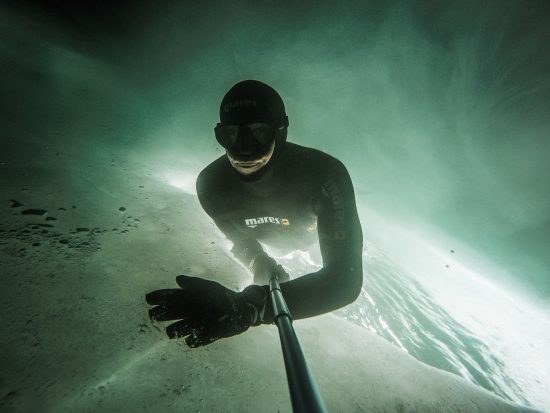 On Thursday 8th March I was in Tignes for a special freediving session.

Revolution Watch USA contacted me for a special reason: to test the new Tudor Pelagos LHD model (left-handed watch) under extreme conditions. We were not able to take great pictures during a first session in January; the weather was really bad and the photographer had problems with his material. This time in March however the weather was with us and we did a very good job.
For this session I had a
7mm Squadra Superflex
. The water was at 2° and I was able to do a 50 minute session without getting cold. This wetsuit is incredible, and it was a real comfort to stay in the water with it. My hands were the weak link as I just wore 5mm gloves and felt the cold. Despite this, I was at 2100m of altitude and in 2° water, the session was easy and very cool.
Visibility was good, and I was able to have fun during crossings between holes and diving down to 8m (the lake is not too deep).
The main goal during this session was to take some special pictures with the watch and I think we did a great job.
I hope to share the great pictures from this event with you soon.
Written by

Morgan
Date

14th March 2017
Also by Morgan