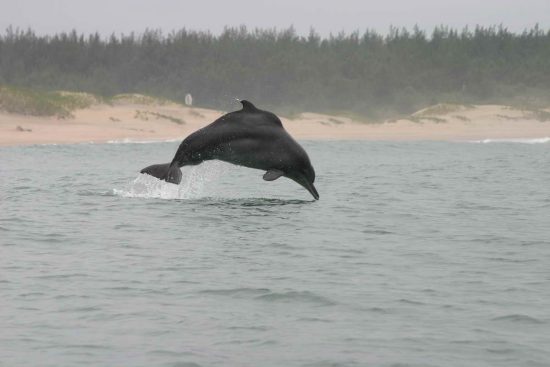 Humpback dolphin (Sousa plumbea) (c) Brett Atkins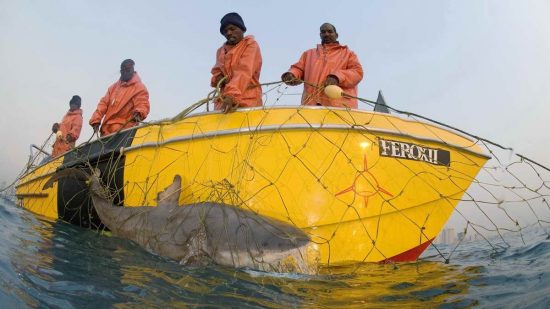 A Zambezi shark (Bull Shark) caught in the shark nets off Durban (c) Fiona Ayerst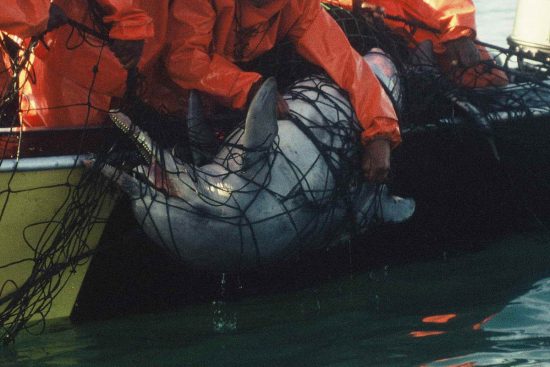 Humpback dolphin (Sousa plumbea) caught in a shark net (c) Brett Atkins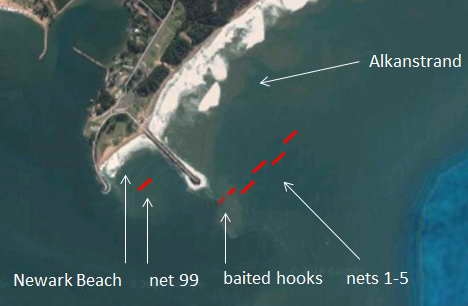 Shark nets are deadly traps for dolphins, sharks and other marine inhabitants

The death of an endangered humpback dolphin (Sousa plumbea) in a shark net in Richards Bay (KwaZulu-Natal province, South Africa) has sparked off a heated debate over the need for such measures against large sharks. Employees of the KwaZulu-Natal Sharks Board (KZNSB) recovered the carcass of the drowned dolphin on August 18th from one of the shark nets (net 99, which had been installed at Newark Beach).

"A dolphin whose species is threatened with extinction has been sacrificed for the sake of senseless beach protection measures, just so that swimmers and surfers can have a false sense of security," said biologist Ulrich Karlowski of the Society for Dolphin Conservation (Gesellschaft zur Rettung der Delphine e.V., or GRD) in German. He had been involved in this issue for a long time, as we have reported here. Only 200 humpback dolphins are estimated to be left in KwaZulu-Natal.

Even with the efficient team at KZNSB, the high dolphin by-catch rate of "net 99" seems intriguing. Mike Anderson-Reade, HOD of the KZNSB told the Zululand Observer, "We have met with the City of uMhlathuze, for which we are a service provider, to discuss proposed changes to the shark net installation. [...] Quite simply, we need to not catch dolphins."

No regulation in South Africa to install shark nets
It is not required by the law to set up shark nets for the protection of beaches. The decision lies with the respective municipal and municipal administrations, which then commissions the KZNSB for the costly installation and maintenance of the shark nets, which are up to 200 meters long and six meters high.

Up to now, 37 beaches in KwaZulu-Natal have been installed with shark nets anchored just below the water surface. The total length of the nets is 23.4 kilometres.

In the online debate started by journalist Dave Savides of the Zululand Observer, most respondents call for a reduction in the nets. According to them, the presence of the nets is extremely harmful to tourism in South Africa. They may even be unnecessary, as there is evidence showing that beaches without such nets do not have any reports of shark attacks even though they are in use during the daytime.

Other respondents demand more and better paid lifeguards on the beaches to ensure better protection for swimmers and surfers. The biggest risks while in the water are rip currents, powerful waves or broken glass bottles.

New project to protect dolphins

The GRD has been supporting the humpback dolphin research project of South African marine biologist Shanan Atkins from the Witwatersrand University for several months now in Johannesburg. The goal of the project is to develop and establish effective, non-lethal beach protection measures to replace all the current shark nets in KwaZulu-Natal.
Written by

Herbert
Date

30th August 2017
Where

Richards Bay, KwaZulu-Natal, Südafrika
Also by Herbert