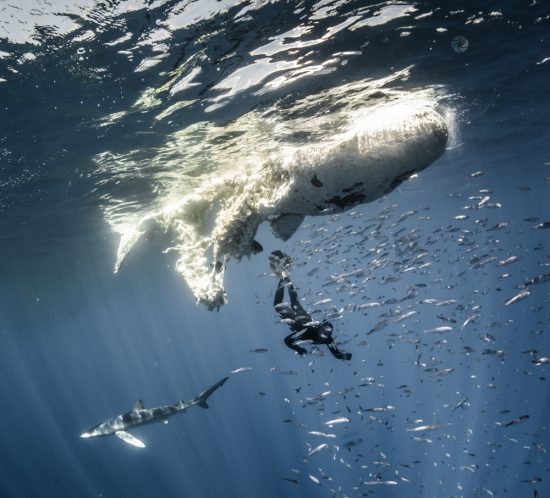 Freediving near a dead sperm whale in the middle of the Atlantic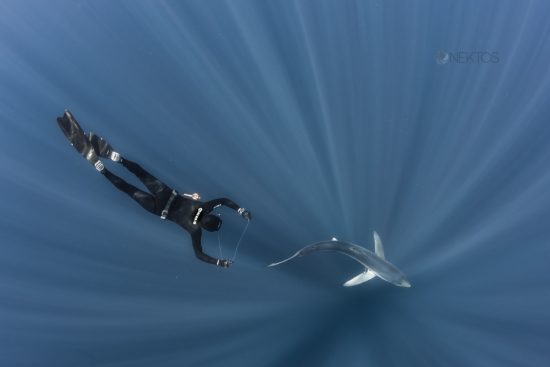 Jorge Fontes and a blue shark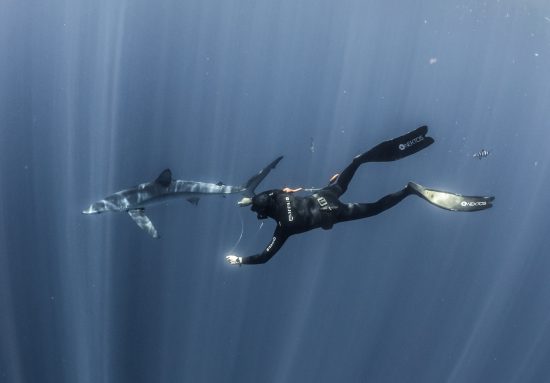 I'm approaching a blue shark to pass the harness around its head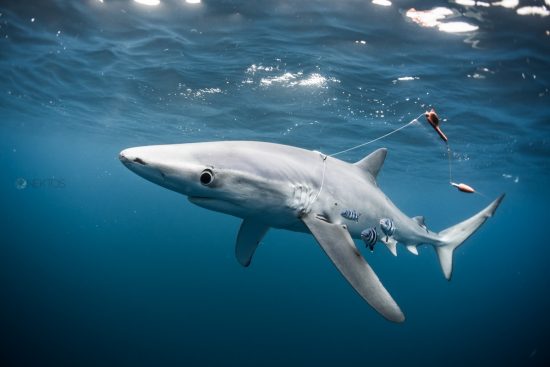 3m blue shark successfully tagged
Every year since 2005 I have been helping marine biologists do their fieldwork using my freediving skills.

During the summer, blue sharks are abundant in the Azorean waters. Divers and freedivers from all over the world travel here to meet these beautiful animals in their open ocean environment.

Scientists from the University of the Azores have been gathering data about blue sharks for many years and are always in search of new ways to improve methodology and find new ideas.

Since last year, I have been helping Jorge Fontes with his work. Besides being a great scientist, Jorge is also an avid freediver. We have been working together to place tags on sharks by freediving instead of having to catch them to do so.

We use two methods: a clamp on the dorsal fin or a harness we pass around the head of the animal. In all cases the tags, clamp and harnesses detach from the shark after a programmed amount of time and nothing is left in the ocean with the tag being recovered afterwards thanks to a radio signal.

To be successful, the freediver and the animal both have to trust each other. It takes a bit of time for them to realize they don't have anything to fear.

When we tag a shark like that we always have a good feeling, achieving something as the result of a peaceful encounter between two species.

Earlier in the season we found a dead baby sperm whale floating offshore. A blue shark was feeding on it and we took the opportunity to place a tag on it.

Written by

Fred Buyle
Date

30th August 2017
Also by Fred Buyle