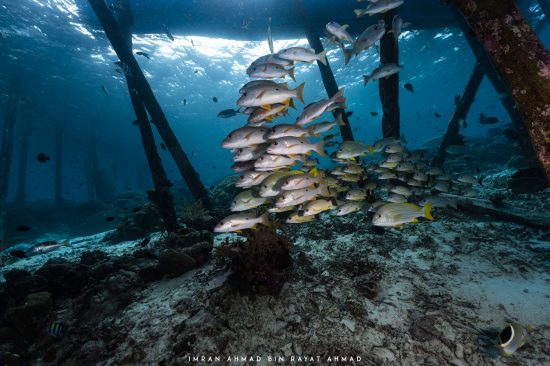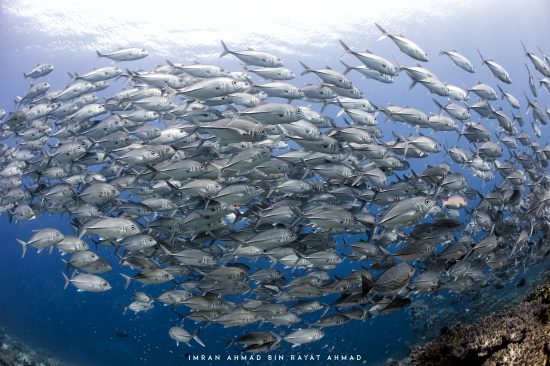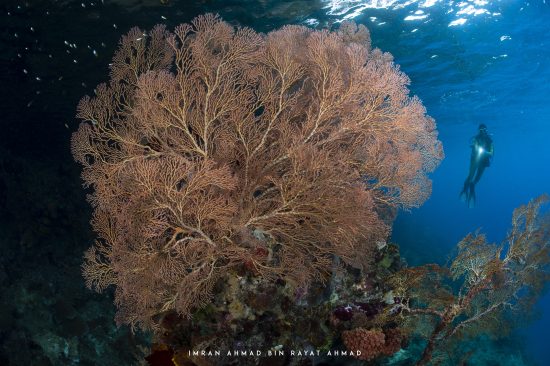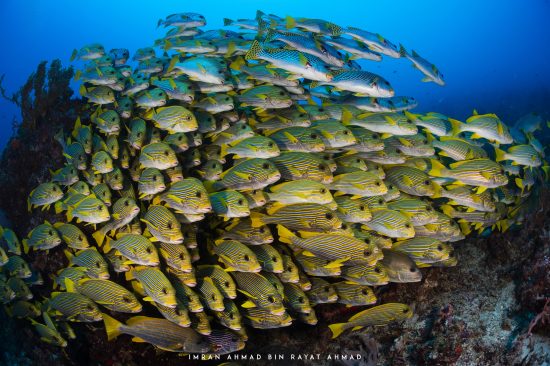 "Safety in numbers is the hypothesis that, by being part of a large physical group or mass, an individual is less likely to be the victim of a mishap, accident, attack, or other bad event"

"Let's get into a shape of a very huge fish, they might just go away"

However, it might not apply to a school of fish. A large gathering of fish is a favourite amongst us underwater photographers, especially when they all fall in line, it gets us all excited. The cameras and strobes go crazy while the fish just stares back at us, calmly.

"Guys, we have another photographer approaching with the SUN device to flash us again, hold it together now"

Getting them in frame, I have learnt that to approach a large school you must always be very calm. We might think that fish have no feelings but trust me, they know when you are a threat to them. Another big distraction is bubbles, they hate them unless it is a batfish.

" Please don't turn, please stay in line"

So slow down your breathing, calm your senses down and approach them slowly. Take time to compose your shots, think outside the box, take your lights or available lights into consideration and most importantly, breathe.

The joy of swimming and photographing large schools of fish can be very rewarding. You just have to think like a "FISH".

** These were all photographed on our last assignment to Raja Ampat, Indonesia.

We were asked to capture "SCHOOLS", so we headed out to areas where there was the possibility of seeing large schools.

Indonesia, which we call home, has some of the best diving sites in the world, so it is important that we not only photograph god's gift to mankind,  but also protect her. Watch how we treat the ocean and hopefully someday our next generation can enjoy it as much as we did.

"Always SEARCHING and Never DESTROYING" – Imran

Diving Equipment: Mares XR equipment | Mares Magellan BCD | Mares Avanti Quattro fins | Mares Carbon regulator | Mares X-Vision mask | Mares Cruise Backpack Pro
Underwater Camera Equipment: Seacam | Keldan Lights
Cameras: Nikon
For further information, see ESCAPEINC ASIA

Author: Imran Ahmad | Debbie Tan | Izabell Imran

Imran Ahmad is Asia's internationally published underwater photographer. He has been capturing the magnificence of life both below and above the water's surface for over 21 years. His style is different from anything seen.

As a family, they run the ESCAPEINC ASIA Showroom in Kuala Lumpur, Malaysia, that specializes only in the "best" from the underwater photography world. They run photographic trips and conduct photo clinics for those interested in learning the art of underwater photography.

For more information on underwater photography in Asia, join Debbie, myself and Izabell at ESCAPEINC ASIA.

Contact us on Facebook or via email.
Written by

Imran
Date

3rd February 2020
Also by Imran