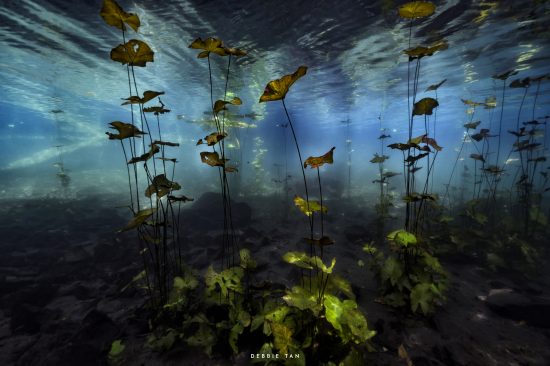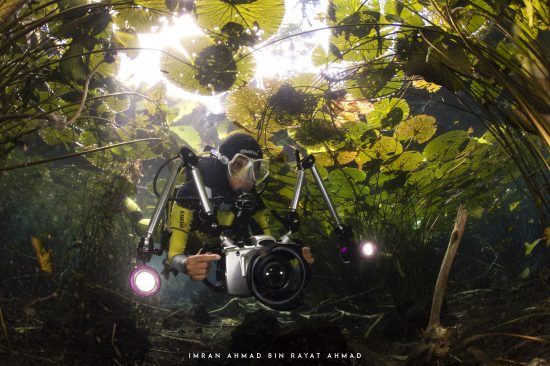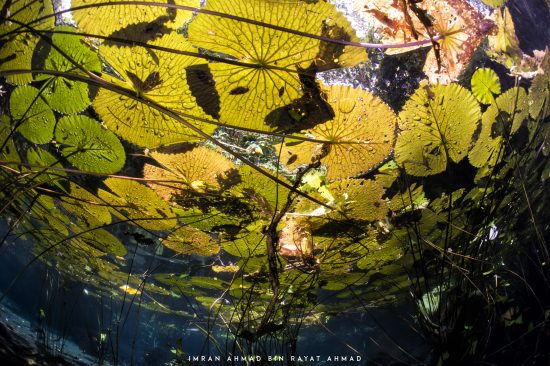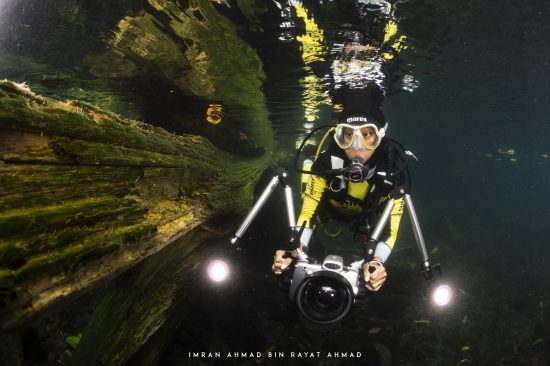 Some of the most magical time spent photographing underwater is when you capture images which people least expect to look good. I believe in changing the way we see - making the ordinary, extraordinary.

" So what are they photographing in there" asked a local villager

Six years ago, while I was looking for new places to photograph in Manado, I reached out to some of my local guides and I chanced upon a beautiful place in Tondano. My local guide and good friend, Roy Legi, forwarded me some images of a freshwater area. It vaguely looked like what I had in mind.

The cenotes in Mexico is popular, and I wanted a cenotes of my own in Sulawesi, so six years ago I packed my gear and headed for this secret location, however small and unlikely to be photographed it was. I geared up and set about changing the way we saw the place.

"Keren banget, photonya (Wow, those images)" say the kids swimming in Uluna.

Located two hours away from Manado is a town called Tondano. It is situated in the highlands. This dive is best done as a 1st dive before any other dives out at sea as it is 3000ft above sea level and is cold. Water ranges between 22 – 26 degrees. It's best to do it in the morning between 9am and 12pm, when the light starts off subtle and slowly gets stronger, and if you're adventurous, try doing a night dive. That's a whole different kind of fun.

Koya Uluna, as it is called, is filled with lily pads, freshwater plants, broken tree trunks and freshwater shrimp and fish. The bottom is mostly silt, so you have to watch your buoyancy.

Photographers remember that there is no proper place to set up or change, so you have to be prepared before coming. Besides that, take time to enjoy the place and enter in small groups of three. Look for the interesting moments, like bubbles appearing from the leaves, signalling that photosynthesis is happening. Look out for the fish that do a 'fish spa', removing dead skin from your hands and legs. Try shooting upwards when the light is strong and you will clearly see patterns on the lily pads.

Over the years, this little secret of mine has been gaining popularity and has been visited by image seekers, scuba divers and Manado's own celebrity, Rose Kampong, who I had the pleasure of photographing and publishing the images in an international magazine.

"So remember - always look out for the ordinary and make them, extraordinary" – Imran Ahmad

Lastly, please be kind and buy some food or drinks from the local small shops to support their business. This will encourage them to do more for the area and allow you to dive this place.

Diving Equipment: Mares XR equipment | Mares Magellan BCD | Mares Avanti Quattro fins | Mares Carbon regulator | Mares X-Vision mask | Mares Cruise Backpack Pro
Underwater Camera Equipment: Seacam | Keldan Lights
Cameras: Nikon
For further information, see ESCAPEINC ASIA

Author: Imran Ahmad | Debbie Tan | Izabell Imran

Imran Ahmad is Asia's internationally published underwater photographer. He has been capturing the magnificence of life both below and above the water's surface for over 21 years. His style is different from anything seen.

As a family, they run the ESCAPEINC ASIA Showroom in Kuala Lumpur, Malaysia, that specializes only in the "best" from the underwater photography world. They run photographic trips and conduct photo clinics for those interested in learning the art of underwater photography.

For more information on underwater photography in Asia, join both Debbie and myself at ESCAPEINC ASIA.

Contact us on Facebook or via email.
Written by

Imran
Date

23rd January 2020
Also by Imran