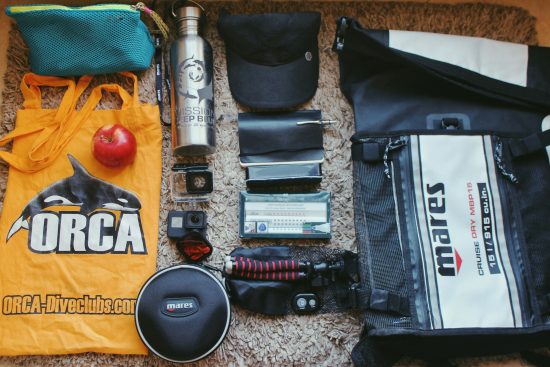 Hello everybody and welcome to my new blog! In my last blog, I talked about my choice of diving equipment, check it out here if you haven't read it yet!
I think it's very interesting to know what people take in their bags, so today I'm going to give you a look in to my bag!
Let's start with the kind of bag...

Yes, a lot of women like to collect bags and no, I don't think that I, myself, have that many, but I have a few and I change them sometimes. 
For boat and zodiac diving, for example, I have my Cruise Dry MBP15 dry bag. A lot of things fit inside and they stay dry. There's even a compartment for a laptop, and outside there's a removable net bag where you can put wet stuff like swimwear.
Sometimes I use my older version of the Mares Cruise Journey. I use it for traveling because it's light and also has a lot of space. It has a special pocket for a laptop which has its own zip making it easier to get the laptop out of the bag. I also now have the newest version of the bag. I prefer to take the new one traveling because it has so many zips on all sides and I can reach my stuff very easily. It's also very light and super comfortable.
In my bag I also have a cotton bag in case I have to buy something else and the space in my backpack is not enough. I try not to use plastic bags!
So, what's in my bag?!


A cap for sun protection


A water bottle - We always have to take enough water with us, especially in very warm places like I am most of the time. To do something good for the environment, I use the Mission Deep Blue water bottle which I can always refill.


Food - As I'm always hungry, I also always have a snack with me. An apple, a banana or something else. Most of the time it's unfortunately something healthy but sometimes I also take a cereal bar with chocolate 😅. Just a snack and of course my lunch in a lunchbox.


A toilet bag - Including a brush and other useful items


Whiteboard markers and something to clean the board with - In case I have to draw a dive site map


A notebook and pen - Does it always happen to you too? You are planning and have to write something down, but have no pen and paper with you? It has happened to me a lot of times, so now I always take a notebook and pen with me.


My mobile! My mobile is my main communication medium. It's also my computer, my TV, my workplace, my hobby. This is modern life, and it's useful if you're far away from home, can't set the normal TV to programs in your language and are always on the move.


I always have my action cam with me. The action camera includes an underwater housing and a red filter. I stow the camera in a Mares Round Shell case which is actually made for computers but works well as a camera cover, too.


I have a mini tripod for my action camera and my mobile phone.


For emergencies, I always have a small respiratory mask with me. I hope I never have to use it, but we should be prepared in case.


If you want to have more details about my bags, just write it in the comments below and I will make another blog post!
Written by

Semra
Date

8th April 2019
Also by Semra